Recipe Idea: Overnight Baked French Toast Makes Breakfast Easy
Hi. It's Lois at Recipe Idea Shop, telling you about Overnight Baked French Toast, a recipe I got from my friend, Suzanne Tignor. Suzanne passed away several years ago. She was absolutely delightful and I miss her. Whenever she would bring food to an event or gathering, she would say, "This is the BEST (whatever) you're ever gonna have!" It didn't matter if she bought it at the local grocery and dumped it in her dish to serve, or she made it herself. She set you up to enjoy the food. And it really was the BEST (cake, cookies, salad, whatever) we had.



Well, this is the best Overnight Baked French Toast you're ever gonna have. And it's so easy. I like to make this when we have a house full of grandkids. They love it, and it takes almost no work. No standing at the grill, making individual French Toast. You just whip it up, layer the ingredients and refrigerate overnight. Then pop it in the oven for 30-45 minutes in the morning. DE-LISH-OUS!
Of course, we usually have some meat with it. Bacon is a good choice in my humble opinion.
When you try it, be sure to comment on the recipe. Was it easy? Did you think you needed syrup? We never do. The syrup is built right in.
I know you're gonna wanna eat this.
BUT FIRST, DID YOU GRAB YOUR FREE COOKBOOK?
Recipe follows…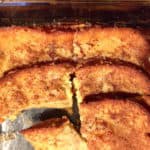 Overnight Baked French Toast
This Overnight Baked French Toast comes with its own delicious syrup. Great for a holiday or weekend when you have visitors who stay the night.
Ingredients
Syrup
4

tablespoons

butter

1/4

cup

brown sugar
Egg Mixture
4

eggs

1/2

cup

milk

1

teaspoon

vanilla

1/2

teaspoon

cinnamon

1/4

teaspoon

nutmeg

1/2

teaspoon

salt

(optional)
Instructions
Syrup
In an oblong baking dish (7" x 9" or so), melt the butter and sprinkle the brown sugar over it. Stir until all the sugar is wet and evenly distributed.
Bread
Lay the bread over the top of the mixture, two slices, side-by-side, then covering the previous layer halfway (see picture) until all the bread is laid on the butter/sugar mixture.
Egg Mixture
In a separate bowl, whisk the eggs, milk, vanilla, cinnamon, nutmeg, and salt.

Evenly pour the egg mixture over the top of the bread.

Cover and refrigerate overnight.
Refrigerate & Bake
In the morning, bake the casserole in a 350F degree oven until toasty brown, about 30-40 minutes.
http://recipeideashop.com/overnight-baked-french-toast
Note: Many of the links included throughout Recipe Idea Shop are affiliate links, which means if you follow them and you buy something, we will get a small commission. It doesn't cost you a penny more, and you can still use your Amazon Prime (Shop Amazon – Give the Gift of Amazon Prime) account to buy. This posting includes affiliate links. 
SaveSave
SaveSave
SaveSave
SaveSave