Recipe Idea: Toasted Pine Nuts Add Depth And Creaminess
Hi. It's Lois at Recipe Idea Shop, telling you about Toasted Pine Nuts. Pine nuts are pretty expensive in the grocery store, but you can get them at Costco for a very reasonable cost. I think they are delicious as a topping to salads, come casseroles and on vegetables. They taste creamy and satisfying to me. What do you think?
It's simple to toast pine nuts, either in a dry skillet on top of the stove, or by putting them under a broiler for a few seconds. You have to watch them carefully because they easily burn. Since we got a new Black & Decker Toaster Oven, Toasted Pine Nuts are a cinch to make! It has an automatic timer for level of darkness, just like a toaster (well…since it is a toaster, that makes sense).
Nuts provide good fat and some protein, which everyone needs in their diet. I'm happy to say that I am not allergic to nuts! Are you? How do you eat pine nuts? What's your favorite way? I know some folks who put them in cookies.
Read on for recipe and nutrition….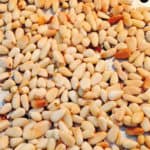 Toasted Pine Nuts
Instructions
Spread the pine nuts evenly over the pan in a single layer.

Broil for 1-5 minutes (depending on the hotness of the oven) or cook in a dry skillet on top of the stove for about 3-5 minutes.

When pine nuts are slightly browned, remove them from the heat.

Eat immediately or save in an air tight container.