Andean Quinoa Corn Salad is a flavorful, protein-packed vegan recipe you will love.
Andean quinoa corn salad is beautiful and satisfying.
You know I love to cook and try new recipes. I especially love a good vegan or vegetarian salad. When I find one, I share it with you. This 35-minute Andean Quinoa Corn Salad is super delicious. Why wouldn't it be? It's a Moosewood Collective recipe.
Don and I went to the Moosewood Restaurant last fall. In fact, we went there twice during our stay in the Ithaca, New York area. It was fun. The food was scrumptious, and I was happy to be able to check off another "bucket list" item. If you are ever in Ithaca, go to the Moosewood Restaurant.
Talking About Food
The best part about cooking is sharing the food, eating together and having a conversation about food and life. When I worked at James Madison University, I always had a steady stream of students to eat my food...and they always appreciated it. Since I'm now retired from my full-time editing job, I will have to find another taste-testing kitchen. It's not as much fun cooking if you have no one to eat the food and exclaim, "Oooh my! This is SO good!" (Your comments on the blog help fill a little of that void, so please comment when you try one of the recipes!)
I am in the habit of looking for delicious vegan or vegetarian recipes that are gluten-free because wherever there is food, there are people with food allergies or sensitivities (and I'm one of them). This recipe comes from the Moosewood Restaurant Daily Special, which is quickly becoming my favorite cookbook. Not only is this salad delicious, it is beautiful in the bowl. Look at all those colors!
Menu Pairing
I like to serve this main-dish salad with a good crunchy salad, such as Broccoli Salad and a bit of fruit. What would you serve it with?
What You Need
For this recipe, you need measuring cups and spoons, a knife, a cutting board, and some pans. Get the best you can afford and you'll never be sorry. And buy some pretty dinnerware while you're at it.
Andean Quinoa Corn Salad Recipe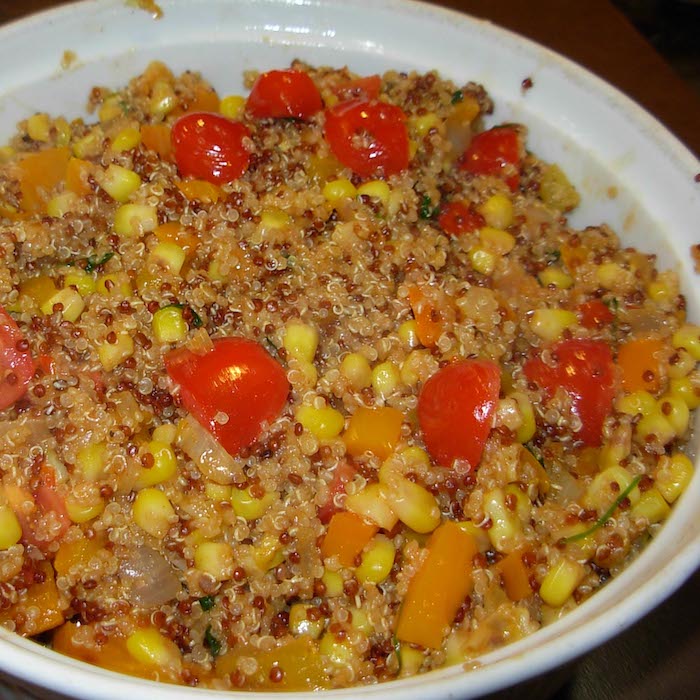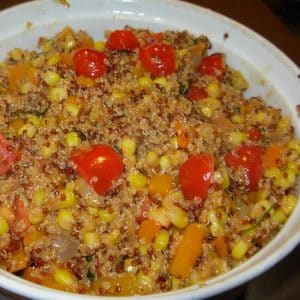 Andean Quinoa Corn Salad
Ingredients
1

cup

raw quinoa

white or red or a combination of both

1

tablespoon

olive oil

1

teaspoon

paprika

2

cups

water

1

teaspoon

salt

2

cups

frozen corn kernels

2

tablespoons

olive oil

1

large

onion

chopped

2

garlic cloves

minced

1

teaspoon

ground cumin

1

teaspoon

ground coriander

2

red green, yellow or orange bell peppers

seeded and chopped

1

teaspoon

diced jalapenos

canned okay

2

tablespoons

minced fresh cilantro

or more to taste

24

grape tomatoes

washed and cut in quarters

¼

cup

lemon juice

⅛

teaspoon

black pepper

2

tablespoons

minced fresh parsley

optional
Instructions
Rinse the quinoa in a sieve under running water and set aside to drain.

Put the quinoa, oil, paprika, 2 cups of water, corn and salt in a medium saucepan.

Bring to a boil. Cover the pot and reduce the heat to low/simmer and continue cooking for about 25 minutes until the quinoa absorbs all the water and it is tender yet chewy.

In a skillet, heat the remaining olive oil over medium heat until hot.

Add the onions and sauté for 5-6 minutes until the onion is transparent.

Add the garlic, cumin, coriander, jalapenos and peppers and continue cooking until the peppers soften.

Add the cilantro and cook for another minute or so.

Combine this mixture with the quinoa, add the tomatoes, lemon juice, black pepper and parsley, and serve immediately or refrigerate until later—this is good warm or cold!
https://recipeideashop.com/andean-quinoa-corn-salad/
Recipe Nutrition Information
The information shown is an estimate provided by an online nutrition calculator. It should not
RATE, PIN & SHARE!
Please Rate our recipes, and Pin and Share them on social media. Comments are welcome, too!
You May Also Like These Recipes From Recipe Idea Shop