Avocado Tomato Salsa delicious alone, with chips, or as topping for beans or lentils. Great for Taco Tuesday.
Avocado Tomato Salsa
Hi. It's Lois in the kitchen at Recipe Idea Shop, talking about putting avocados and tomatoes together to make Avocado Tomato Salsa, my version of Taco Tuesday or Cinco de Mayo food. I love tomatoes and avocados together, so what's not to love with this Avocado Tomato Salsa?
This is a quick-to-make salsa that is delicious on Lentil Soup, chips or just about any kind of black bean dish. The avocados add a creaminess and the other ingredients add flavor and a little bite to the dish.
I Wish It Was Summer!
Cinco de Mayo always signals the start of "summer" to me. What's your favorite salsa? And what does summer mean to you? Sunshine. Flowers. Sitting by the lake. Hiking in the mountains. It's a time to be outdoors. But don't wait until summer to get outside...or to eat this Avocado Tomato Salsa.
I love this salsa all year round. It is fabulous as a garnish for Lentil Soup, Stuffed Eggplant or Black Beans Tortilla Chips Casserole.
Take your family on a picnic and enjoy the outdoors. Pack your picnic backpack or basket with some Avocado Tomato Salsa and chips, French Potato Salad, a can of solid white tuna, some lemonade...and wine, of course! This is similar to the picnic backpack we have and we love ours:
Avocado and Tomato Salsa Recipe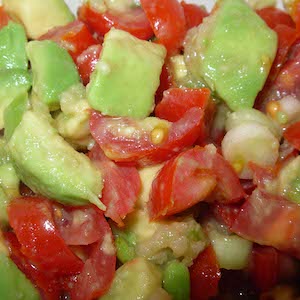 Avocado and Tomato Salsa Recipe
Refreshing, creamy salsa.
Ingredients
1

avocado

(peeled, seeded and cubed)

1

cup

grape tomatoes

(quartered)

2

green onions

(white & tender green parts only, sliced)

1

garlic clove

(minced)

½

teaspoon

salt

1

tablespoon

lemon juice

1-2

tablespoons

fresh mint

(minced)
Instructions
Mix all the ingredients except the avocado and mint.

Add the avocado and mint and stir gently.

Serve immediately or refrigerate.
https://recipeideashop.com/avocado-tomato-salsa/
Avocado Tomato Salsa Recipe Nutrition
Pin & Share!
Please Pin and share our recipes. And tell us what you think in the comments.
You May Also Like These Recipes From Recipe Idea Shop