Basic Homemade Frosting is simple to make and is free of chemicals you would find in commercial frosting. Tasty. Easy. And you can make it whatever flavor you want.
Basic Homemade Frosting Perfect for Cupcakes
Hi. It's Lois at Recipe Idea Shop, explaining how to make Basic Homemade Frosting. There's no need to buy the canned, full-of-chemicals, commercial glop they call frosting at the grocery store. It's super easy to make with just four ingredients. I couldn't believe I didn't have a Frosting recipe on my website when I went to link to it from the Gluten Free Coconut Cupcakes recipe. I never use a recipe for Frosting, but then, I learned how to make it when I was a kid.
Now, my favorite Frosting is Chocolate Frosting, but today I'm telling you about Basic Homemade Frosting, the super sweet white stuff. No cooking is involved. Just softened butter, powdered sugar, vanilla or another flavoring, and some milk. If it tastes a bit too sweet, I add a bit of salt to it. I learned that trick from a cook in the cafeteria of my college dorms. I whipped up a little bit of frosting to take a picture, but I didn't have any cake to put it on. It didn't stop me from licking the beaters, though.
It's almost essential to have an electric mixer to make creamy frosting. Unless I'm making lots of frosting (and then I want a stand mixer), I prefer a good hand mixer like this:
You can add a little coconut or sprinkles to the top of the frosting to liven it up!
This Basic Homemade Frosting is good on cupcakes, brownies, cookies, and even apples. It's not good for you, mind you. It's all sugar and butter, and one serving is 148 calories. But it sure does make a cake taste great. You're gonna wanna eat this. Just don't eat too much of it.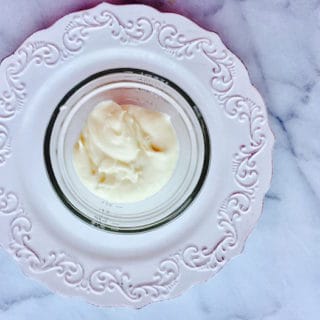 Basic Homemade Frosting Recipe
This amount of frosting should frost 12 cupcakes or one standard cake.
Ingredients
½

cup

butter

softened

2

cups

powdered sugar

1

teaspoon

vanilla

2

tablespoons

milk or cream

A dash of salt

optional
Instructions
In a deep, medium bowl, using the low speed, whip the butter, vanilla, and sugar.

Add ½ the milk and whip. The frosting will be a bit dry at this point.

Add a little more milk until the frosting is a nice, creamy texture but not too runny. You may not need the full tablespoon of milk.

You can always add more powdered sugar if the texture isn't thick enough.

If you taste the frosting and think it is too sweet, add a dash of salt and mix it in.
Nutrition
Calories:
87
kcal
Carbohydrates:
21
g
Protein:
0.4
g
Fat:
0.5
g
Saturated Fat:
0.3
g
Polyunsaturated Fat:
0.1
g
Monounsaturated Fat:
0.1
g
Trans Fat:
0.001
g
Cholesterol:
1
mg
Sodium:
14
mg
Potassium:
18
mg
Fiber:
0.01
g
Sugar:
20
g
Vitamin A:
21
IU
Calcium:
15
mg
Iron:
0.02
mg
Pin & Share!
Please Pin and share our recipes. And tell us what you think in the comments.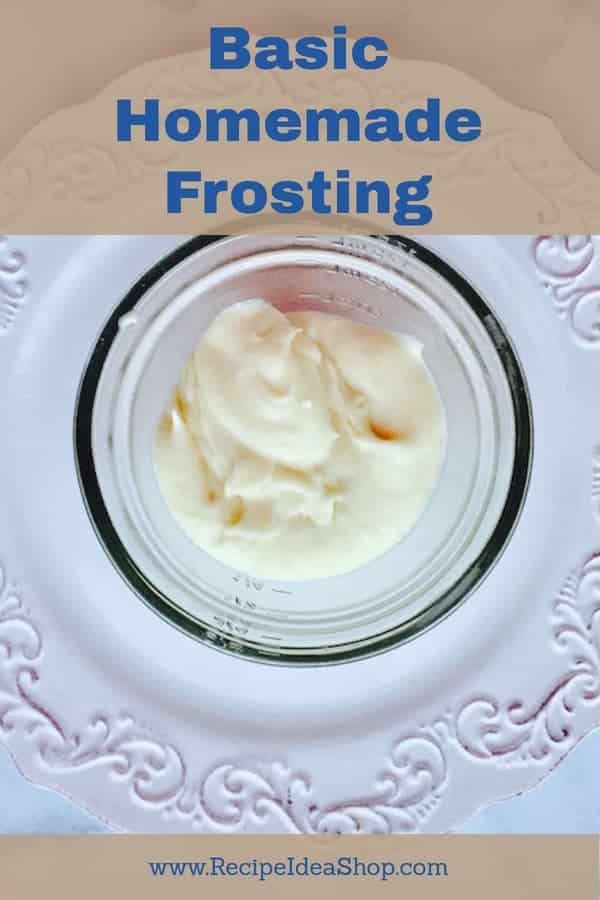 You May Also Like These Recipes