Basic Waffles are almost as easy as pancakes. This recipe gives you three ways to make them. Use the recipe with the smallest amount of fat for a more heart-healthy version. 
Basic Waffles can be served with jam or syrup.
This Basic Waffles recipe originally comes from one of Don's and my favorite cookbooks, Joy of Cooking (affiliate link). I give you three choices to prepare this recipe: Use 4 tablespoons butter for a reduced-fat waffle, 8 tablespoons for a basic light and fluffy waffle; or 16 tablespoons for the crunchiest most delicious waffle imaginable.
Waffles are almost a "staple food" in our house. Did you know you can freeze them and reheat in the toaster oven? Don't buy the "cardboard cutouts" again. If you have heart or cholesterol problems, it's best to reduce the butter.
I, of course, like the one with the most fat. To my credit, however, I do not add butter when I eat it. I like my waffles with a little jam, some bananas and just a smidgen of maple syrup. How do you like yours?
What You Need
For this recipe, you will need measuring cups and spoons, mixing bowls, a wire whisk, and a waffle iron. I prefer the double waffle iron similar to the ones found in fancy hotels. What's your favorite?
Basic Waffles Recipe (With 3 Fat Options & Tasty Topping Ideas)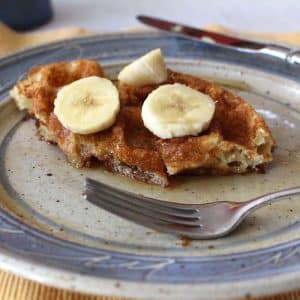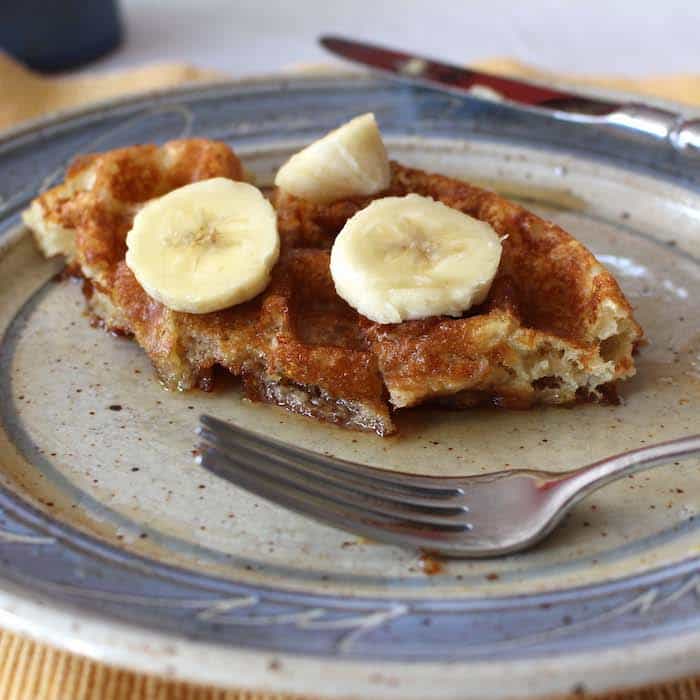 Basic Waffles
This Basic Waffle is made with wheat flour and real butter and is inspired by the recipe in Joy of Cooking.
Ingredients
1 ¾

cups

all-purpose flour

1

tablespoon

baking powder

1

tablespoon

sugar

½

teaspoon

salt

3

large eggs

well beaten

4 to 16

tablespoons

½ to 2 sticks unsalted butter

melted

1 ½

cups

milk
Batter Optional Ingredients
½

cup

plump raisins or other very finely diced soft dried fruit

⅓

cup

grated semisweet or milk chocolate

½

cup

finely chopped nuts

toasted

¼

cup

shredded sweetened dried coconut

½

thinly sliced ripe banana

½

cup

crumbled cooked bacon

for a savory version

½

cup

shredded cheese

for a savory version
Serve With
Pure maple syrup or jam

Pats of butter
Instructions
Preheat your waffle iron according to your machine's directions.

Whisk together in a large bowl: flour, baking powder, sugar and salt.

In another bowl, whisk together the eggs, butter and milk.

Make a well in the center of the dry ingredients and pour in the wet ingredients.

Gently whisk them together with a few swift strokes. (The batter should have a pebbled look, similar to a muffin batter.)

If you wish, fold in one or more of the optional ingredients listed above.

Spoon ½ cup batter (or the amount recommended by your waffle iron's manufacturer) onto the hot iron.

Spread the batter to within ⅓-inch of the edge of the grids, using the back of a metal spatula, wooden spoon or ladle.

Close the lid and bake until the waffle is golden brown, about 6 minutes.

Serve immediately with butter, maple syrup, fruit, applesauce, jam or powdered sugar.

To keep warm before serving, place the waffles in a single layer on a rack or platter in a 200°F degree oven until ready to serve.
Nutrition
Serving:
1
waffle
Calories:
365
kcal
Recipe Nutrition Information
This recipe is NF, SF, V*
The information shown is an estimate provided by an online nutrition calculator. It should not be considered a substitute for a professional nutritionist's advice.
You May Like These Recipes & Posts From Recipe Idea Shop
RATE, PIN & SHARE!
Please Rate our recipes, and Pin and Share them on social media. Comments are welcome, too!
*Allergen Key
GF = Gluten free | DF = Dairy free | NF = Nut free | SF = Soy free | EF = Egg free | CF = Corn free | V = Vegetarian | VG = Vegan
Note: If you have serious allergies or sensitivities, to be considered free of these allergens, you need to use products specifically marked "gluten free," etc. There can be cross-contamination in facilities.
This recipe was originally posted on Recipe Idea Shop April 23, 2013 and updated August 23, 2021.
Disclaimer: The author is not a health professional or nutritionist. She is offering her research and personal reflections about her health journey and is not providing any type of medical or nutritional advice. This post is for informational purposes only. It is offered as a tool for people to discover their own suspected food allergies, intolerances and sensitivities. Readers are highly encouraged to read, write, and reflect on the ideas presented. Consult your healthcare professional before initiating any dietary or exercise program.
Last Updated on May 12, 2022 by Adriana