Cauliflower Garam Masala is an incredible Indian-style cauliflower recipe. It has terrific flavor and takes just 30 minutes to make.

Cauliflower Garam Masala is a one-pan vegan recipe.
I love Indian-spiced food, and Cauliflower Garam Masala is an easy vegetarian recipe that I could eat every week. I never thought I'd say that because as a child, I hated cauliflower. You know, that mushy, flavorless boiled cauliflower your grandma used to make? At least, mine did.  But THIS grandma makes her cauliflower a whole lot more interesting by adding garam masala, curry, cumin, garlic, and a few other ingredients. And it's SO good. I could eat it again and again.
It's a meal-in-one with cauliflower, potatoes and chickpeas swimming in a fabulous garam masala sauce. If you'd like to add some color, add some green peas. I served this dish with a beautiful garden salad and some sliced apples. Mmmmm. This cauliflower masala recipe is yummy and it's going in my new cookbook that will be published in October.
Recipe Development
It's summer and we have started to get our weekly subscription of vegetables from the local farmer. When a crop comes in, we sometimes get the same vegetables for a couple of weeks. I like to eat different foods each week, so when we got the second head of cauliflower, and we had not yet eaten the previous week's cauliflower, I knew I needed to do something with it. I hate to waste food, don't you? And there's only so much raw cauliflower Don and I can chomp on.
I always like the cauliflower with potatoes casseroles that Indian restaurants serve. So I thought I'd make some. And I love the smell of garam masala. After reviewing several recipes using garam masala in similar dishes, I pulled out my spices: garam masala, curry, cumin, salt, and pepper. For the basic sauce I used full fat coconut milk. I sautéed a bit of chopped onion in olive oil, added the spices and cooked them a minute or so until they released their fragrance. In went the minced garlic, diced potatoes and cauliflower florets. When the vegetables were starting to soften, I added the coconut milk, a little cornstarch to thicken it, a can of chickpeas without the liquid, and a little salt and pepper.
The result is super delicious, full of protein (10 grams!) and less than 400 calories per serving.
What Is Garam Masala?
Garam masala is blend of aromatic ground spices used in Indian cooking. It generally includes cinnamon, mace, peppercorns, coriander, cumin, and cardamon.
What You Need
For this recipe, you need measuring spoons, some knives, cutting board, a good sauté pan, and a spoon. Do yourself a favor and buy the best kitchen tools you can afford. You'll never be sorry.
Cauliflower Garam Masala Recipe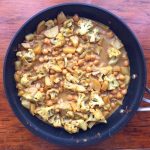 Cauliflower Garam Masala
A flavorful vegan meal-in-one with Indian spiced Cauliflower.
Ingredients
2

tablespoons

olive oil

1/2

cup

chopped onion

(about one small onion)

1

teaspoon

garam masala

1

teaspoon

curry

1/2

teaspoon

cumin

1/2

teaspoon

minced garlic

1

small head

cauliflower

(cleaned and cut into small florets)

3

medium

potatoes

(washed, peeled and diced)

1

13.5 ounce can

coconut milk

(full fat preferred)

2

tablespoons

cornstarch

1

14.5 ounce can

chickpeas

(garbanzo beans, drained and rinsed)

1/2

teaspoon

salt

(or to taste)

1/4

teaspoon

black pepper
Instructions
In a large nonstick skillet over medium high heat, heat the oil until hot.

Add the diced onion and sauté until the onions are translucent, about 5 minutes.

Add the garam masala, curry, and cumin and stir to release fragrance (about 30 seconds).

Add the minced garlic and cook for about 1 minute more.

Add the cauliflower florets and continue sautéing until the cauliflower starts to soften (about 10-12 minutes).

Add the potatoes and cook until they start to soften (about 10-12 minutes).

Mix the cornstarch with a little of the thin coconut water (found below the coconut fat) until the cornstarch dissolves.

Pour the coconut milk and the cornstarch/coconut milk into the pan and stir to combine.

Continue cooking until the vegetables are tender and the sauce is the thickness of gravy (about 5 minutes)

Add the drained chickpeas and stir to combine, continuing to cook for another minute or two until the chickpeas are heated through.

Season with salt and pepper and serve hot.
https://recipeideashop.com/cauliflower-garam-masala
Affiliate Disclosure: Many of the links included throughout Recipe Idea Shop are affiliate links, which means if you follow them and you buy something, we will get a small commission. As an Amazon Associate I earn from qualifying purchases. It doesn't cost you a penny more, and you can still use your Amazon Prime account to buy. Don and I love our Amazon Prime account. This posting includes affiliate links.
Recipe Nutrition Information
This recipe is GF, DF, NF (contains coconut), SF, EF, V, VG*
The information shown is an estimate provided by an online nutrition calculator. It should not be considered a substitute for a professional nutritionist's advice.
WHAT'S NOT TO LOVE?
Trust me, you're gonna love this recipe. Up your recipe repertoire. Add this recipe to your collection. But don't stop there…subscribe to our email newsletter and get a free cookbook and a printable grocery shopping list.
DID YOU GRAB YOUR FREE COOKBOOK & Grocery List?
RATE, PIN & SHARE!
Please Rate our recipes, and Pin and Share them on social media. Comments are welcome, too!
*Allergen Key
GF = Gluten free | DF = Dairy free | NF = Nut free | SF = Soy free | EF = Egg free | CF = Corn free | V = Vegetarian | VG = Vegan
Note: If you have serious allergies or sensitivities, to be considered free of these allergens, you need to use products specifically marked "gluten free," etc. There can be cross-contamination in facilities.
You May Also Like These Recipes From Recipe Idea Shop
BEFORE YOU GO, DID YOU GRAB YOUR FREE COOKBOOK?