RECIPE IDEA: Chapati, An African Flatbread
Hi. It's Lois, telling you about Chapati. It's an African flatbread with flaky layers that make this flatbread almost melt-in-your-mouth!
For the past 8 years or so Don and I have hosted one or more participants from Eastern Mennonite University's Summer Peacebuilding Institute. We enjoy the cultural exchange, always learn a lot, and feel it's our way of contributing to world peace. We give our guests room and board, one or more tours of the area, help them get souvenirs to take home with them, and take them to Quaker meeting. Most of our guests have been African Quakers. Often, they work for African Great Lakes Initiative, an African Quaker peacebuilding group.
My Quaker meeting, Valley Friends Meeting in Dayton, VA, is an unprogrammed meeting. In part, that means that rather than have a minister for the church, all members and attenders are ministers to each other. It is a quiet meeting. People sit in quiet meditation until someone is moved to speak out of the silence. We don't try to convert people; we just accept them.
This is much different than the African Quakers, whose traditions are more evangelical and are led by a pastor. All of the African Friends we have met have been very active in building peace in their countries, and they carry compelling stories. Their lives speak.
This year's guest, Getry from Kenya, was the first African woman to stay with us. She is delightful! Brilliant, kind, thoughtful, and very skilled in peacebuilding, we found her amazing. And not only that, but she made us some delicious food, including Chapati.
I have not yet tried to make it on my own, but I will give it a try soon. Getry made this flatbread so quickly and expertly that I had to watch her do it three times to understand the process. The last time she made Chapati, she told me what she was doing at each step so I could write it down.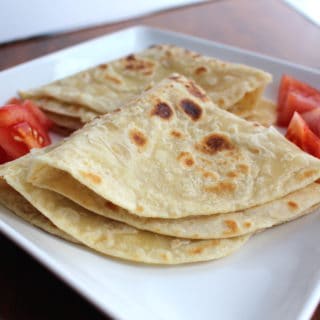 Chapati Recipe
A delicious African flatbread
Ingredients
2

c

flour

1

t

sugar

¼

t

salt

Pinch

of ginger

for flavor, optional

1

T

canola oil

½

cup

water

6

t

oil for cooking
Instructions
Mix dry ingredients.

Incorporate the oil into the dry mixture.

Add water slowly and knead until the dough is smooth and elastic. It will still be a bit sticky.

Form into a round ball.

Let the dough rest under a wet cloth for 20 minutes.

Flour the countertop.

Using a rolling pin roll out the dough to as thin as you can.

Spread a little oil over the top and make sure it is evenly spread across the dough.

Sprinkle lightly with flour.

Roll up the dough to make a log.

Cut dough log into 2-inch pieces.

Pull the end of each piece and tuck it into the center of the rolled up piece.

Using a rolling pin, roll out the rolled up dough very thin. Make sure the edges are as thin as the middle.

Cook over medium heat in a dry pan for 30 seconds until it just starts to brown, flip and cook the other side to dry it.

Put a little oil (½ t) in the pan for the second cooking and cook for another 30 seconds to one minute each side, adding the oil each time you begin to cook a new side.

Place cooked Chapati on a paper towel to soak any excess oil.

Serve immediately, or wrap all the Chapati in a paper towel and place the package in a Ziplock bag to keep warm.
Nutrition
Calories:
105
kcal
Carbohydrates:
16
g
Protein:
2
g
Fat:
3
g
Saturated Fat:
0.3
g
Polyunsaturated Fat:
1
g
Monounsaturated Fat:
2
g
Trans Fat:
0.01
g
Sodium:
49
mg
Potassium:
22
mg
Fiber:
1
g
Sugar:
0.4
g
Calcium:
3
mg
Iron:
1
mg