Chicken burrito bowls make for a fantastic, filling lunch or an easy dinner idea. They are also easy to eat and packed with flavors. However, ordering a chicken burrito bowl from Chipotle can become expensive, and these bowls contain unnecessary additives and calories. So, you might wonder if you can meal prep a chicken burrito bowl at home. And, yes, you can!
Meal prepping a chicken burrito bowl is a straightforward process. Simply cook the chicken breast, rice, and vegetables and divide them between four bowls. Store the salad and toppings separately, and you have four portions of chicken burrito bowls freshly prepared. You can also substitute the ingredients.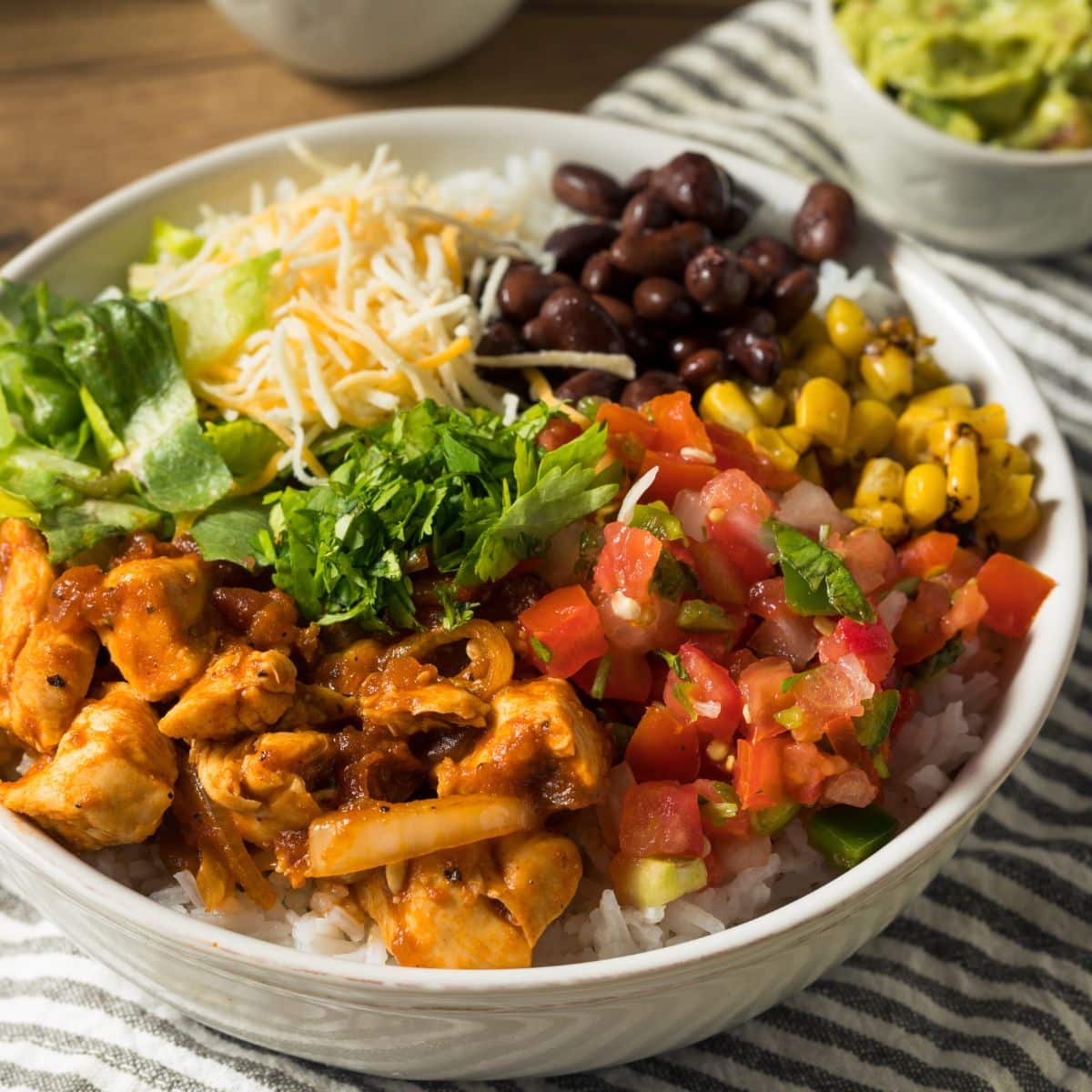 Chicken burrito bowls are delicious. However, they require some preparation. Therefore, you might wonder how you can prep a big batch of chicken burrito bowls ahead of time and have a delicious meal ready to go. This could be a great option for a dinner after a long day at work and when you meal prep in advance, it's not so hard to pull it all together.
We will discuss how to meal prep a chicken burrito bowl and how long prepped chicken burrito bowls last. We'll also share some substitutions for making a chicken burrito bowl healthier.
How To Meal Prep A Chicken Burrito Bowl
Chicken burrito bowls borrow flavors from traditional Mexican dishes. These bowls make for a delicious lunch. Packed with protein, vegetables, and rice, chicken burrito bowls are filling and nutritious.
They have healthy fats and a great recipe will taste delicious but also be good for you. They use fresh ingredients like chicken thighs or chicken breast, romaine lettuce, sweet corn, and more. You can serve your chicken burrito bowl up with a plate of cilantro lime cauliflower rice. Add a lime wedge, some black pepper, and adobo sauce, if you like.
The chicken burrito bowls you can find at local fast-food restaurants have a lot of added sodium, sugars, and additives. They are also a lot more expensive than making your own.
Fortunately, you can easily prepare chicken burrito bowls in advance. However, because these bowls take time and preparation, we suggest making a big batch and dividing the mixture into lunch boxes that will last you throughout the week.
Ingredients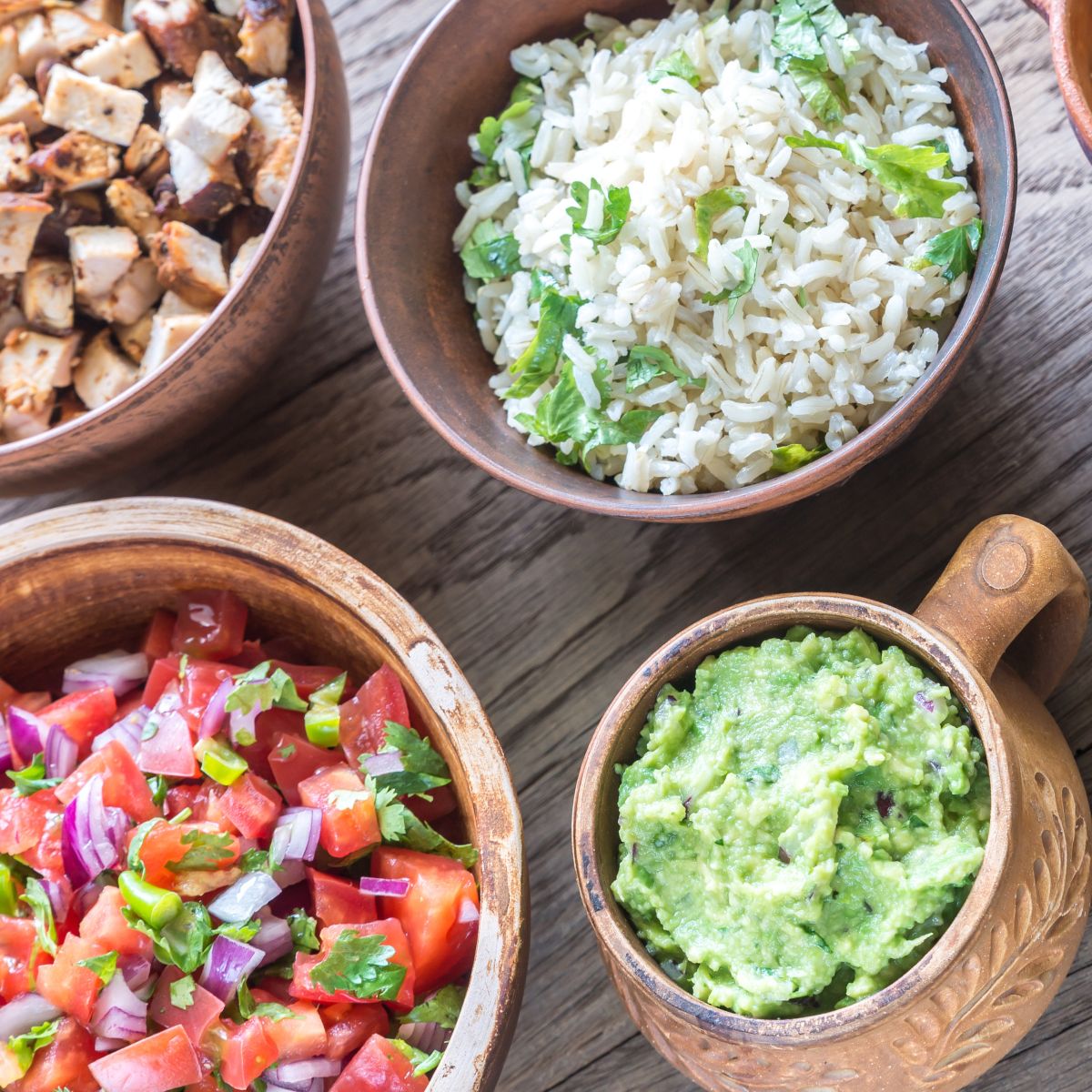 The ingredients for a chicken burrito bowl are simple, and you will find all of them at your local grocery store. Let's look at a meal prep recipe to help you out. Here are the ingredients to make four chicken burrito bowls:
1 large red onion cut into slices
3 bell peppers cut into slices
1 tablespoon of taco seasoning
Salt and pepper to taste
2 tablespoons of olive oil
2 chicken breasts, boneless and skinless
3 cups of cooked rice
1 jar of salsa (want to make your own salsa? Try a cucumber salsa or this delicious avocado tomato salsa)
1 can of corn
1 can of black beans
1 lime
2 tablespoons of fresh cilantro (also known as coriander)
1 cup grated cheddar cheese
Feel free to substitute these ingredients as you wish. Other recipes call for guacamole and sour cream to top your chicken burrito rice bowl. We will share some healthy alternatives to some of these ingredients later.
Preparing the bowls
To make your chicken burrito bowl, coat the chicken with taco seasoning and cut it into strips. Then, cook the chicken until done and allow it to cool. While the chicken cools, sauté the onions and green peppers. Then, divide all the ingredients into four portions.
Prepare your chicken burrito bowl as follows:
First, scoop the rice into a Tupperware container, followed by the chicken, sautéed vegetables, beans, and corn.
Then, sprinkle some cheese over the mixture.
Next, cut the lime into quarters and place one quarter in the container.
Use separate containers for the cold ingredients, including salsa (or pico de gallo), guacamole, sour cream, and cilantro.
When ready to eat the chicken burrito bowl, heat the first container in the microwave, then, pour the second container's toppings over the warm chicken and rice, and you are ready to eat.
How Long Do Chicken Burrito Bowls Last?
The recipe above makes four portions of chicken burrito bowls, which is almost enough for an entire workweek's lunches. However, you may wonder how long the prepared chicken burrito bowls will last in the refrigerator.
Suppose you follow the instructions above and separate the toppings from the main portion. In that case, your chicken burrito bowls can last up to four days in the refrigerator.
The topping ingredients are fresh; once cut, they don't last as long. Therefore, we recommend preparing them every two days so they stay fresh. Add lemon juice to the guacamole to keep it from turning brown.
If you want, you can prepare a bigger batch of rice, chicken, and vegetables. Keep four portions in the refrigerator and portion and freeze the rest. These chicken burrito bowls can last up to three months in the freezer. However, you must freeze them in airtight containers to prevent freezer burn.
When ready for the frozen chicken burrito bowls, take them out of the freezer and let them thaw at room temperature. Then, make the toppings fresh and prepare your chicken burrito bowl as you normally would.
The recipe we shared comes to about 1165 calories per portion. While this is much less than buying a chicken burrito bowl from a fast-food restaurant, it may still be too many calories for those on a calorie-restricted diet. As such, you may wonder if there are any substitutions you can make that will reduce the calories of your chicken burrito bowl.
Substitutions For A Lower Calorie Bowl
Although the recipe we shared above makes a delicious chicken burrito bowl, it's possible that you feel like this bowl still has too many calories. Fortunately, you can make a few substitutions to reduce the calories in a chicken burrito bowl.
The first substitution is to make your own salsa and taco seasoning. Ready-made sauces and seasonings often contain hidden calories from sugars and fillers. By making your own salsa and taco seasoning, you have complete control of the ingredients added to the food.
Another substitution you can make is to replace the rice with cauliflower rice or buckwheat. Both these options are lower in calories than rice. For a fiber-filled substitution, use brown rice instead of white rice or a mixture of rice and quinoa.
Don't add too much salt to the rice or chicken to limit your sodium intake, and omit the corn if you want to cut the calories even more. You can remove the cheddar cheese altogether or substitute it for a low-fat option if you like.
Finally, you can replace the sour cream with plain or Greek yogurt to reduce the dish's fat content and total calories.
These are some simple substitutions you can make for a healthier and more calorie-conscious chicken burrito bowl. These substitutions can also be kept in the refrigerator for four days or frozen for three months.
Tips
Here are some additional tips to help you with your delicious chicken burrito bowls.:
Keep your prepped items in an airtight container
Always date your meal prep so you know how long it's been in the fridge
Purple meal prep containers to make it easier
Use disposable meal prep containers if bringing them back home is an issue
Replace ground chicken with ground beef if you can't eat chicken
Use ground turkey if you want a healthier option to chicken
Use a slow cooker to really bring out the flavors in your meats
More Meal Prep Ideas
Conclusion
Every chicken recipe is not the same and every burrito bowl will not be the same, but hopefully, this has given you some great ideas to help you prepare these at home. When you do your chicken burrito bowls meal prep, you can have them ready in a flash, making it easier to enjoy a delicious meal.
The best part is it is also good for you and there are many different ways to make them so you can substitute certain foods or items where needed, making them more accessible to all.
You can easily prep a chicken burrito bowl for a wholesome and delicious packed lunch. Our recipe makes enough food for four potions. Keep the chicken burrito bowls in the refrigerator and heat them in the microwave before eating. Once heated, add the toppings, such as salsa, guacamole, and sour cream, and enjoy.
Are you ready to start prepping a solid dose of healthy carbs and protein bowl?