RECIPE IDEA: Traditional Chili Warms You Up
Hi. It's Lois in the kitchen, telling you about my Traditional Chili. It's not usually cold and dreary in Virginia at this time of year. In fact, it has been hotter than blazes for months. We had very little rain this summer and everything turned brown and brittle in July and stayed that way all summer. But yesterday, it finally rained, and it's been raining all day today, too. We really need the rain so I'm definitely not complaining!



But it was a bit cold tonight so I decided to make Chili. It was yummy. Chili is a simple, one-pot meal that only takes 30 minutes to make. When my mom made Chili, she made a watery version, probably to stretch the meal to feed the horde. I like mine thick and packed with beans. However, unless I use black beans instead of kidney beans, I can only eat a little bit of it.
Are you able to eat all kinds of beans? If not, which kinds are you able to eat? Of course, you can substitute any kind of beans that suit your digestion. Try our Black Bean Chili or our Coconut Chili (yum!) for a little different take on the meal. Do you know the ingredient that changes the flavor and makes it Cincinnati Chili. Check out that recipe to find out.
Recipe follows…
I know you're gonna wanna eat this.
BUT FIRST, DID YOU GRAB YOUR FREE COOKBOOK?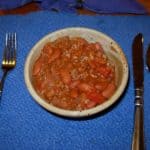 Chili
Traditional chili with two meats, lots of beans, tomatoes and spices only takes 30 minutes to make.
Ingredients
1

pound

hamburger

lean

1

pound

ground turkey

1

large onion

diced

1

tablespoon

olive oil

1

can chili beans

2

cans kidney beans

2

cans diced tomatoes

1 15-

oz

can tomato sauce

1-2

tablespoons

chili powder

1/2

teaspoon

cayenne pepper

1/4

teaspoon

red pepper flakes

salt & pepper to taste
Instructions
Sauté the onion in olive oil until tender.

Add both meats and cook until done.

Drain the grease off the meat.

Add the chili beans without rinsing.

Rinse all other beans and add them to the pot.

All all the remaining ingredients and bring to a boil.

Reduce heat and simmer for about 10 minutes, stirring occasionally.

Serve hot with shredded cheddar cheese (if desired).
Note: Many of the links included throughout Recipe Idea Shop are affiliate links, which means if you follow them and you buy something, we will get a small commission. It doesn't cost you a penny more, and you can still use your Amazon Prime (Shop Amazon – Give the Gift of Amazon Prime) account to buy. This posting includes affiliate links.