Recipe Idea Shop Events include a variety of events, including podcasts, online programs and in-person events. As we add new events to our schedule, we will post them here. Currently highlighting Winter Wordfest 2021.
Upcoming Events: Winter Wordfest 2021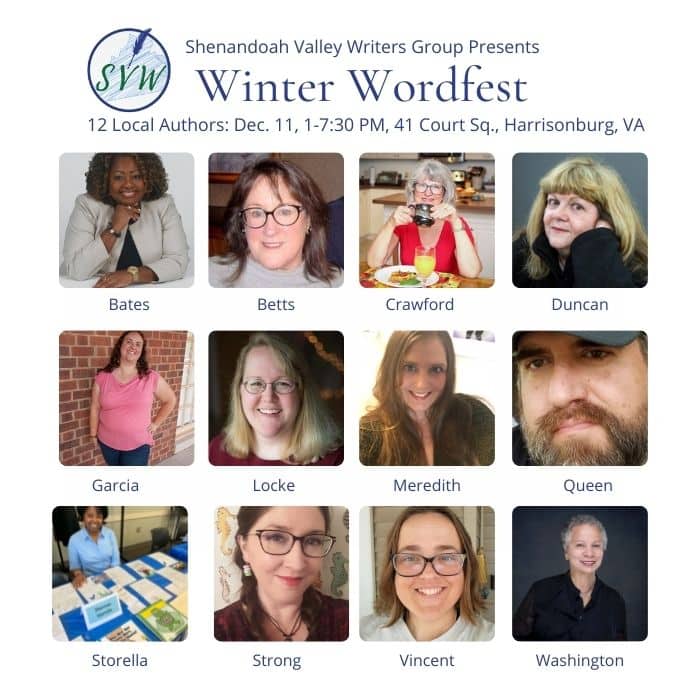 Shenandoah Valley Writers Group Sponsors Winter Wordfest 2021
Winter Wordfest 2021, sponsored by Shenandoah Valley Writers, will be held on Saturday, December 11, 2021, from 1:00 PM—7:30 PM, in the atrium of 41 Court Square, the building that houses Court Square Theater in downtown Harrisonburg, Va. Twelve amazing authors, representing almost as many genres, will exhibit, sell, and autograph their books for the public. It's free and open to the public.
The line-up of authors follows.
Lois Carter Crawford
Lois Carter Crawford is a recipe developer, home chef, and food coach with RecipeIdeaShop.com, who fought her way back from several debilitating health issues, including a moderate heart attack, and lost 40 pounds by eliminating the foods that were causing her problems. On her path to recovery, she believes she discovered the root cause of her illnesses and healed herself with food.
Lois shares her inspiring health recovery story, along with 30 enticing recipes, in her book, It Ain't Just The Diet COOKBOOK: How I Beat Food Allergies One Bite At A Time. She shares her recovery method and research in It Ain't Just The Diet FOOD JOURNAL: A Daily Guide To Finding & Managing Your Food Allergies (available in two sizes on Amazon).
Copies of her books will be available for purchase at Winter Wordfest 2021.
Letitia Bates
Letitia Bates, author of I CAN: 12 Keys to Achieve Personal Success in the SMARTEST Way, is a mindset and empowerment coach with At The Wheel Coaching in Harrisonburg, Va. She asks:
Do you feel like what you want is out of your reach? What if you could release limited beliefs about your future? What if you could tap into the best version of you? Drawing on the wisdom of great thought leaders, along with practical life experiences, I CAN gives you 12 powerful keys to systematically unlock your potential. I CAN offers thought-provoking lessons and practical exercises to help you achieve success. You'll have tools to:
Identify the person you want to be
Attend to the stress in your life
Strategically set your goals
Achieve the personal success you desire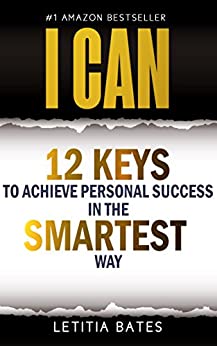 Sydney Toomey Betts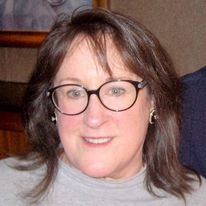 Sydney Toomey Betts has written two series, each accurately categorized as Christian Fiction. The first series is a trilogy of Native American historical romances called the People of the Book. The titles are A River too Deep, Light Bird's Song, and Straight Flies the Arrow. Each story stands alone. Her second series, a chronological line of historical mysteries following the life of a warm-hearted heroine, Phoebe Farrell, is comprised of three novels thus far: Phoebe's Secret; Phoebe's Christmas; and The Woman with Golden Hair.
Sydney resides with her husband near the extensive cavern system that inspired the setting for several chapters in her series The People of the Book.
While single, Sydney (B.S. Bible/Missiology, M. Ed) took part in a variety of cross-cultural adventures in North and Central America. After marrying, she and her husband lived in Europe and the Middle East where he served in various mission-support capacities. Her teaching experiences span preschool to guest lecturing at the graduate level.
Before penning her first novel, A River too Deep, she ghost-wrote several stories for an adult literacy program.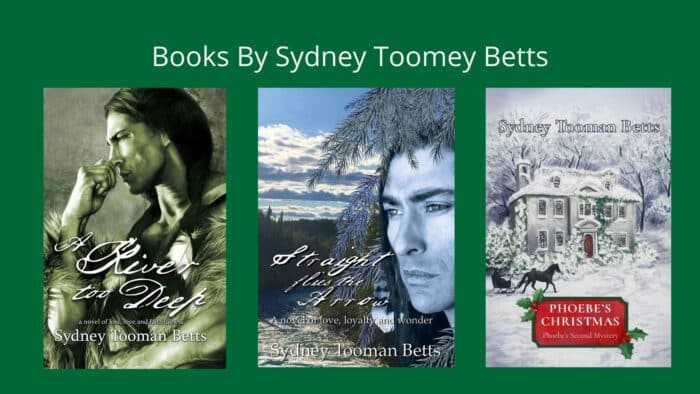 P.A. Duncan
P.A. Duncan is author of the award-winning A War of Deception, along with several others. Her books put you in the world of "real spies with real lives"—and with a hint of romance. U. N. spies Mai Fisher and Alexei Bukharin become embroiled in the serious issues of the day. They are partners, highly trained counterintelligence operatives who fight terrorism from the Balkans to Ireland to even the United States. And they happen to be married and raising a child while operating in the world of espionage—and keeping that from that curious child. Sometimes they prefer dealing with spies over a moody teenager, something James Bond never had to face!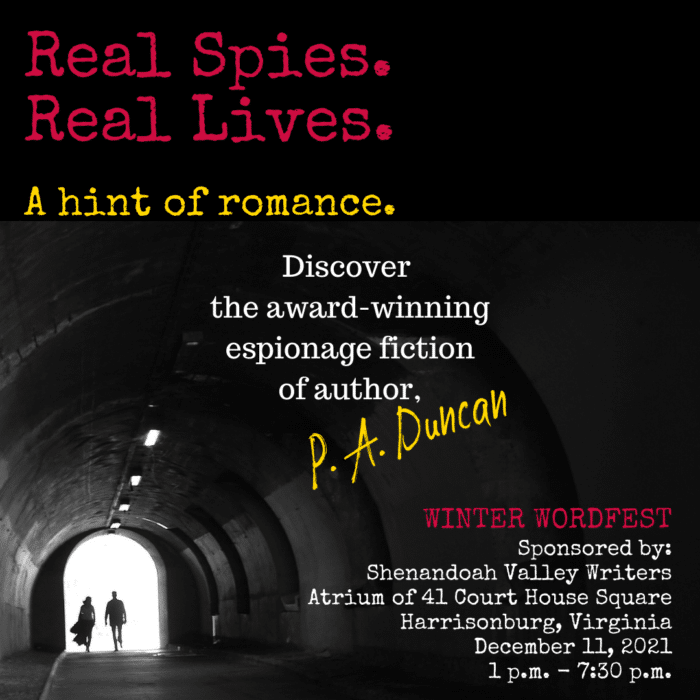 Allison Garcia
Allison K. Garcia of Harrisonburg, Va. has been featured in local newspapers, radio stations, universities, and national podcasts for her writing. During the years, Allison and her works about marginalized Christians have won several awards, including 1st place in the 2018 Royal Dragonfly Awards Ebook Cultural Fiction. Allison's stories have been featured in four boxed sets, and she has four published novels: Vivir el Dream, Finding Amor, Finding Seguridad, and Finding Paz. Allison has ten more novels waiting in the wings.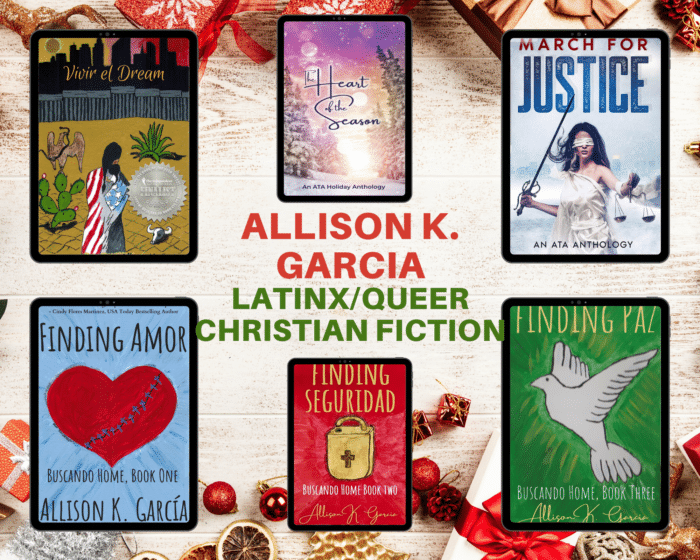 Margaret Locke
Margaret Locke, USA Today Bestselling Author of the Magic of Love (romance with a magical twist) and Put Up Your Dukes (Regency romance) series, writes binge-worthy romance that keeps you up past your bedtime. She delights in making readers laugh, cry, and think. Because love matters.
An amateur Anglophile, Margaret also fangirls over Jane Austen, history, cats, books, coffee, crystals, and Colin Morgan. When not writing, she adores spending time with her fabulous husband, two fantastic kids, and three funny felines. And chocolate. Don't forget chocolate.

Candace Meredith
Candace Meredith is a writer of fiction consisting of Adult Mystery, Supernatural and drama, YA Fantasy Series and children's books recommended for ages 3 to 6 years old. She earned her Bachelor of Science degree in English Creative Writing from Frostburg State University in the spring of 2008. Her works of poetry, photography and fiction have appeared in literary journals Bittersweet, The Backbone Mountain Review, The Broadkill Review, In God's Hands/ Writers of Grace, A Flash of Dark, Greensilk Journal, Saltfront, Mojave River Press and Review, Scryptic Magazine, Unlikely Stories Mark V, The Sirens Call, The Great Void, BAM Writes, Foreign Literary, Lion and Lilac Magazine, The Green Shoe Sanctuary Literary Journal, Setu Magazine and various others. Candace lives in  Virginia with her son and her daughter, her newborn baby and fiancé. She earned her Master of Science degree in Marketing and Communications from West Virginia University. Candace is the author of various books titled Contemplation: Imagery, Sound and Form in Lyricism (a collection of poetry), Losing You (a novella collection), Winter Solstice (book 1 of a 4 book series): The Crone (book 2), The Lady of Brighton (book 3), Summer Solstice (book 4 in progress) and her recently published first children's books  A-Hoy Frankie Your Riverboat Captain! And Matilda Gets Adopted.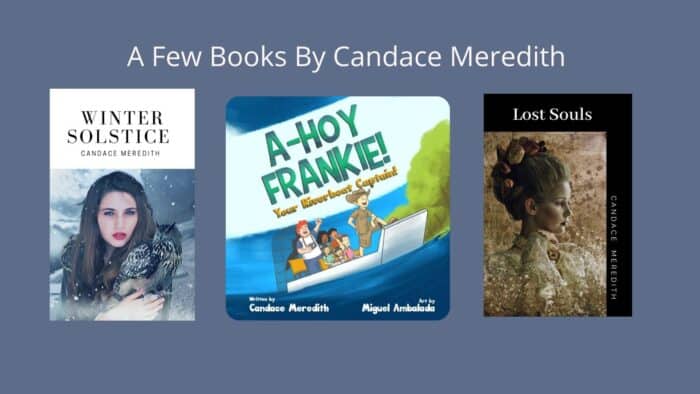 Shernae Storella
Shernae Storella is a wife, mother, teacher, children's book author and illustrator from Harrisonburg, Va. She writes children's books that are interactive and encourage children to stop and observe the world around them. She invites her readers to stop and take a look at each one of her books and check their hearts to see if they can relate to any of the lessons in her books.
Shernae brings out life lessons to live by through the pages of her books. Her heart's desire is to remind readers to watch for stories and lessons happening right before their eyes! She has written and illustrated, You Are Not From Here, Now Go Home, The Frowning Frog and Who Awakened The Sleeping Giant.
As one of her reviews shared, "This children's book is great for use at home, school or other children's programs. The recommended age for this book is 5 to 9 years old, but people of all ages will enjoy hearing the story. You will be reminded of how important we all are. We truly do our best when we work together. I look forward to her next book!"
Kristi Strong
Welcome to the world of Strong Novels, where strength is found in the most desperate of situations, and family secrets will change everything. Kristi Strong is the author of The Land of Kaldalangra Lady of Steinbrekka; Land of Kaldalangra Heart of Kaylassame; Land of Kaldalangra Soul of Asimina and Finding Keepers. She lives in Winchester, Va.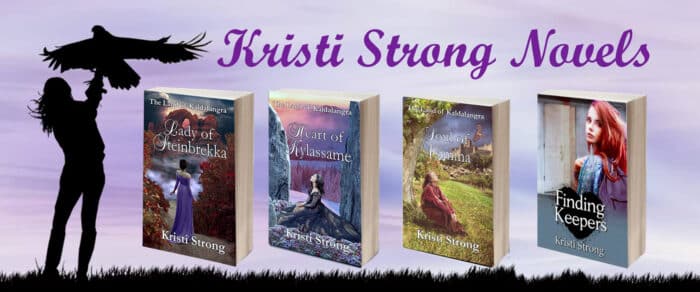 Jack Tobin
Jack Tobin is an author and indie publisher. His writing credits include Summer Brew: First Sips and back matter copy, editing, and graphic contributions for Jason Queen's My Life Was Mercy Creek, The World Comes to Mercy Creek, 39 Mattresses, and Snowed In At The Skyline Motel - which make up a home‐grown collection of short stories, fictional historical novels and "dirt road crime stories" offered by indie publisher Independent Literature Brewing Company. Caution: Be prepared to laugh out loud one minute and cry the next. Jack was born and raised in Winchester, VA and lived in Perth, Australia for eleven years.

J. Elizabeth Vincent
J. Elizabeth Vincent writes off-world epic fantasy focused on friendship, family, and what it means to be different. Her books, Raven Thrall  (Legends of the Ceo San Book 1); Revelation of the Dragon (Legends of the Ceo San Book 2); and Rise of the Ceo San (Legends of the Ceo San Book 3) are enjoyed by all ages. She lives in Luray, Va.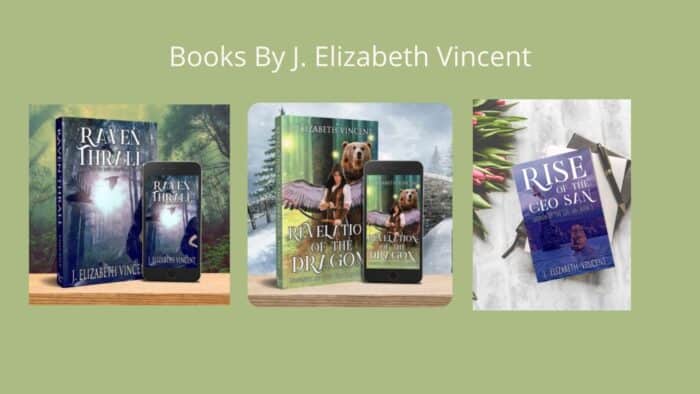 Shirley Nan Washington
 Shirley Nan Washington is the author of HOME, a photographical book depicting the beauty of natural and physical environments the author encountered on her journey toward home. Washington reminisces her childhood's love of travel and fascinating art through her vividly dazzling photography. Her three colorful, photographic books showcase road trips' images from some of Virginia's finest and rarest antiques, magnificent arts, unique animals, and scenic views of the Shenandoah Valley and nearby regions. In her 184-page photographic book trilogy, Home, she revisits some of the same Virginia towns she toured as a youngster and shares findings of her picturesque journey.
Shirley, '78 Ed.D. (UMASS), is a native of Harrisonburg, Virginia and resides in Silver Spring, Maryland. She is a retired educator and lifelong learner who is a six-time Montgomery College graduate (with honors). Besides having a great appreciation for the visual arts: capturing photographic images of distinctive sights and sounds, creating works of art, visiting museums, etc., she also enjoys playing the piano, mingling with diverse folks, and learning about drones. She has had photographic and art pieces showcased in juried exhibitions and in the Sligo Journal.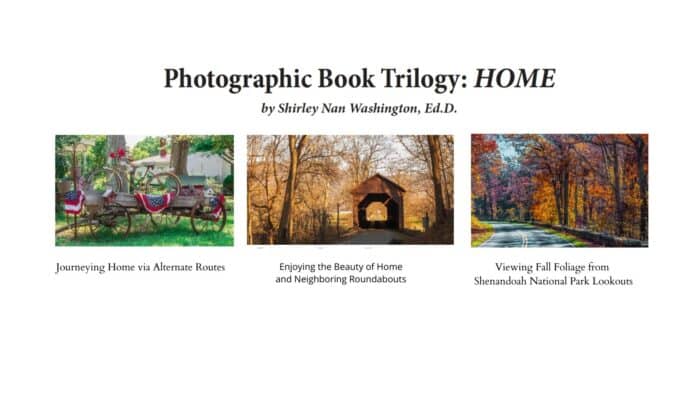 Note: Recipe Idea Shop Events are listed in newest to oldest order and only include events that involve Recipe Idea Shop, Lois Carter Crawford and/or Don Crawford. We do not post other events. This page was originally posted by Recipe Idea Shop on November 29, 2021.