Recipe Idea: French Bread
Hi. It's Lois in the kitchen at Recipe Idea Shop, telling you how to make French Bread. Don got this French Bread recipe from his mother.
When he was a little boy and his family lived in France, one of his daily joys was walking or biking to the local boulangerie for a loaf of French Bread. Sometimes he would spread camebert cheese on the sliced bread and enjoy it that way. Georgette the maid would often slice off a hunk of bread, split it lengthwise and put dark chocolate in it for an after-school treat.
Wouldn't that be divine?



This French Bread is as close as you can get to the baguettes from the boulangerie in the center of Barbizon, France. You make the bread nice and crusty by spritzing the oven with water at the beginning of the baking process.
We have a couple of other French Bread recipes (or recipes that I bake in French Bread pans) on our site, including Amazing Gluten Free French Bread, Gluten Free White Bread and Homemade White Bread.
You're gonna wanna eat this bread.
BUT FIRST, DID YOU GRAB YOUR FREE COOKBOOK?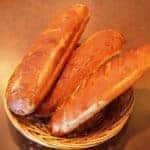 French Bread
French Bread. Crusty on the outside. Soft on the inside.
Prep Time
1
hour
30
minutes
Total Time
1
hour
53
minutes
Ingredients
2 1/2

cups

warm water

3

tablespoons

dry yeast

2

tablespoons

sugar

or you can use honey

1

teaspoon

salt

some people like more

8

C

unbleached flour + a little more for flouring the table surface

White of 1 or 2 eggs
Instructions
Make Dough
Stir the yeast until it is dissolved in the warm water and add the sugar and salt.

Mix flour into the yeast mixture, adding 1/2 cup at a time, and mixing it in. After adding the first cup or so of flour, use a wire whisk and stir vigorously to release the gluten (the part of flour that helps it stick together).

Continue to add the flour, 1/2 cup at a time, until you have mixed in all the flour. You may only need about 7 1/2 cups of flour to get the right consistency. Don't make it too dry.

The resulting dough should be a little damp to the touch (not sticky), and sound solid when you tap it.
Knead
Knead on a well-floured surface for 10 minutes after the last of the flour is incorporated.

Rinse and dry the mixing bowl to remove any remaining mixure.

Coat the inside of the bowl with oil.
First Rise
Place the dough in the bowl then turn it so the oiled side is up.

Cover and let rise in a warm place until double in bulk. (About an hour in our house.)

Punch down the bread dough and knead 3 or 4 times to remove the air.
Second Rise
Divide into 4 equal pieces and shape into loaves.

Place into well greased French bread pans. (If you don't have the pans, just place the loaves spaced apart on greased cookie sheets so they don't touch.)

Slash the tops of the loaves with a sharp knife on a diagonal and brush with egg white.

Let rise until double in bulk.
Bake
Preheat the oven to 450F degrees.

When the oven is hot, spritz water onto the sides of the oven and close the door for 2 minutes.

Then place the bread in the oven.

After a minute, again spritz the sides of the oven with water.

Bake at 450F degrees for 15 minutes and continue baking for another 15 minutes at 350 degrees, or until nicely browned and hollow sounding when you tap the loaf.

Remove from pan and let cool.
Eat & Enjoy
Cut and eat immediately, spread with delicious butter or cheese.
To Freeze & Reheat
After the bread is completely cool, divide the loaves in half (to fit a plastic bag), wrap in foil, place in plastic bags and freeze if not eating it all right away.

To serve later, remove the foil-wrapped loaf from the plastic bag and heat the foil-wrapped bread in a 350F degree oven for 20 minutes. It should be soft when squeezed.
Servings
Sometimes it serves 24 people; sometimes only a few hungry ones, drawn in by the fragrance wafting throughout the house.
https://recipeideashop.com/french-bread/
Note: Many of the links included throughout Recipe Idea Shop are affiliate links, which means if you follow them and you buy something, we will get a small commission. It doesn't cost you a penny more, and you can still use your Amazon Prime (Shop Amazon – Give the Gift of Amazon Prime) account to buy. This posting includes affiliate links.  
SaveSave
SaveSave
SaveSave
SaveSave
SaveSave
SaveSave
SaveSave