Fresh Artichokes with Lemon Butter. What a delight. Easy. Tasty. And they make you feel decadent.
Fresh Artichokes: An Inexpensive Luxury
Hi. It's Lois at Recipe Idea Shop, telling you about our New Year's Eve treat, Fresh Artichokes.
I always feel like I'm living the good life when we have Fresh Artichokes. I was an adult before I ever tried one (my family was not adventurous eaters). They are neither expensive nor hard to make, and because they are not commonplace for average families, I love to serve them on special occasions. I picked one up at the local grocery store for just $1.99 and it was delicious!
Serve it with Lemon Butter. Peel, dip the bottom end and eat your hot, Fresh Artichoke. A good butter server will make it extra special. I like the servers with the warmer to keep your butter hot! What kind do you like?
Fresh Artichoke Recipe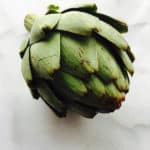 Fresh Artichokes
Ingredients
2

Fresh Artichokes

6

cups

boiling water

1/2

stick butter

melted

1

tablespoon

lemon juice
Instructions
Bring the water to a boil.

Prepare the artichokes by cutting off the tough top and bottom and peeling off the tough outer leaves.

Cut the tips of the leaves on the outside all around the artichoke.

Drop the artichokes into the pot and turn the temperature to medium.

Cook for about 40 minutes until the artichokes are tender.

Melt the butter and stir in the lemon juice.

Drain the artichokes and serve whole with the butter sauce adjacent in a small cup.

To eat, pull off the leaves, dip the bottoms in the butter and eat the bottom tips.

When you reach the heart, cut off the choke and eat the heart.
https://recipeideashop.com/fresh-artichokes/
Note: Many of the links included throughout Recipe Idea Shop are affiliate links, which means if you follow them and you buy something, we will get a small commission. It doesn't cost you a penny more, and you can still use your Amazon Prime (Shop Amazon — Give the Gift of Amazon Prime) account to buy. This posting includes affiliate links. Don and I love our Amazon Prime account
 Fresh Artichokes with Lemon Butter Nutrition
Want More Recipes Like This?
If you want more delicious recipes, please sign up for our free cookbook.
Pin & Share!
Please Pin and share our recipes. And tell us what you think in the comments.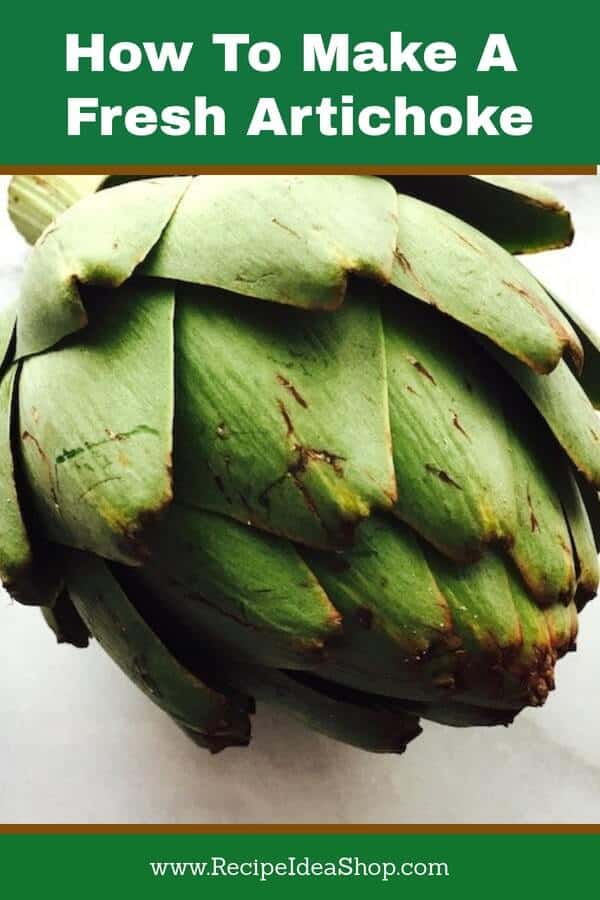 You May Also Like These Recipes From Recipe Idea Shop
BEFORE YOU GO, DID YOU GRAB YOUR FREE COOKBOOK?
[mc4wp_form id="5109″]