Oh yum! Gluten Free Coconut Cupcakes. This tasty and simple recipe will delight the coconut lovers.
Gluten Free Coconut Cupcakes (CAKE!)
Hi. It's Lois at Recipe Idea Shop, telling you about some super delicious Gluten Free Coconut Cupcakes (Cake). The first time I made them, Don asked for coconut; I wanted chocolate; our granddaughter Taevi didn't have a preference, so I made both. And that day, they were nearly a disaster!
I decided to make both kinds of cupcakes for Taevi's birthday party, and what happened? The darn oven stopped working! So in the middle of baking, I had to take them to my neighbor's house to finish baking. Thankfully, she was home and we had a lovely visit.
And after I frosted the cupcakes with Basic Frosting and coconut, I had to try them, didn't I? (sugar buzz here) ... To combat all that sugar, I ate a bunch of green olives. I know. It doesn't even things out, and I probably ate about a million calories, but what a delightful lunch. I've already posted the Gluten Free Chocolate Cake, so now I'm sharing the Coconut ones.
You're gonna wanna eat these cupcakes.
What You Need
You'll need measuring cups and measuring spoons, a cupcake pan, cupcake liners, an electric mixer, and coconut and gluten free flour, of course.
Gluten Free Coconut Cupcakes Recipe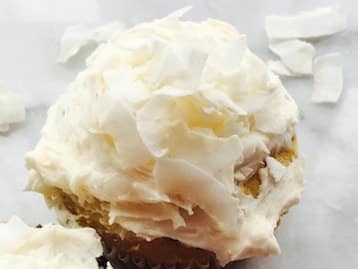 Gluten Free Coconut Cupcakes
Ingredients
1½

cups

sugar

2

eggs

¼

teaspoon

sea salt

1

teaspoon

vanilla

1

cup

melted coconut oil

¾

cup

coconut milk

1

cup

Bob's Red Mill Gluten Free All Purpose Flour

2

cups

Bob's Red Mill Gluten Free 1-to-1 Baking Flour

1

tablespoon

baking soda

1

teaspoon

baking powder

½

cup

boiling water

1

cup

unsweetened flaked coconut
Instructions
Heat the oven to 350F degrees.

Beat the sugar, eggs, salt, vanilla, coconut oil, and coconut milk until well combined.

In a separate bowl, mix the two flours, baking soda, and baking powder.

Pour the mixed dry ingredients into the wet ones and mix until blended.

Add the boiling water and coconut and blend.

For cupcakes, line a cupcake tin with cupcake liners and ladle about ½ cup batter into each liner. Or, for a sheet cake, grease a 9" x 13" cake pan and pour the batter into the pan.

Bake at 350F degrees for about 20 minutes for cupcakes or 25 minutes for sheet cake until a toothpick inserted comes out clean.

Frost with Frosting and sprinkle some coconut on top, if desired.
Recipe Nutrition Information
This recipe is GF, DF, NF (contains coconut), SF, V*
The information shown is an estimate provided by an online nutrition calculator. It should not be considered a substitute for a professional nutritionist's advice.
Nourish Your Body & Soul
I encourage you to care of yourself by eating satisfying, nourishing food that is good for your body and makes you feel healthy. Protect your spirit by living authentically, moving your body, and taking time to replenish and rest. I think you might also like these recipes & posts from Recipe Idea Shop:
RATE, PIN & SHARE!
Please Rate our recipes and posts, and Pin and Share them on social media. Comments are welcome, too!
*Allergen Key
GF = Gluten free | DF = Dairy free | NF = Nut free | SF = Soy free | EF = Egg free | CF = Corn free | V = Vegetarian | VG = Vegan
Note: If you have serious allergies or sensitivities, to be considered free of these allergens, you need to use products specifically marked "gluten free," etc. There can be cross-contamination in facilities.
This post was first published on Recipe Idea Shop May 22, 2017 and updated April 22, 2021.