Rocks Date Spice cookies, an old-timey cookie recipe is a family recipe that was modified with the help of James Beard's recipe. The cookies look like "rocks" but are soft and deliciously spiced.
Old-Fashioned Rocks Date Spice Cookies taste like spice cake but are cookies.
The first time I made Garmer's Rocks (Date Spice Cookies) Don was out of town and I had to call him to figure out the recipe, which came from Don's first wife's maternal grandmother (Garmer). He mentioned he would like to have them for the holidays. I didn't remember ever having them before, so I didn't know what they were supposed to look like.
When I did finally get in touch with Don, he said: "Garmer's Rocks are supposed to look like rocks. That's why they are called 'Rocks'. They are really good. Please make some!" But I was confused. The handwritten original
recipe says:
Garmer's Rocks
1 ½ c sugar
½ c butter
3 eggs
2 t cinnamon
2 t allspice
2 t cloves
1 t soda dissolved in 2 T warm water
2 c flour
1 lb broken nuts
2 lb dates, Garmer used 3
Bake on buttered tins at 350
Burn easily!
And that's it. No mix this, then that. I had no clue as to how many dates make 2 pounds. No idea what kind of nuts to use. Hmmmm.
Have You Heard of Rocks?
I decided to use walnuts and did some research on cookies called "Rocks." I looked up Cookies , >Rocks in James Beard's American Cookery, my old standby cookbook that usually has answers to my questions. I love this cookbook.
Beard's recipe calls for ¾ cup raisins and no dates. It also said to use brown sugar instead of white sugar, had a bit more flour, no soda but instead, baking powder, more butter and some salt. It only called for cinnamon and none of the other spices. But it still seemed like it might be a similar recipe.
Beard says that a Rocks recipe "appears in almost every cookbook of the late nineteenth and early twentieth century. Because these cookies keep well, the old recipes were made in huge quantities."
Recipe Development
Since I couldn't immediately get in touch with Don, and I'm an impatient person, I chose to continue making the Gluten Free Garmer's Rocks cookies and hoped that Don would call me, which, thankfully, he did, but not until I already had one cookie sheet of cookies in the oven. So I made a dozen cookies with half the amount of dates, and the balance with the full amount of dates. I actually think the cookies are just as delicious with half the amount of dates. The texture is a bit more like oatmeal cookies and they are not as chewy. Either way, they are wonderful cookies!
Cookie Process
I started out dropping the Gluten Free Garmer's Rocks Date Spice Cookies using two teaspoons. You heap one teaspoon with dough and push the dough off the spoon onto the pan with the other one. But the thing is, I was using gluten free baking mix instead of flour because I'm gluten intolerant.
You can see in the picture below how the finished cookies turned out. Gluten free flour tends to peak up like the one in the middle, especially if the mix is dense as it is with 2 pounds of dates. So my suggestion is to either leave half the dates out and drop by teaspoons or put all the dates in and roll the cookies into balls to bake. All three of these cookies are scrumptious, though.
When Don called, I told him about James Beard and the reduced quantity of fruit. He replied, "But then they wouldn't be Garmer's Rocks."
Before he called, I put 28 ounces of chopped dates in the dough and I also substituted Bob's Red Mill Gluten Free Baking Mix for the flour (or I wouldn't be able to eat them) and used walnuts in the dough (the other option would be pecans). Don confirmed that Garmer used walnuts.
After I talked to Don, I added another 28 ounces of chopped dates. I only bake one sheet at a time because I think the cookies cook more evenly, so it took me hours to finish these cookies (since the recipe makes about a million cookies!). In the end, they are worth it. Don thinks my Gluten Free Garmer's Rocks Date Spice Cookies taste great.
What You Need
Trust me on this one. You need a full sized food processor and a good stand-style electric mixer. Of course, you will need measuring cups and spoons, cookie sheets, and cooling racks. And a really good cup of coffee to accompany these marvelous cookies.
Gluten Free Garmer's Rocks Date Spice Cookies Recipe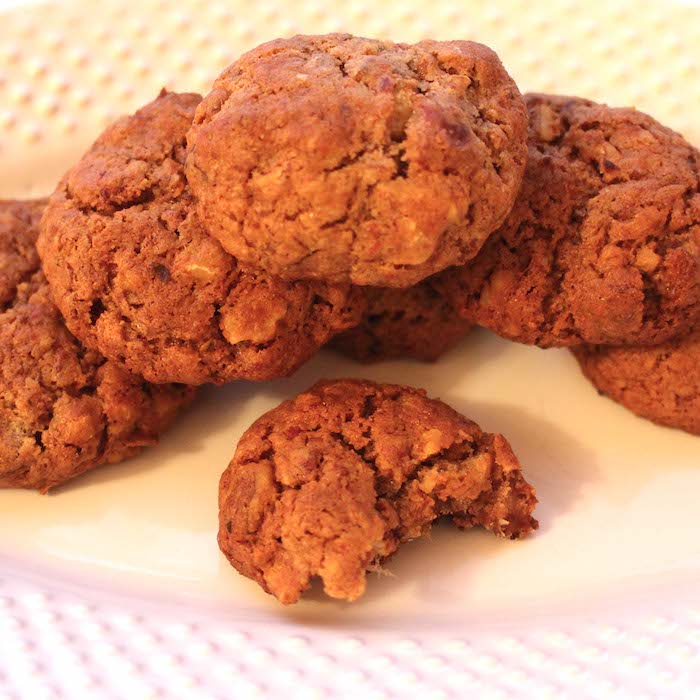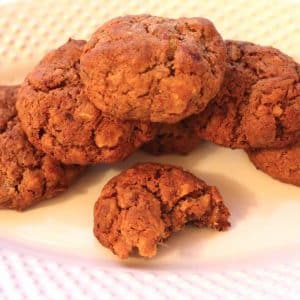 Gluten Free Garmer's Rocks Date Spice Cookies Recipe
Date Spice Cookies that are flavorful and chewy.
Ingredients
1 ½

cups

sugar

½

cup

butter

3

eggs

2

teaspoons

cinnamon

2

teaspoons

allspice

2

teaspoons

ground cloves

1

teaspoon

baking soda dissolved in 2 tablespoons warm water

2

cups

Gluten Free Baking Flour

1

pound

broken walnuts

about 4 cups

56

ounces

of dates
Instructions
Chop the dates, a few at a time, in a full size food processor.

Cream the sugar, butter, eggs, and spices (using a heavy duty electric mixer).

Mix the baking soda with the warm water until dissolved.

Add this liquid mixture to the creamed ingredients.

Sift the baking mix (flour) and mix into the cookie batter.

Add the nuts and mix.

Add the chopped dates and mix thoroughly.

Grease the cookie sheets.

Heat the oven to 350F degrees.

Roll the dough into 1" balls in your hands (grease your hands first to prevent sticking).

Place the cookie balls on the cookie sheet about 2-3" apart (12 to 15 cookies per sheet).

Bake for about 13 minutes until the cookies have flattened a bit, are slightly puffy and nicely golden brown.

Cool the cookies on cooling racks and then store in an air-tight container.

These cookies freeze well.
Notes
It's best to use a heavy duty stand mixer to mix these cookies (unless you have enormous muscles!).
Recipe Nutrition Information
The information shown is an estimate provided by an online nutrition calculator. It should not be considered a substitute for a professional nutritionist's advice.
RATE, PIN & SHARE!
Please Rate our recipes, and Pin and Share them on social media. Comments are welcome, too!
You May Also Like These Recipes From Recipe Idea Shop