Gluten Free Pasta Niçoise Salad. This is a terrific summertime salad that is good for a simple evening repast or taking to a picnic or a pot luck supper. Are we doing that yet with this pandemic going on? Well, I'm not, but you might be gathering with a few friends.
Gluten Free Pasta Niçoise Salad is light and tasty.
This pasta salad contains gluten free pasta, green beans, white beans, tomatoes, onions and olives in a vinaigrette. It's super delicious and nutritious. Although I modified it, the recipe originally comes from Robin Robertson's Vegan Planet. Robertson has several awesome vegan cookbooks that I love.
When I go to pot luck suppers, I usually bring a main dish that I am sure I can eat since I am unable to eat gluten or dairy without having health problems. I also find that people usually tend to bring desserts or salads to these dinners, don't you?
Avoid Processed Foods
I try to eat healthful, made-from-scratch food that is good for my body. I avoid most processed foods, which never were a concentration in my diet. When my daughter was growing up, I did succumb to Kraft Macaroni and Cheese and Smokie Links, a favorite of hers that I admit I still like. However, a few years ago I had a health scare that gave me a wake-up call. Since then, I have eliminated A1 cow's milk (I can eat/drink A2) and most gluten. And since I gave up gluten, I have slowly lost weight—more than 35 pounds—and it has stayed off. I'm down two clothing sizes! And I have discovered some excellent recipes because of this change in my eating habits.
A1/A2 Milk Allergy
What is A1 (and A2) milk, you ask? Here's what Wikipedia says:
A1 and A2 beta-casein are genetic variants of the beta-casein milk protein that differ by one amino acid. The A1 beta-casein type is the most common type found in cow's milk in Europe (excluding France), the USA, Australia and New Zealand. A genetic test, developed by the A2 Milk Company, determines whether a cow produces the A2 or A1 type protein in its milk. The test allows the A2 Milk Company to give licenses to milk producers once these producers prove their cows produce only A2 beta-casein protein in their milk, to the exclusion of the A1 beta-casein protein type.
But what I have to say is that drinking or eating A1 milk products makes my joints hurt! A2 doesn't make me hurt. Goat's and sheep's milk are A2, so I can have that. And I'm lucky to have found a local producer to provide me with A2 cow's milk.
What You Need
You will, of course, need a good chef's knife and a cutting board, along with a pot to boil pasta in. Also, get some really terrific gluten free pasta. I prefer the rice, potato and soy pasta, but either quinoa or corn-based GF pasta is good too. And be careful cooking it so it is neither overdone nor underdone. As always, buy the very best equipment you can afford so it will last a lifetime.
Gluten-free Pasta Niçoise Salad Recipe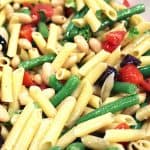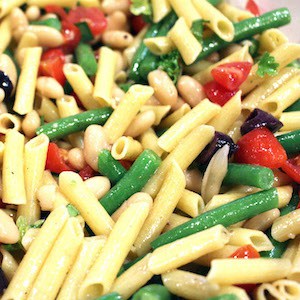 Gluten-free Pasta Niçoise Salad
A take-anywhere gluten-free, vegan salad that holds up well at picnics.
Ingredients
1

cup

quinoa penne pasta

2

cups

fresh green beans

(cut in 1- to 2-inch pieces)

1

15-ounce

can of cannellini beans

(drained and rinsed)

1

cup

cherry tomatoes

(cut in half)

1/2

cup

diced onions

(optional)

1/2

cup

pitted kalamata olives

2

tablespoons

fresh cilantro

(chopped)

2

tablespoons

fresh parsley

(chopped)

2

tablespoons

white wine vinegar

1

garlic clove

(minced)

1

teaspoon

Dijon mustard

1/2

teaspoon

salt

1/4

teaspoon

fresh ground pepper

3

tablespoons

olive oil

1/4

teaspoon

sugar

(optional)
Instructions
Boil the penne in water for about 10-12 minutes until al dente.

During the last 3 minutes of the cooking time, add the green beans and cook them until crisp tender.

Drain and cool the pasta and green beans.

Combine the pasta, green beans, white beans, olives, tomatoes and onions (if using) in a large bowl.

In a separate bowl or measuring cup, mix the cilantro, parsley, vinegar, garlic, salt, pepper, mustard, olive oil and sugar (if using) until well blended.

Pour the dressing over the pasta mixture and stir to coat thoroughly.

Serve at room temperature or refrigerate and serve cold.
https://recipeideashop.com/gluten-free-pasta-nicoise-salad/
Affiliate Disclosure: Many of the links included throughout Recipe Idea Shop are affiliate links, which means if you follow them and you buy something, we will get a small commission. It doesn't cost you a penny more, and you can still use your Amazon Prime account to buy. Don and I love our Amazon Prime account. This posting includes affiliate links.
Recipe Nutrition Information
The information shown is an estimate provided by an online nutrition calculator. It should not be considered a substitute for a professional nutritionist's advice.
WHAT'S NOT TO LOVE?
Trust me, you're gonna love this recipe. Up your recipe repertoire. Add this recipe to your collection. But don't stop there…subscribe to our email newsletter and get a free cookbook and a printable grocery shopping list.
RATE, PIN & SHARE!
Please Rate our recipes, and Pin and Share them on social media. Comments are welcome, too!
You May Also Like These Recipes From Recipe Idea Shop
BEFORE YOU GO, DID YOU GRAB YOUR FREE COOKBOOK?
[mc4wp_form id="5109″]