RECIPE IDEA: Gluten Free Peanut Butter Chocolate Chip Cookies
Hi, it's Lois at Recipe Idea Shop, telling you about Gluten Free Peanut Butter Chocolate Chip Cookies. Lots of fat, no flour. So tasty. This is one of those old-fashioned recipes from Grandma. In our household, the adults love this cookie, but the grandkids don't really like oatmeal in their cookies, and are generally not willing to try them. They just don't know what they are missing. All the more for me!



I enjoy having these cookies without chocolate or nuts. And some people in our family are allergic to tree nuts, so I make a whole batch without chocolate or nuts and bake one-third without chocolate and nuts, one-third with chocolate and no nuts, and one-third with both chocolate and nuts.
I bake one or two pans without the chocolate and nuts. Next, I add just the chocolate chips to the remaining cookie dough, mix thoroughly, and bake one or two pans with just chocolate. Finally, I add the nuts because that's the way Don prefers them. When I store the cookies, I keep the ones with nuts in a separate container.
These cookies are somewhat similar to my Chewy Chocolate Chip Cookies, but they contain peanut butter and nuts and do not contain flour. I was curious to see how they would hold together without the flour, but the eggs did their magic and the texture is perfect. This is my favorite way to have Peanut Butter Cookies.
You're gonna wanna eat some of these cookies.
BUT FIRST, DID YOU GRAB YOUR FREE COOKBOOK?
[mc4wp_form id="5109″]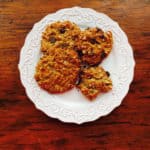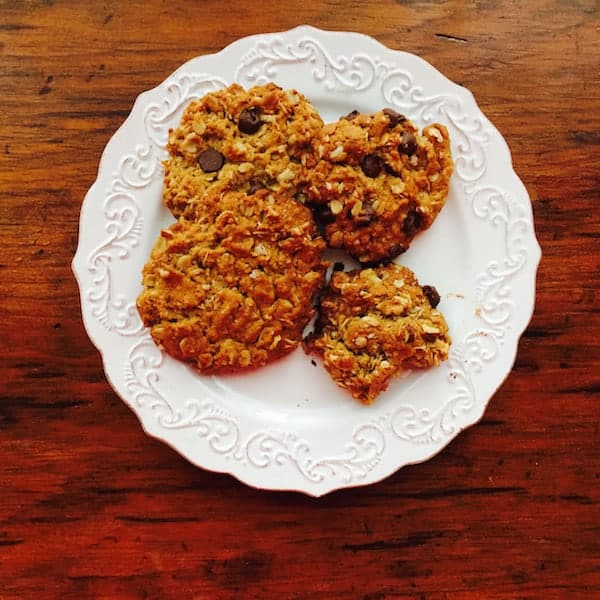 Peanut Butter Chocolate Chip Cookies (Gluten Free)
No flour!
Ingredients
1/2

cup

butter

1/2

cup

turbinado

or white sugar

1

cup

brown sugar

1

tablespoon

Karo Syrup

I used dark

3

eggs

1

teaspoon

vanilla

2

cups

peanut butter

4-1/2

cup

gluten-free rolled oats

not quick cooking

1/4

teaspoon

salt

2

teaspoons

baking soda

1

cup

chocolate chips

1

cup

walnuts

chopped (optional)
Instructions
Heat the oven to 350F degrees.

Mix sugar, brown sugar, Karo Syrup, eggs, and vanilla until creamy.

Add peanut butter and mix until smooth.

Add the oats, sprinkle the salt and baking soda evenly over the oats.

Mix to combine.

Add the chocolate chips and walnuts and mix until everything is evenly combined.

Drop by rounded teaspoons full on an ungreased baking sheet, leaving plenty of space between the cookies (I used 2 cookies per row and baked 8 cookies per pan and that worked fine).

Flatten the cookies with a fork or the bottom of a glass.

Bake 12 minutes, or until they turn a nice, golden brown.

Cool on a rack and store in a covered container.
https://recipeideashop.com/gluten-free-peanut-butter-chocolate-chip-cookies/
Note: Many of the links included throughout Recipe Idea Shop are affiliate links, which means if you follow them and you buy something, we will get a small commission. It doesn't cost you a penny more, and you can still use your Amazon Prime (Shop Amazon – Give the Gift of Amazon Prime) account to buy. This posting includes affiliate links. 
SaveSave
SaveSave