Is it time to invest in your health? Do you know food can make you sick? My new book, It Ain't Just the Diet  Food Journal | A Daily Guide to Finding & Managing Your Food Allergies, may help you discover what foods are hurting you. I want you to feel better. My Food Journal now available on Amazon in two sizes (photos take you to Amazon to read more and buy).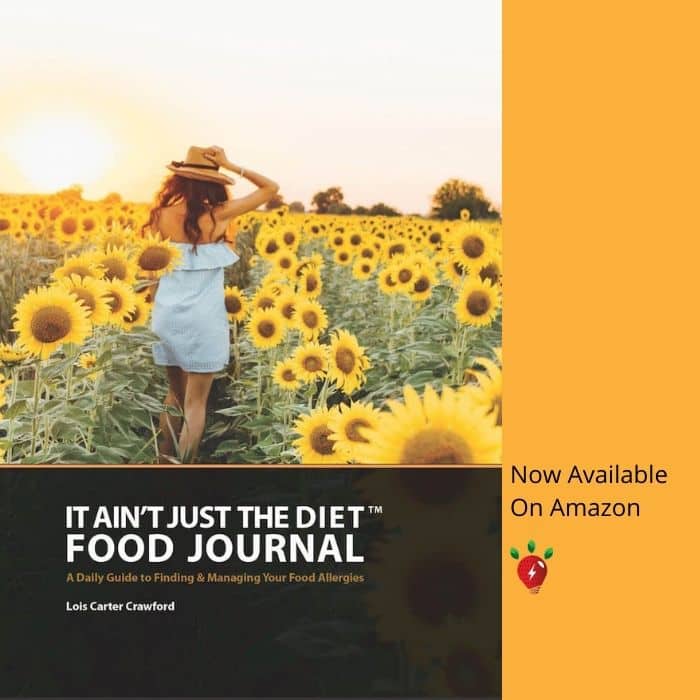 It Ain't Just The Diet Food Journal: Why Do You Need This?
If you are suffering from odd or not-so-odd ailments and thinking your health issues might be caused by food allergies, sensitivities or intolerances, It Ain't Just The Diet Food Journal: A Daily Guide to Finding & Managing Your Food Allergies is for you. And don't worry, it's only a few dollars. It will be SO worth the investment. It's available in two sizes.
Was it a Miracle?
Writing down what I ate and what symptoms I experienced worked like a charm for me. It worked so well, I lost 40 pounds without dieting. Keeping a food journal was such a good investment!
I'll tell you my story and how a food journal helped me, but first, let me show you my success. I think it will be obvious to you I am healthier than I was. Just take a look. (Look at those chins!)
So, Back To My Success Story
I was fat and in pain. Some days, everything hurt. I was exhausted and my health was spiraling out of control!
But, really, I wasn't doing anything in particular to make myself sick. I thought I ate well. I walked my dog. I didn't smoke and I drank very little.
I tried to get enough sleep.
That was hard because the pain in my hip kept me awake. And I was worried about one of my daughters, who seemed bent on destroying her life. And my body decided to warm me up with hot flashes every fifteen minutes, 24/7. (I would have had to sleep in a refrigerator to sleep through that.)
And then I had a "moderate" heart attack. But it didn't feel moderate to me. It hurt like heck and put me in the hospital for five days, flat on my back. On top of that, the doctor told me I was diabetic. Two big whammies at the same time.
I wanted to heal, so I did everything the doctors told me I needed to do. I got better, but I didn't get well. After reading everything I could get my hands on, I began to think that some of my health problems might be food-related.
What Were My Symptoms?
Some of my symptoms were obvious. You can't ignore pain in your gut, stinky gas, and joint pain. You'll do anything to figure out how to get back to normal when you have symptoms like that.
Did I Have Any Weird Symptoms?
Why, yes. Yes, I did. On a frequent basis, I had:
Itchy, extremely sensitive & ticklish skin
Dandruff
Flushing (reddening like I was embarrassed)
Sneezing
Stuffy nose, alternating with it running like a hose
Itchy eyes
Dry eyes
Brain fog
Inability to concentrate
Disjointed or distractible thinking
Trouble remembering things
Restlessness
Tiredness & fatigue
Low energy
Flat mood
Sweaty hands & feet
Stinky feet
Food cravings (I wanted to eat ALL the time)
Night sweats
Sleep apnea
Heart pain
Alternating constipation & diarrhea
Incremental weight gain
Now, some of these weird symptoms had been with me since I was a kid, so I naturally thought they were normal.
And I have never been good at figuring out cause and effect. So it took me a LONG time to associate these symptoms with what I was eating. Or even think that food might be the problem.
How Did I Succeed?
I had to write everything down. I wasn't organized. I had a simple notebook where I would write what I ate and what symptoms I noticed. If I saw some sort of connection, I cut the food out for awhile. I didn't actually test and record the data. It was rather haphazard. Nevertheless, what did I discover?
Really? Food Was Making Me Sick?
When I started tracking all these things, I finally figured out that I am allergic to soy milk, intolerant of cow's milk, and super sensitive to gluten. My symptoms were weird, and my doctors weren't helping me figure out what was wrong or how to truly heal.
What Happened?
I set out to figure out how to heal myself. And I did. I researched, tested, and kept track of my symptoms. In the process, my lab results went back to normal, I eliminated all my joint pain, got rid of most of my seasonal allergies, and lost more than 40 pounds without going on a diet. (I even ate chips!)
Since it was just a pound or two every month, nobody noticed.
I told my husband I had to buy new clothes. He actually asked why. I showed him how my clothes hung on my body. And then I went shopping.
Click on the books to read more and buy on Amazon.
Now I'm Ready to Help You
I have developed a comprehensive daily food journal where you can record everything you eat and keep track of any symptoms that occur. It lets you log your blood sugar, blood pressure, medication changes, weight, sleep, and more. And it comes in two sizes, one you can carry around easily and one designed to fill out at home. They are exactly the same except for the size and the cover art.
I'm excited to have this Food Journal. I use it myself. I think it might help you, too.
Here's what you get in It Ain't Just the Diet Food Journal: A Daily Guide To Finding & Managing Your Food Allergies:
Research to help you understand allergies, sensitivities & intolerances
A handy symptoms checklist to help you identify your symptoms
13 weeks of daily food log forms
A Bristol Stool Form Chart (yup, it tells you if your poop is normal, which can be critical information sometimes)
Links to additional research
A list of recommended resources
Journal prompts to help you consider your positive food memories & change your attitude
Daily prompts to note challenges you overcome & blessings that make you grateful
And The Best Thing
It Ain't Just the Diet Food Journal helps you track everything in one handy book. And it's portable. Carry it with you in your purse or briefcase. You can easily take the journal with you everywhere.
It will be especially helpful when you go to your healthcare appointments. The data in your food journal can inform your discussions with your doctor, nutritionist, health coach or other professionals. And you will be able to document all your concerns. No more worrying about when something started to happen. You will have written proof. It gives you control of your own healthcare.
And that's powerful. 
So Whadaya Think?
Do you believe It Ain't Just the Diet Food Journal | A Daily Guide to Finding & Managing Your Food Allergies can help you? I sure hope so!
Buy one of my Food Journals now and start changing your life today.
Disclaimer: The author is not a health professional or nutritionist. She is offering her research and personal reflections about her health journey and is not providing any type of medical or nutritional advice. This post is for informational purposes only. It is offered as a tool for people to discover their own suspected food allergies, intolerances and sensitivities. Readers are highly encouraged to read, write, and reflect on the ideas presented. Consult your healthcare professional before initiating any dietary or exercise program.