Libby's Pumpkin Pie, easy, creamy, super good traditional pumpkin pie.
Libby's Pumpkin Pie
Hi. It's Lois at Recipe Idea Shop. I am not much of a pie maker, but last week when our two youngest were here for an early Thanksgiving dinner and Don was working all day, the task fell to me. I found out it's not very hard to make a Libby's Pumpkin Pie, and it was just as good as Don's. I followed the directions on the back of the Libby's Pumpkin can.
Wouldn't you love a beautiful pie plate like this?
You also might need a pie shield to keep your crust from burning.
Check out the recipe...
Libby's Pumpkin Pie Recipe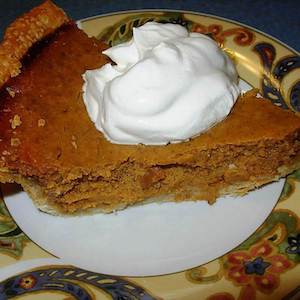 Libby's Pumpkin Pie
Creamy, traditional pumpkin pie!
Ingredients
¾

cup

sugar

½

teaspoon

salt

1

teaspoon

ground cinnamon

½

teaspoon

ground ginger

¼

teaspoon

ground cloves

2

large eggs

15

oz

Libby's 100% Pure Pumpkin

12

oz

Carnation Evaporated Milk

1

unbaked 9-inch

4-cup volume deep-dish pie crust
Instructions
Mix the sugar and spices in a small bowl.

In a large bowl beat the eggs.

Stir in the pumpkin and sugar-spice mixture.

Add the evaporated milk.

Stir and pour into the unbaked pie shell.

Cover the pie with a pie crust shield to prevent the edge of the crust from getting too brown. If you don't have one of these, you can use bits of aluminum foil to cover the exposed crust.

Bake at 425F degrees for 15 minutes.

Reduce the temperature to 350F; bake 40-50 minutes or until a knife inserted near the center comes out clean.

Cool on a wire rack.

Serve warm or cool with a dollop of Whipped Cream.

Refrigerate to store.
Libby's Pumpkin Pie Nutrition
Pin & Share!
Please Pin and share our recipes. And tell us what you think in the comments.
You May Also Like These Recipes From Recipe Idea Shop