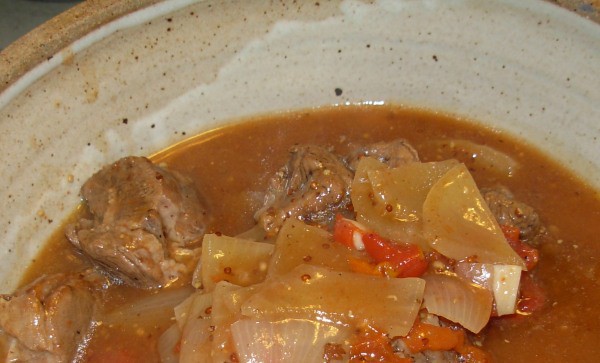 Recipe Idea: A Lighter Beef Stew
Don here. It's still spring here the last weekend in April. Today, it is chilly and rainy. A good day for a beef stew, but not the heavy stew we eat in winter, a lighter version for late spring. The desire to enjoy beef today is also driven by Pepper, our cocker spaniel puppy, needing a new bone to chew. We bought some locally raised, organic beef earlier this year and one of the cuts is an arm roast. Not quite sure what an arm roast is, I checked my favorite kitchen resource, Joy of Cooking, to find it is a cut like the chuck roast, a piece best cooked long and slow. Continuing to page through Joy of Cooking, I found a Beef Daube recipe with mustard, herbs and wine. I have adapted it here for our Sunday supper.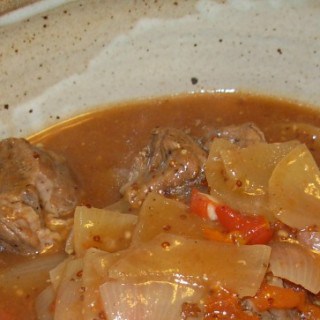 A Lighter Beef Stew
Ingredients
2

pounds

beef stew meat.

I used an arm roast but shoulder, blade, chuck or rump would work as well.

3

T

olive oil

Salt and ground pepper to taste

750

ml

bottle of Chardonnay

2

T

Dijon mustard

16

ounce

can of diced tomatoes

3

medium onions quartered

3-4

cloves

of garlic

coarsely chopped

Bouquet garni comprised of parsley

sage, thyme, rosemary and oregano
Instructions
Cut the beef stew meat into 1 or 2 inch cubes.

Salt and pepper the beef cubes to taste.

Heat the olive oil in a Dutch oven over medium heat and brown the beef cubes on all sides.

Cook only a portion of the beef that fits easily in the pot at a time to be sure all sides of the cubes are browned.

Remove the beef to a dish using a slotted spoon and continue cooking the cubes until all are browned. (Also brown the bone if you are including it in the stew).

After removing the last of the beef, add the Chardonnay to the pot.

Bring it to a boil being sure to scrape all the bits of meat from the bottom of the pot.

Boil to reduce it by half; then whisk in the mustard.

Return the beef and any juice to the Dutch oven and add the diced tomatoes along with the juice, the onions, garlic, and bouquet garni.

Cover the pot and simmer over low heat for 2 or 3 hours until the meat is fork tender.

Remove the beef, onions and tomatoes from the pot and set aside.

Boil the sauce over high heat for about 10 minutes until it is thickened. (Well, I cheated. I added a T of corn starch mixed with a little water to the liquid to get it to thicken quicker.)

Return the solids to the pan and reheat them gently over reduced heat.

Serve in warmed flat soup bowls.
Last Updated on May 25, 2022 by Adriana