Do you know how to make a Baked Potato? I make them two different ways, in a standard oven and in a microwave. I definitely prefer the ones baked in an oven with their crispy skins.
How to make a baked potato without blowing it up in your oven is pretty simple.
I know, I know. How to make a baked potato is something you think you should know by now. But maybe you are just starting to cook at home, so I'm giving you the tools to make a meal you love. If you don't want your Baked Potato to blow up in your oven, you need this recipe.
Two Things About Baking Potatoes
I have, by the way, had a Baked Potato blow up in my oven. Not a pretty sight. It makes for a lot of messy clean up. Why did it blow up? Because I forgot to poke it.
It's one of the two things you need to remember about making Baked Potatoes. The first is to wash the potato. Potatoes grow in the ground, so they are dirty and gritty without washing them. Besides, they have been handled by lots of people before you get them, as have most fresh products, so I aways was my potatoes and other vegetables.
The second thing to know about baking potatoes, of course, is that you need to poke them a couple of times to allow the steam to escape. I use a small knife and just stab it a couple of times.
Baking Options
I personally like my potatoes baked in the oven and served alongside Mom's Meatloaf because I like to eat the crispy skin and this combination is comfort food for me. Some folks like to wrap them in aluminum foil. The foil helps them bake just a little faster and instead of making a crispy skin, the potato is sort of steamed. And the skin stays softer.
However, Don's mom always made them coated in Crisco (or another oil) and rolled in salt before she wrapped them in foil. That made the skin super crispy. Yum!
You can also bake potatoes in your microwave, and the skin doesn't get crispy. It takes about 8-9 minutes to bake a potato in the microwave, depending on the size of the potato. If you want to make them quickly, this is a good option. Or, you can make them by "parboiling" them in the microwave by baking them about 5-6 minutes and then transferring them to the traditional oven to bake or about 40 minutes. That allows the skin to get crispy while also baking it quicker.
Potatoes are Good for You
Potatoes contain a lot of protein, potassium and other good nutrients. They have lots of fiber. Although they are starchy, it's not the potato that makes you fat. It's all the toppings you add to them, like butter, sour cream and bacon. I like them with butter, served alongside Mom's Meatloaf.
What You Need
For this recipe, you need a knife or a fork and some kind of oven. So simple, eh? Oh you can get some of those potato nails. They work to heat the potato evenly as well as allow the steam to escape. But I never remember to use them. I'd rather spend my money on some beautify glasses and dinnerware and a spectacular espresso machine. How about you?
How to Make a Baked Potato Recipe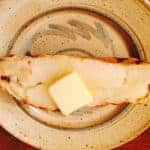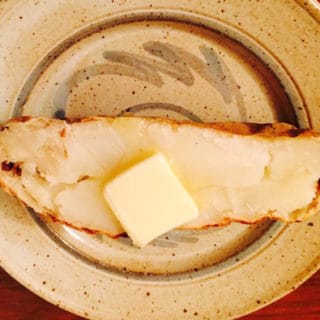 How to Make a Baked Potato
Total Time
1
hour
2
minutes
Instructions
Heat oven to 350F degrees.

Wash the outside of the potato thoroughly.

Poke a few holes about 1/4 inch deep in the skin with a fork or a knife.

Put the potato directly on the wire rack in your oven and bake it for one hour or until a fork can easily pierce the flesh of the potato.
Affiliate Disclosure: Many of the links included throughout Recipe Idea Shop are affiliate links, which means if you follow them and you buy something, we will get a small commission. It doesn't cost you a penny more, and you can still use your Amazon Prime account to buy. Don and I love our Amazon Prime account. This posting includes affiliate links.
Recipe Nutrition Information
As you can see from the nutrition labels below, the toppings make a huge difference in the nutrition values! The information shown is an estimate provided by an online nutrition calculator. It should not be considered a substitute for a professional nutritionist's advice.
WHAT'S NOT TO LOVE?
Trust me, you're gonna love this recipe. Up your recipe repertoire. Add this recipe to your collection. But don't stop there…subscribe to our email newsletter and get a free cookbook and a printable grocery shopping list. 
RATE, PIN & SHARE!
Please Rate our recipes, and Pin and Share them on social media. Comments are welcome, too!
You May Also Like These Recipes From Recipe Idea Shop
BEFORE YOU GO, DID YOU GRAB YOUR FREE COOKBOOK?
[mc4wp_form id="5109″]