Recipe Idea: How to Make a Baked Potato
Hi. It's Lois at Recipe Idea Shop, giving you a pretty basic recipe, how to make a Baked Potato. I know, I know. Practically everyone knows how to do it by the time they are 10 years old. But if you don't want your Baked Potato to blow up in your oven, you need this recipe.
Note: Many of the links included throughout Recipe Idea Shop are affiliate links, which means if you follow them and you buy something, we will get a small commission. It doesn't cost you a penny more, and you can still use your Amazon Prime (Shop Amazon – Give the Gift of Amazon Prime) account to buy. This posting includes affiliate links. 
Two Things About Baking Potatoes
I have, by the way, had a Baked Potato blow up in my oven. Not a pretty sight. It makes for a lot of clean up. Why did it blow up? Because I forgot to poke it.
It's one of the two things you need to remember about making Baked Potatoes. The first is to wash the potato. Potatoes grow in the ground, so they are dirty and gritty without washing them. Besides, they have been handled by lots of people before you get them, as have most fresh products, so I aways was my potatoes and other vegetables.
The second thing to know about baking potatoes, of course, is that you need to poke them a couple of times to allow the steam to escape.
Baking Options
I personally like my potatoes baked in the oven and served alongside Mom's Meatloaf because I like to eat the crispy skin and this combination is comfort food for me. Some folks like to coat them with a little oil and salt and wrap them in aluminum foil, but I like them simply baked. You can also bake potatoes in your microwave, but the skin doesn't get crispy. It takes about 8-9 minutes to bake a potato in the microwave. If you want to make them quickly, this is a good option. Or, you can make them by "parboiling" them in the microwave by baking them about 5-6 minutes  and then transferring them to the traditional oven to bake or about 40 minutes.
Potatoes are Good for You
Potatoes contain a lot of protein, potassium and other good nutrients. They have lots of fiber. Although they are starchy, it's not the potato that makes you fat. It's all the toppings you add to them, like butter, sour cream and bacon. I like them with butter, served alongside Mom's Meatloaf.
Read on for recipe and nutrition…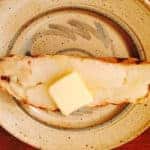 How to Make a Baked Potato
Total Time
1
hour
2
minutes
Instructions
Heat oven to 350F degrees.

Wash the outside of the potato thoroughly.

Poke a few holes about 1/4 inch deep in the skin with a fork or a knife.

Put the potato directly on the wire rack in your oven and bake it for one hour or until a fork can easily pierce the flesh of the potato.
As you can see from the nutrition labels below, the toppings make a huge difference in the nutrition values!