Mushroom Meatballs (Vegetarian) are truly the best vegetarian "meatballs" I have ever eaten. And they only take 45 minutes! Easy peasy.
Mushroom Meatballs
Hi. It's Lois in the kitchen at Recipe Idea Shop. These vegetarian Mushroom Meatballs have a very meaty texture and are perfect for substituting in Swedish Meatballs, one of my daughter Erin's favorite meals. Don and I both thought they were delicious.
Our daughter-in-law made them for us awhile ago, and they were fabulous. I liked them so much, I made them again for my office holiday party.
You can use these Mushroom Meatballs in pasta sauce or a cream sauce, or put them in a gravy and use them as appetizers. The original recipe came from All Recipes.
A nice casserole dish is perfect for this recipe.
Mushroom Meatballs Recipe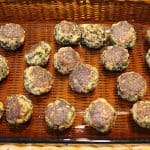 Mushroom Meatballs
Tasty, "meaty" vegetarian meatballs made with mushrooms.
Ingredients
1

pound

white mushrooms

(chopped into very small pieces)

2

tablespoons

olive oil

Pinch

salt

(to sauté mushrooms)

1

tablespoon

butter

1/2

cup

finely chopped onions

4

cloves

garlic

(minced)

1/2

cup

instant oatmeal

1/2

cup

breadcrumbs

(Panko for gluten-free)

1/4

cup

Italian parsley

(chopped and packed)

1

ounce

Pecorino Romano or Parmigiano-Reggiano cheese, very finely

(measure by weight, very finely shredded

1

teaspoon

salt

Freshly ground black pepper and cayenne to taste

Pinch

dried oregano

1/4

teaspoon

ground nutmeg

(optional)

2

eggs

3

cups

pasta sauce
Instructions
In a skillet over medium-high heat, heat the olive oil until hot.

Add the mushrooms to the pan, sprinkle with salt, and cook and stir until liquid from mushrooms has evaporated.

Add the butter, reduce heat to medium, and continue cooking and stirring mushrooms until golden brown, about 5 minutes.

Add the onion to the pan and cook until the onion is translucent, stirring frequently, about 5 minutes. Add the garlic and stir until fragrant (1 minute or so).

Transfer the mushroom mixture to a large bowl.

Add the parsley, bread crumbs and oatmeal to the mixture and stir to combine.

Add one egg, salt, pepper, cayenne, oregano and nutmeg and mix thoroughly.

Add the cheese and stir gently to combine.

Stir in the remaining egg.

The mixture should hold together when pressed.

Cover the bowl and refrigerate over night.

Preheat oven to 450F degrees.

Line a baking sheet with aluminum foil (oil the foil) or parchment paper.

Form the mixture into small balls (about one inch in diameter) and roll in your hand until the meatballs are smooth.

Place them on the prepared baking sheet and bake for 12-15 minutes until lightly browned.

Reduce the oven temperature to 300F degrees.

Remove the meatballs from the baking sheet and put them into a baking dish.

Cover with meatballs with a cream sauce or Red Sauce and heat in a 300F degree oven for 30 minutes or in the microwave for 3-5 minutes. (I use the microwave.)
Note: Many of the links included throughout Recipe Idea Shop are affiliate links, which means if you follow them and you buy something, we will get a small commission. It doesn't cost you a penny more, and you can still use your Amazon Prime (
Shop Amazon — Give the Gift of Amazon Prime
) account to buy. Don and I love our Amazon Prime account. This posting includes affiliate links. 
Mushroom Meatballs Nutrition
Want More Recipes Like This?
If you want more delicious recipes, please sign up for our free cookbook.
Pin & Share!
Please Pin and share our recipes. And tell us what you think in the comments.
You May Also Like These Recipes From Recipe Idea Shop
BEFORE YOU GO, DID YOU GRAB YOUR FREE COOKBOOK?
[mc4wp_form id="5109″]