Recipe Idea: Peach Crisp
Hi, it's Lois at Recipe Idea Shop, telling you about a delicious Peach Crisp recipe that I love. June 21 is National Peaches & Cream Day, so I decided to update and repost this recipe.



I originally got this recipe from Superfoods, a cookbook by Dolores Riccio, but it was for Apple Crisp, and I've been making it for years. For both recipes, I add more nuts than Ricco's recipe calls for, and now that I have found out I'm allergic to A1 milk (the kind sold in grocery stores), I use coconut oil instead of butter. It's delicious. Top with a little almond ice cream or Whipped Coconut Milk.
If you want to read more about my path to figuring out that I'm allergic to A1 milk, but not A2 milk, you can read my article, "How I healed myself with food." I found that I should also avoid soy milk and gluten. Thankfully, I can now get a little of any of these products and not get sick! It's been a long, insightful experience, bringing me to excellent health and a weight loss of 40 pounds.
In Virginia, where I live, it's not quite peach season yet. Never fear, you can make this recipe with canned peaches if you don't have fresh, ripe peaches. It will be almost as good. You're gonna wanna eat some of this Peach Crisp.
BUT FIRST, DID YOU GRAB YOUR FREE COOKBOOK?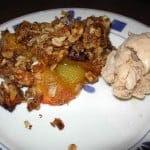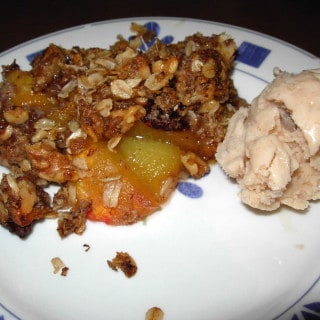 Peach Crisp
Ingredients
Peach Mixture
4

ripe peaches

peeled and sliced or one 15-ounce can of sliced peaches, drained.

1/4

cup

granulated sugar

1/4

teaspoon

cinnamon
Topping
1/3

cup

unbleached flour

1/3

cup

firmly packed brown sugar

1/8

teaspoon

salt

1/4

teaspoon

cinnamon

4

Tablespoons

coconut oil

or butter

3/4

cup

old fashioned oatmeal

1

cup

finely chopped walnuts
Instructions
Heat oven to 375 degrees.

Remove the pit and skin of the peaches and slice thinly. If using canned peaches, make sure they are thoroughly drained.

Mix peaches with sugar and cinnamon.

Press mixture into a 9×12 baking dish that you have greased or sprayed with oil.

Mix flour, brown sugar, salt, and cinnamon.

Cut butter (or coconut oil) into the dry mixture wth a pastry cutter until the consistency is a fine crumbly mixture.

Stir in oatmeal and walnuts.

Sprinkle over peach mixture.

Bake at 375 degrees for 35 minutes, or until the topping is brown and the peaches are tender.
https://recipeideashop.com/peach-crisp/
Note: Many of the links included throughout Recipe Idea Shop are affiliate links, which means if you follow them and you buy something, we will get a small commission. It doesn't cost you a penny more, and you can still use your Amazon Prime (Shop Amazon – Give the Gift of Amazon Prime) account to buy. This posting includes affiliate links. 
SaveSave
SaveSave
SaveSave
SaveSave
SaveSave
SaveSave
SaveSave