Peach Salsa. Easy peasy. No cooking. Amazing on fish, chicken, or rice.
Peach Salsa. So Peachy!
Hi. It's Lois in the kitchen at Recipe Idea Shop, telling you about our Peach Salsa. For the past year Don and I have been serving as a "local family" for a Chinese student who has been attending James Madison University. Jaiyi returned to Harrisonburg last week after summer break and we invited her to supper yesterday. She is so appreciative of a home-cooked, family meal. It's delightful to engage with her.
Don was the grill master (as always) last night. I served as sous chef, prepping all the food. We had leftover Scalloped Potatoes with Thyme, and Grilled Veggies (whole button mushrooms, broccoli and delicata squash with a little olive oil, salt and pepper), topped off with Chewy Gluten Free Chocolate Chip Cookies.
It was all super! Jaiyi said she had never eaten chewy cookies before coming to the United States. All cookies in China are crispy. (Ours don't have fortunes in them, either. 😉
We sent a couple of meals of leftovers home with Jaiyi. She was a happy young lady.
Eat Your Colors
The Peach Salsa was a colorful mix of flavors, setting the meat off brilliantly. We all loved it. In fact, Don and I liked it so much that we had some of the Peach Salsa on our Grilled Salmon tonight. I have to say, I liked it even better tonight. As the salsa ages, it gets spicier. That's a good thing to remember when you are making something spicy. The flavors are enhanced over time.
TOOLS EVERY WELL-EQUIPPED KITCHEN NEEDS
Every kitchen should have the very best tools you can afford. At the least, buy yourself a good set of pans, a slow cooker, an Instant Pot, measuring cups and spoons, and the best set of chef's knives you can afford. Also, be sure to get a full-sized food processor and a mini food processor. These tools are essential for any well-equipped kitchen!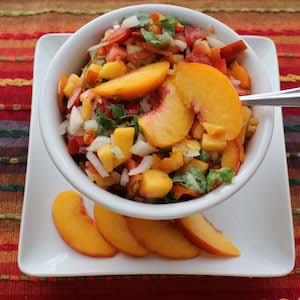 Peach Salsa Recipe
Sweet and spicy salsa for fish, chicken, or rice.
Ingredients
2

fresh peaches

(pitted and diced; leave skin on)

1

red or green pepper

(diced)

1

medium

onion

(diced)

1

medium

fresh red tomato

(diced)

1-2

teaspoons

diced jalapeño

(I use canned)

1-2

tablespoons

cilantro

(chopped)

2

tablespoons

lime juice
Instructions
Mix all the ingredients together.

Eat immediately or refrigerate until serving.
Peach Salsa Recipe Nutrition
Pin & Share!
Please Pin and share our recipes. And tell us what you think in the comments.
You May Also Like These Recipes From Recipe Idea Shop