Spiral Cut Slow Cooker Ham is one of the easiest ways to make a juicy ham.

Slow Cooker Ham is so easy.
Next Sunday is Easter and in our house, we either have Spiral Cut Slow Cooker Ham, Baked Ham, or some kind of lamb for this holiday. Occasionally, we have a baked Turkey. What do you serve?
If you need to cook your ham while you are away from your house, a slow cooker is a terrific option. I would aim for cooking it about 6 hours, but I have tried it and it's still moist and delicious after 8 hours. If you will be away for longer than 8 hours, I suggest you use a programmable slow cooker (affiliate link).
Do You Celebrate Easter?
Although I became a Quaker (member of the Religious Society of Friends) many years ago, I grew up in the United Methodist Church, where Easter is a big deal. Not so much for Quakers. Many Quakers do believe in Jesus, revere him as a prophet, and generally follow his teachings. Quakers do not have a specific creed. We do believe:
"There is that of God in everyone."
We must "listen to the Spirit."
We strive to "live a Spirit-filled life."
We "hold people in the Light" as a method of prayer.
There is generally no special Easter service at the Quaker Meetinghouse, however. But this year because most of our congregation is now vaccinated against COVID-19, we will begin worshipping again on Easter (outside, weather permitting).
Don and I continue to celebrate Easter in a low-key kind of way by having a more elegant meal, such as Spiral Cut Slow Cooker Ham, for the holiday's supper. It is moist, tender, salty and sweet. I think it's my favorite way to make ham. Easy. Tasty. Bam!
We will make some Hard Boiled Eggs, but we don't bother to dye them. Instead, we will make Deviled Eggs as an appetizer.
Step-By-Step
Making a ham in a slow cooker requires only a few ingredients. Since the ham is precooked, all you need to do is warm it up. I never use the package of glaze included with a ham, however. It is filled with all sorts of things I don't want to eat.
Instead, I use whole cloves, brown sugar and pineapple. I prefer pineapple rings; Don prefers crushed pineapple. I poke a few whole cloves into the ham, sprinkle a couple of tablespoons of brown sugar over the top (or split between the bottom of the pot and the top of the ham), and sometimes add pineapple rings or crushed pineapple as the finish. Super easy.
Step 1: Gather Ingredients
Step 2:  So Easy I Forgot to Take In-Process Pictures
The recipe says to put the brown sugar in the pot and the am on top of it. But you can do it the other way around. Whether you place the ham in the pot cut-side down or cut-side up, it doesn't matter. Poke some whole cloves in, sprinkle with brown sugar. Add pineapple if you want. Cover and turn the pot on low. Cook for 30 minutes a pound on low or 20 minutes a pound on high. So a 5-pound ham will take about 2.5 hours on low or a little under two hours on high.
Step 3:  Plate the Ham
Cut off as many slices as you wish to serve and arrange it on a platter. Save the bone to use in beans or soup.
 What You Need
You will need measuring cups and spoons (affiliate link) and a slow cooker (affiliate link). If your slow cooker isn't programmable, you can use a light timer (affiliate link) to make it turn on when you want it to do so. But what you really want is some lovely stemware, am I right?
Slow Cooker Spiral Cut Ham Recipe
Print
Slow Cooker Spiral Cut Ham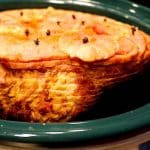 Moist, sweet and salty, you can't beat this ham.
Prep Time:

10 minutes

Cook Time:

150 minutes

Total Time:

160 minutes

Yield:

10

1

x
Category:

Ham, Main Course

Cuisine:

American
5

pound spiral cut ham

½ cup

brown sugar

20

whole cloves
Instructions
Sprinkle half the brown sugar in the bottom of your slow cooker.
Place the ham, fat side down, over the sugar.
Sprinkle the remaining sugar on the cut side of the ham.
Poke the cloves in the top of the ham.
Cook on low for 30 minutes a pound or on high for 20 minutes a pound. It's okay if it cooks longer. You are simply warming it up.
Keywords: ham, slow cooker ham, spiral cut ham, spiral cut slow cooker ham
Recipe Card powered by
Affiliate Disclosure: This website may contain affiliate marketing links, which means we may get paid commission on sales of those products or services we write about, including Amazon. Editorial content is not influenced by advertisers or affiliate partnerships. This disclosure is provided in accordance with the Federal Trade Commission's 16 CFR § 255.5: Guides Concerning the Use of Endorsements and Testimonials in Advertising
Recipe Nutrition Information
This recipe is GF, DF, NF, SF, EF, CF*
The information shown is an estimate provided by an online nutrition calculator. It should not be considered a substitute for a professional nutritionist's advice.
Spiral Cut Slow Cooker Ham with Brown Sugar and Cloves Nutrition Label. Each serving is 1/2 pound of ham.
You May Like These Recipes & Posts From Recipe Idea Shop
SIGN UP FOR UPDATES TO GET TIPS, RECIPES & FREE GIFTS
Trust me, you're gonna love our recipes and healthy, happy posts. Sign up for our email updates to get free gifts, recipes, happy thoughts, and tips for identifying and avoiding foods that are sabotaging your health.
RATE, PIN & SHARE!
Please Rate our recipes and posts, and Pin and Share them on social media. Comments are welcome, too!
*Allergen Key
GF = Gluten free | DF = Dairy free | NF = Nut free | SF = Soy free | EF = Egg free | CF = Corn free | V = Vegetarian | VG = Vegan
Note: If you have serious allergies or sensitivities, to be considered free of these allergens, you need to use products specifically marked "gluten free," etc. There can be cross-contamination in facilities.
This recipe was originally posted on Recipe Idea Shop April 7, 2017 and updated March 29, 2021.