Vegan Mac & Cheese (Gluten Free) is so creamy and amazing, I could eat this once a week! And it's super easy.

Vegan Mac & Cheese (Gluten Free) is comfort food at its best.
Creamy, flavorful goodness. You are gonna love it. You don't have to cook the noodles ahead of time, but you do have to do a couple things the day before or earlier in the day. The cashews need to be soaked over night (or at least several hours). And you need to either steam or roast the butternut squash (either way is easy). 
I roast the squash because you only need one cup of diced butternut squash in the mac and cheese recipe, and Roasted Squash is so flavorful. I like to eat the leftover squash as a hot vegetable side dish or at room temperature on top of a tossed Green Salad. You're not going to believe how good it is.
I was inspired by Robin Robertson's "Butternut Mac & Cheese" recipe from Vegan without Borders (affiliate link). Robin's recipes are amazing. You should own at least one of her cookbooks. I wanted to make my recipe gluten free, but precooking gluten free macaroni makes them mushy in the recipe. And it's so much simpler to just cook them while you bake the casserole.
What You Need
You absolutely need either a full-size food processor or a good high-speed blender, some smoked paprika and nutritional yeast.
Vegan Mac & Cheese (Gluten Free) Recipe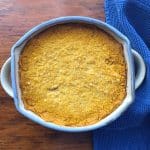 Vegan Mac & Cheese (Gluten Free)
Creamy and packed with flavor, you won't even miss the cheese in this Vegan Mac & Cheese.
Ingredients
1/2

cup

raw cashews

(will be soaked overnight in water and drained)

1

cup

diced butternut squash

(will be steamed or roasted)

2

cups

gluten free elbow macaroni

(soaked in hot water while you prep other stuff)

3

cups

almond milk

(plain, unsweetened)

1/2

teaspoon

minced garlic

1/4

cup

diced onion

2

tablespoons

lemon juice

1/2

teaspoon

smoked paprika

1

teaspoon

salt

1/4

teaspoon

black pepper

1

teaspoon

Dijon mustard

1/2

cup

nutritional yeast

(this is what makes it taste like cheese)

2

tablespoons

cornstarch

1/4

cup

gluten free panko bread crumbs

vegetable oil spray
Instructions
Prepare the Cashews
Put the cashews in a bowl, cover with water and let them soak over night (or at least a few hours).
Steam or Roast the Squash
If you didn't buy the squash already cubed, peel, seed and cut the butternut squash into small cubes.

Option 1: The quickest way to make the squash is to steam it in a vegetable steamer. Steam for about 5-7 minutes until the squash is tender. Set it aside.

Option 2: Roast the squash. Drizzle in a little olive oil, place on a baking pan covered with parchment paper or aluminum foil in one layer. Bake at 425F degrees for about 35 minutes, turning the cubes over halfway through the roasting. They will get a little brown and be fork tender.
Make the Sauce
Heat the oven to 350F degrees (so it is ready when you put the casserole together and in the oven).

While you are preparing the sauce, soak the macaroni is hot water until it's time to put them in the casserole. Some gluten-free macaroni takes longer to cook than others.

Drain the cashews. Place them in your food processor with about 1/2 cup of the almond milk.

Add the garlic and onion. Process until smooth.

Dump in the remaining almond milk, lemon juice, paprika, salt, pepper, mustard, nutritional yeast, and cornstarch, and process until smooth.

Add the squash and process until smooth.
Put the Mac & Cheese Together
Using a deep casserole dish that is not too wide (I used an 8" x 8" x 3" casserole dish), spray the inside of the baking dish with oil.

Drain the macaroni and dump it into the dish.

Pour the sauce over the macaroni.

Sprinkle the panko bread crumbs over the top of the casserole. Spray with a little oil.

Bake at 350F degrees about 40 minutes until the casserole is set (not too jiggly), top is nicely browned and the macaroni is al dente (perfectly cooked and not mushy).
https://recipeideashop.com/vegan-mac-cheese
Recipe Notes
Note: I really love this sauce and it tastes almost like cheese to me, but if you are expecting the ooey gooey texture and taste of cheddar cheese, you will be disappointed. But for someone like me who cannot eat cheese, this is SO good.
Affiliate Disclosure: This website may contain affiliate marketing links, which means we may get paid commission on sales of those products or services we write about, including Amazon. Editorial content is not influenced by advertisers or affiliate partnerships. This disclosure is provided in accordance with the Federal Trade Commission's 16 CFR § 255.5: Guides Concerning the Use of Endorsements and Testimonials in Advertising.
Recipe Nutrition Information
This recipe is GF, DF, SF, V, VG*
The information shown is an estimate provided by an online nutrition calculator. It should not be considered a substitute for a professional nutritionist's advice.
You May Also Like These Recipes From Recipe Idea Shop
SUBSCRIBE FOR MORE RECIPES YOU LOVE & FREE GIFTS
Trust me, you're gonna love our recipes. Up your recipe repertoire. Add this recipe to your collection. But don't stop there…subscribe to our email newsletter and get a free cookbook and a printable grocery shopping list.
RATE, PIN & SHARE!
Please Rate our recipes, and Pin and Share them on social media. Comments are welcome, too!
*Allergen Key
GF = Gluten free | DF = Dairy free | NF = Nut free | SF = Soy free | EF = Egg free | CF = Corn free | V = Vegetarian | VG = Vegan
Note: If you have serious allergies or sensitivities, to be considered free of these allergens, you need to use products specifically marked "gluten free," etc. There can be cross-contamination in facilities.
This recipe was originally posted on Recipe Idea Shop in 2017 and updated November 11, 2020.