Yorkshire Puddings are so tasty with gravy. What a delightful side dish instead of potatoes. Serve with a traditional roast or on its own.
Traditional British Yorkshire Puddings are the perfect side dish for roast beef.
Did you know that October 13 is National Yorkshire Puddings Day? Neither did I until recently. We had to make some, of course, and give them a try. Sure is a funny name for it, though, because it is nothing like pudding!
Traditional Yorkshire Puddings are made with the drippings from a roast (and I wasn't making a roast, which means this really isn't a traditional British recipe).
According to Wikipedia, "Originally the Yorkshire pudding was served as a first course with thick gravy to dull the appetite with the low-cost ingredients so that the diners would not eat so much of the more expensive meat in the next course." But it's so tasty that you will want to eat it with and without gravy! The batter for Yorkshire Puddings is similar to a thin pancake batter, but it's baked in a buttered tin and looks a lot like popovers as you can see below.
My friend, Eileen Dight, who is British and lives in Ireland, sent me some pictures (but no recipe) of her family's meal of Roast Beef and Yorkshire Puddings. The picture above was taken by Kate Dight. Eileen said they make the puddings using the meat drippings while the meat is resting. Thank you to Eileen and Kate for the photos. When I visit Eileen, I'll be sure to try her version of these delicious gems.
Since I didn't have Eileen's recipe, I looked up recipes on allrecipes.com. I found one called Quick and Easy Yorkshire Pudding with a 4-plus star rating and tried that one. I didn't have any cow's milk and I used oat milk instead. The substitution worked fine, although I suspect it was a little sweeter than normal.
I also made some Gravy because both Wikipedia and Eileen specified serving it with gravy. Holy cow. That's good! In fact, my version of Traditional British Yorkshire Pudding is absolutely fabulous with gravy. It's quite good on its own or with a dab of butter, too.
What You Need
For this recipe you need measuring cups and spoons and some kind of mixer. I used my hand mixer for it. You also need muffin tins. But what you really want is a superior beef roast to serve alongside it, some terrific pans and wonderful dinnerware, am I right?
Traditional British Yorkshire Puddings Recipe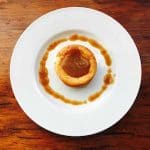 Traditional British Yorkshire Pudding
Somewhat like a popover.
Ingredients
3

eggs

1

cup

oat milk

or milk

1

cup

unbleached all-purpose flour

2

tablespoons

butter

divided into 12 equal parts
Instructions
Heat oven to 375F degrees.

Using a medium bowl, beat the eggs and the milk until smooth.

Stir in the flour and set aside.

Put a dab of butter (about 1/2 teaspoon) in each of the cups of a 12-cupcake muffin tin.

Place the muffin tin in the oven for about 5 minutes to melt the butter.

Divide the batter evenly in the muffin tin cups. Each tin should be about 2/3 filled.

Bake 5 minutes.

Reduce the heat to 350F degrees and continue baking for 25 minutes, until the puddings are puffed up and golden brown. They will deflate some as they cool.

Serve with roast beef and gravy.
Affiliate Disclosure: Many of the links included throughout Recipe Idea Shop are affiliate links, which means if you follow them and you buy something, we will get a small commission. It doesn't cost you a penny more, and you can still use your Amazon Prime account to buy. Don and I love our Amazon Prime account. This posting includes affiliate links.
Recipe Nutrition Information
The information shown is an estimate provided by an online nutrition calculator. It should not be considered a substitute for a professional nutritionist's advice.
WHAT'S NOT TO LOVE?
Trust me, you're gonna love this recipe. Up your recipe repertoire. Add this recipe to your collection. But don't stop there…subscribe to our email newsletter and get a free cookbook and a printable grocery shopping list.
RATE, PIN & SHARE!
Please Rate our recipes, and Pin and Share them on social media. Comments are welcome, too!
You May Also Like These Recipes From Recipe Idea Shop
BEFORE YOU GO, DID YOU GRAB YOUR FREE COOKBOOK?
[mc4wp_form id="5109″]