Mediterranean Baba Ghannooj Eggplant Dip. You got this. It's easy.
Mediterranean Baba Ghannooj Eggplant Dip
Hi. It's Lois in the kitchen at Recipe Idea Shop. When I worked at James Madison University, and our department was doing a special multi-week senior managers' training, I often invited the course  participants to our house for food and socializing. I liked to serve them Baba Ghannooj Eggplant Dip.
Many of the participants in these courses come from the Middle East. The gathering at our house was usually scheduled toward the middle or the end of their five-week training course, and by then the participants were hungry for their native foods. The folks from the Middle East especially like Baba Ghannooj Eggplant Dip because it "tastes like food from home."
The original recipe was inspired by a similar recipe in Betty Crocker's International Cookbook. A food processor is handy for this recipe. I love my 14-cup Cuisinart Food Processor.
As usual, however, my recipe is just a bit different. I add a roasted red pepper to it to deepen the flavor. And I put in less salt than most recipes call for. Serve Baba Gannooj Eggplant Dip with raw vegetables or pita chips for dipping.
TOOLS EVERY WELL-EQUIPPED KITCHEN NEEDS
Every kitchen should have the very best tools you can afford. At the least, buy yourself a good set of pans, a slow cooker, an Instant Pot, measuring cups and spoons, and the best set of chef's knives you can afford. Also be sure to get a full sized food processor and a mini food processor. These tools are essential for any well-equipped kitchen!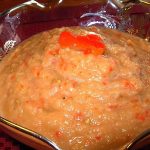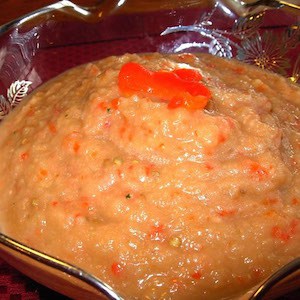 Baba Ghannooj (Eggplant Dip)
Ingredients
1

medium

eggplant

(about 1 pound)

1

large

red pepper

(or a small jar of diced pimientos)

1

small

onion

(cut into fourths)

2

cloves

garlic

(minced)

1/4

cup

lemon juice

1

tablespoon

olive oil plus a little for drizzling

3/4

teaspoon

salt
Instructions
Preheat the oven to 400F degrees.

Prick the eggplant 3 or 4 times with a fork.

Prick the red pepper 3 or 4 times, too.

Drizzle olive oil on the pepper; the eggplant doesn't need it. (If you are using pimentos instead of red pepper, simply drain them and add them when you mix all the ingredients.)

Bake in the oven for about 40 minutes until tender.

Peel the skins off both vegetables.

Cut the eggplant and pepper into cubes and remove the seeds.

Place all the ingredients in a food processor (or blender) and process until smooth.

Serve at room temperature or cold.
https://recipeideashop.com/baba-ghannooj-eggplant-dip/
Note: Many of the links included throughout Recipe Idea Shop are affiliate links, which means if you follow them and you buy something, we will get a small commission. It doesn't cost you a penny more, and you can still use your Amazon Prime (Shop Amazon — Give the Gift of Amazon Prime) account to buy. Don and I love our Amazon Prime account. This posting includes affiliate links. 
Baba Ghannooj (Eggplant Dip) Nutrition
WHAT'S NOT TO LOVE?
Trust me, you're gonna love this recipe. But don't stop there…subscribe to our email newsletter and get a free cookbook.
Pin & Share!
Please Pin and share our recipes. And tell us what you think in the comments.
You May Also Like These Recipes From Recipe Idea Shop
BEFORE YOU GO, DID YOU GRAB YOUR FREE COOKBOOK?
[mc4wp_form id="5109″]