Chili pepper dinnerware is a favorite of southwestern dinnerware lovers. In New Mexico, chilies are very popular, both for cooking and décor. Chili pepper ristras often deck the walls of Southwest homes and the scent of roasting chilies says authentic New Mexican food is being prepared or a fiesta is about to begin.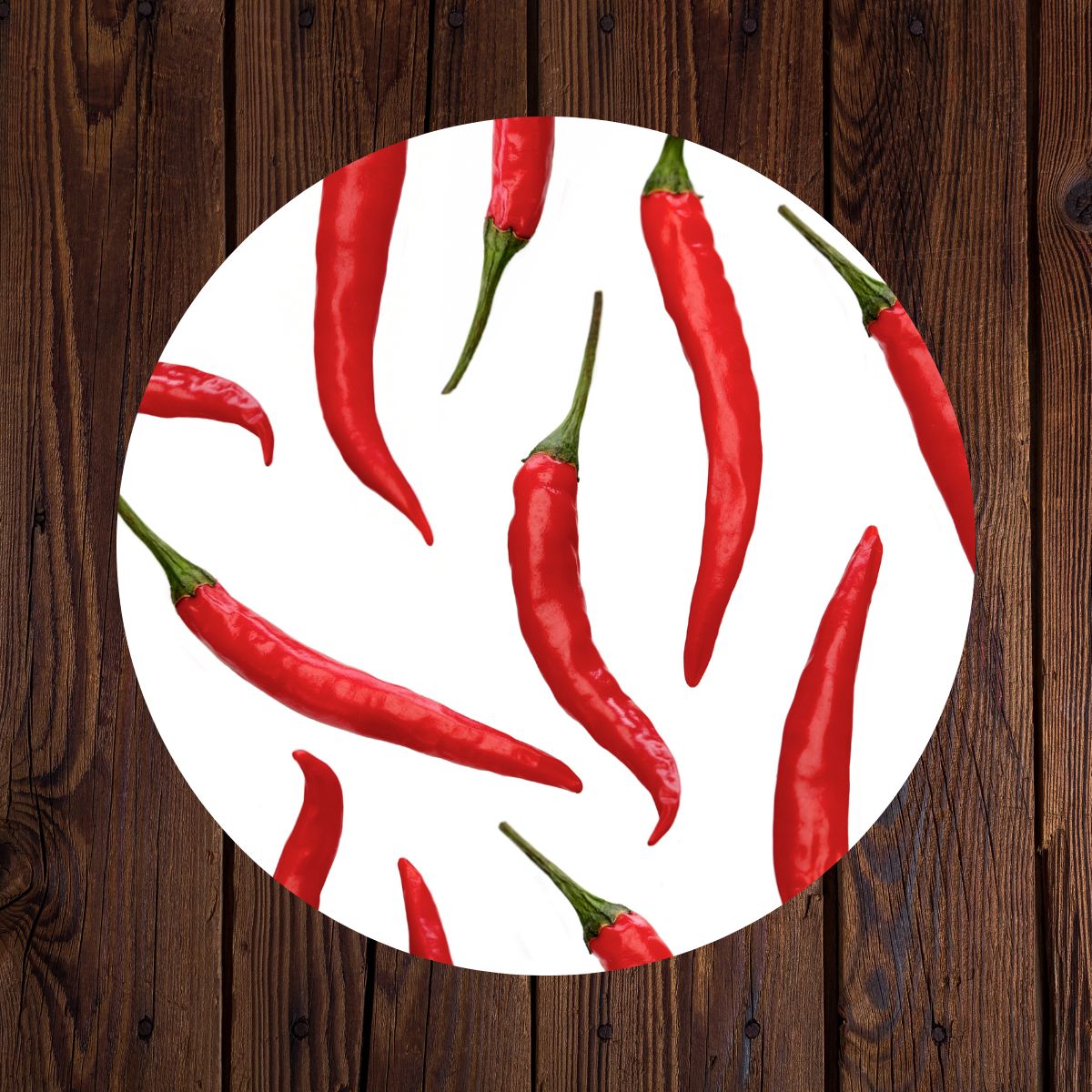 It's no surprise then, that people also use chili pepper dinnerware as a way to decorate their home and their table with their favorite style. In fact, a dinnerware set service can be just the beginning. There are many ways to bring this design and its warmth into your home.
Fun Hot Pepper Dinnerware
There are several brands that make or have made chili pepper design dinnerware. You can also find dessert plates, placemats, serving dishes, and so much more, all featuring this same popular design. From green chili peppers to red, these designs bring the chili heat to your table.
For example, this Caleca Chili Peppers Dinnerware Set is very stylish. It is actually Italian dinnerware, but it fits the bill for southwestern décor.
I envision this set being used as holiday dinnerware around Christmas time. Our family often has a Mexican feast (this Mexican chicken soup is a favorite!) on Christmas Eve and these dishes would be perfect.
There are chili pepper designs that are hand-etched and hand-painted, creating very attractive patterns.
The chili pepper designs are bold and beautiful. Here are some beautiful chili pepper dishes on Etsy.
Lone Star Western Décor also has a modern chili peppers dinnerware collection that is very popular. They have a set of six chili pepper all-purpose bowls, dinner plates, and salad plates in this collection. It can also mix and match well with other pepper décor or dinnerware items you may already have.
Discontinued Chili Pepper Dinnerware
If your favorite set is now discontinued, don't worry. There are still ways you can get your hands on your favorite dinnerware set. You can check auction sites, eBay, Etsy, collector's groups, and other places online for these discontinued sets.
One popular choice is the set from Tre Sorelle Studios. This dinnerware set was produced in 2013 and is currently out of production but you can find the pieces online and in many discontinued dinnerware shops. The whole family comes with:
10 ¼ inch dinner plate (square)
8 ¼ inch dessert plate (square)
5 ¼ inch ice cream bowls
9 ¼ inch soup/pasta bowls
14-ounce mugs
13-inch serving/ pasta bowl
12 ¼ inch platter (square)
14 ¼ inch bread tray
16-inch rectangular platter/ service tray
14 ¾ inch round platter
3-section server bowl (comes with metal stand)
6 ½ inch 3D salsa bowl (comes with a spoon)
3-piece canister set
3-quart pitcher
If you really love this pattern, you can collect the entire family of pieces. They are so beautiful and vibrant, they are a work of art as much as they are functional for use.
Below is one of their current wall art pieces called mucho caliente.
Chili Pepper Décor
In addition to beautiful chili pepper plates, there are many other ways to bring this theme into your kitchen and throughout your home. I have found so many cute pieces on Etsy such as chili pepper tea bag holders, chili pepper decorative plates, wall hangings, chili-shaped Christmas tree ornaments, and even chili pepper kitchen towels and more.
Chili pepper décor is a great way to add some spice to your home. Chili décor is also a great way to show off your personality and taste. Whether you prefer the fiery red of chili peppers or the more subdued tones of green chili peppers, chili pepper décor is a great way to express yourself and add some flavor to your home.
And while you can decorate any room in your home with this theme, the kitchen is a popular choice because that's where we prepare and enjoy food and really get to see this amazing food in all its glory.
Here's an adorable salt and pepper set.
Accessories for kitchen décor
Chili peppers are ideal for creating a kitchen decorated solely in chili décor because there is a variety of décor items featuring peppers. Peppers can also be used as an accessory to complement Southwestern décor.
If I were going to decorate my kitchen in chilies, here is what I would use:
My windows would be decked with chili pepper valances to coordinate the red and green colors of the chilies. Here are some I like:
Miblor Chili Peppers Valance Curtains
This one is simple and bold and would look great over a kitchen window.
Lunarable Cinco De Mayo Window Valance
I love this one because it's so fun. Just going into my kitchen and seeing these chili peppers hopping off the material would make me smile.
Kitchen mats: I would place a couple of these decorative kitchen mats in the kitchen, in front of the sink and the refrigerator.
Ottomanson Siesta Collection Rubberback Non-Slip Peppers

I love the bright, bold colors on this one. The yellows and reds are so pretty and really pop off this mat.
Kitchen Rugs Mats 2 Pieces, Colorful Chili Pepper Cushioned Kitchen Mat
This is a great choice because it's actually a two-pack. The rugs are pretty and they are cushioned for anti-fatigue. Stand on this while you do the dishes and it will feel so nice.
A chili peppers glass cutting board would be placed on the counter, next to the stove. It's always handy to have a cutting board readily available, and if it matches the kitchen décor, it makes sense to leave it out on the counter.
I found all types of kitchen canister sets with chili peppers, but some of them are cheesy to me. I would go with the Certified International Caliente Canister Set. It is colorful but coordinating.
I wouldn't go with a chili pepper dinnerware set because it would make things too busy. Instead, I would choose a solid-colored dinnerware set to match the accessories. I would probably choose a Fiesta Dinnerware Set in ivory, scarlet, shamrock, or sunflower. The vintage dinnerware Fiesta colors are also a choice.
Chili pepper tiles
Chili Pepper ceramic tiles are nice to have to sit hot dishes on and the tile murals make great décor for a Southwest kitchen. La Fuente Imports, a distributor of authentic Mexican dinnerware, has several different patterns of tiles that are sure to fit into your décor.
Other chili themed items
These LED string lights would look so great in your kitchen or any room with chili pepper decor, for example. You could put them around a window, or decorative plates on the wall, or even bring them out for a party or festival.
Some other items I've found in my searches include a chili pepper doorbell, chili pepper necklace, fused glass beads, and other glass items, chili pepper charm jewelry, cutting boards with the Scoville ratings on them, spoon rest dishes, switchplates/covers for your electrical outlets and so much more! I was amazed at how many fun things I could find with this type of pattern or design.
Decorating with chili peppers and chili pepper dinnerware can be tons of fun. It is very cheerful with the bright colors and decorating accessories are so easy to find. From a full dinnerware set with a chili pepper design to wall accents, curtains, and more, there's a chili pepper for everyone.
Love Themed Dinnerware?
Here are more themed dinnerware sets: