It's time for Boiled Corn on the Cob. And it's one of the easiest summer recipes.
Kids Help with Boiled Corn on the Cob.
Hi. It's Lois in the kitchen at Recipe Idea Shop. We have started a cooking class for our teenage grandkids, and we were very surprised at our first class when they said they didn't know how to make boiled corn on the cob.  I decided to rectify that.
Corn on the cob is easy to make. Before you boil it, shuck the outside leaves and remove the silk. Kids can help with the shucking.
Fully submerge the cobs in a big pot of water and bring it to a boil. Some people put a little sugar (or a little salt) in the water to add to the corn's flavor. Boil for about 15-20 minutes. Serve hot with salt, pepper, and plenty of butter.
The Backstory
Corn was just about the only vegetable my siblings would eat. Truly. I don't think my mom liked many vegetables either. The only ones she served were corn, green beans, peas, and canned spinach.
Until I was in college, I never had broccoli, zucchini, eggplant, kohlrabi or many other vegetables. In fact, I didn't know some of them even existed. But I love them all. The only one I didn't like when I was a kid was cauliflower, which my grandmother cooked to mush. I do like cauliflower now but not cooked the way my grandma did it. Like my siblings, I also love corn.
What You Need
You will need a big pot. That's it. Buy the best you can afford and you'll never be sorry.
Boiled Corn on the Cob Recipe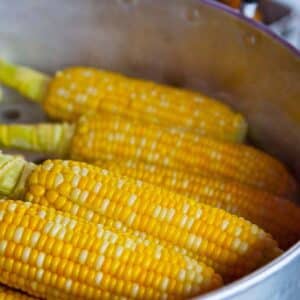 Boiled Corn on the Cob
Fresh, boiled corn on the cob
Ingredients
8

ears corn on the cob

one per person

Big pot of water

1

tablespoon

sugar
Instructions
Shuck the corn by removing the husks and silk.

Put the cobs in a big pot of water.

Add the sugar.

Bring the water to a boil.

Continue boiling over medium heat for about 20 minutes.
Notes
Note: Some people prefer adding salt to the water instead of sugar.
Recipe Nutrition Information
This recipe is GF, DF, NF, SF, EF, V, VG*
The information shown is an estimate provided by an online nutrition calculator. It should not be considered a substitute for a professional nutritionist's advice.
Nourish Your Body & Soul
I encourage you to care of yourself by eating satisfying, nourishing food that is good for your body and makes you feel healthy. Protect your spirit by living authentically, moving your body, and taking time to replenish and rest. I think you might also like these recipes & posts from Recipe Idea Shop:
Rate, Pin & Share!
Please Rate our recipes and posts, and Pin and Share them on social media. Comments are welcome, too!
*Allergen Key
GF = Gluten free | DF = Dairy free | NF = Nut free | SF = Soy free | EF = Egg free | CF = Corn free | V = Vegetarian | VG = Vegan
Note: If you have serious allergies or sensitivities, to be considered free of these allergens, you need to use products specifically marked "gluten free," etc. There can be cross-contamination in facilities.
This post was first published on Recipe Idea Shop August 28, 2015 and updated September 1, 2021.
Last Updated on May 5, 2022 by Adriana