Risotto Stuffed Peppers. Super good, vegan supper.
Risotto Stuffed Peppers
Hi. It's Lois at Recipe Idea Shop, with a scrumptious new Risotto Stuffed Peppers (Vegan and Dairy Free) recipe for National Vegan Month. I was thinking about how I could make a creamy, dairy-free version of Stuffed Peppers and decided to use Risotto as the rice stuffing instead of regular rice. What a delicious idea.
These were so creamy, I didn't even miss the cheese! And that's pretty hard for a Wisconsin, the Dairy State, native. No, I don't have any Cheesehead hats (but I do have some Green Bay Packers items). And I love cheese, but I can't eat it; it gives me inflammation.
Risotto, Always Creamy
Risotto is a rice dish made from Arborio rice, a naturally creamy rice. It takes a bit of time (about 45 minutes) to make any risotto, because you cook it slowly, adding more broth or water a little at a time as the rice cooks and absorbs the liquid. You can find several recipes for different types of Risotto on this website. In fact, each Risotto mentioned in this post is unique. My favorite is Saffron Risotto, but the Barley Risotto is super good and interesting, too.
Since it is National Vegan Month and it's getting close to the holidays (when I like to serve special appetizers and entrees), I thought I'd give this a whirl using the tiny red peppers. And I'm so glad I did. They really hit the spot.
How do you make your Stuffed Peppers? I usually add ground beef to my full-sized, Stuffed Peppers and I make them standing up, with the tops cut off, like this:
But for this version, I wanted the peppers to be a vegan side dish. I have given you a nutrition label per pepper half, so you can decide how many you want to eat and what your total nutrition will be. In the second nutrition label, I suggested a serving size of four stuffed pepper halves, but we had ours with several other dishes and I only ate two; Don ate three. They are very filling. I suggest eating three or four with a small dinner salad and some fruit, and you can call it a meal.
How Do You Cut Your Peppers?
I had a party recently and I tried to cut and fill the itty, bitty tiny peppers the same way, thinking they would be cute, little appetizers that were easy to eat. But it was like trying to fill a salt shaker without taking off the top. Well, not quite that bad, but much harder than slicing them vertically! Ha. Ha.
Of course, the engineer hubby had to point out how much easier it would have been to slice them vertically after I had already sliced all the tops off. Grrrr.
So when I made these small Risotto Stuffed Peppers (which are the medium-sized ones), I sliced them vertically. And that was SO much easier! Let me tell you how to make them and how nutritious they are. Trust me, you're gonna wanna eat this.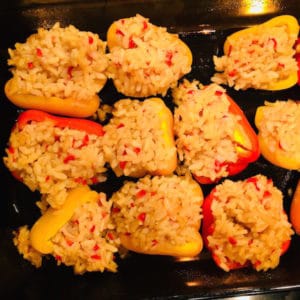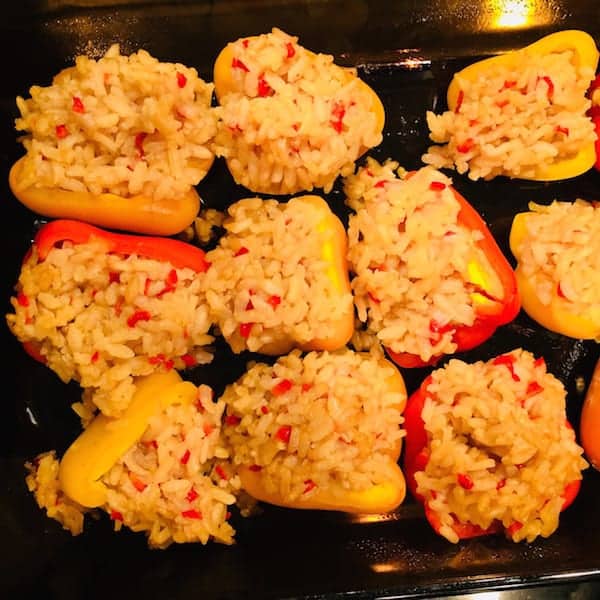 Risotto Stuffed Peppers Recipe
Creamy Risotto Stuffed Peppers (Vegan & Gluten Free) are so good you won't even miss the cheese.
Ingredients
2

tablespoons

olive oil

1

cup

Arborio rice

2

cups

water

2

teaspoons

Vegetable Bouillon

1

cup

white wine

4

ounces

diced pimentos (pimientos)

drained

8

small

red peppers

or any color, but not tiny peppers
Instructions
Heat the oil in a medium skillet over medium hot heat.

Add the rice and stir to coat the rice with oil. Continue cooking for about a minute or so until the rice starts to "pop."

Add the water, just a little at a time (maybe ½ cup), stirring and continuing to cook until the rice absorbs the water. Repeat until all the water has been poured in and absorbed.

Add the pimientos and wine and cook until the rice absorbs the wine and the rice is soft and creamy.

Split the peppers vertically, remove the stems and seeds.

Stuff the pepper halves with about 2-3 tablespoons of the cooked rice (risotto) and place them in a lightly greased baking dish, rice side up.

Bake at 350F degrees for about 25 minutes until the peppers are tender crisp and the rice is hot.
Nutrition
Calories:
45
kcal
Carbohydrates:
6
g
Protein:
1
g
Fat:
2
g
Saturated Fat:
0.3
g
Polyunsaturated Fat:
0.3
g
Monounsaturated Fat:
1
g
Sodium:
8
mg
Potassium:
101
mg
Fiber:
1
g
Sugar:
2
g
Vitamin A:
1348
IU
Vitamin C:
55
mg
Calcium:
5
mg
Iron:
1
mg
More Risotto Recipes To Try