Don's Pretty Close to Southern Fried Chicken is almost as good as his Momma's Southern Fried Chicken. You are gonna love it.
Don's Pretty Close to Southern Fried Chicken
Don here, telling you about my Pretty Close to Southern Fried Chicken recipe.
Maybe it's legend or maybe it's fact that throughout the South in days gone by folks came home from church on Sunday to sit down to a dinner of fried chicken, mashed potatoes, gravy, green beans, sliced tomatoes, biscuits, and peach cobbler for dessert. Families and extended families gathered like the Reagans on Blue Bloods for fellowship and food. Sadly, those times are past in our family, but good home cooked fried chicken is still a treat for Sunday dinner or any other day when there is time to make it.
We are doing a weekly cooking school with our local teenage grandkids. This week: Southern Fried Chicken and Waffles! Can't wait!
My Momma Betty could make some terrific Fried Chicken, and I grew up on it. If I don't make it myself, I like to go to The Southern Inn in Lexington, Virginia, for some amazing Fried Chicken.
Did you know that July 6 is National Southern Fried Chicken Day? It also happens to be Lois' and my wedding anniversary. What a good day for this meal! I'm planning way ahead.
What to Serve With Chicken
This recipe makes three large pieces or six small ones. Enough for six people. Serve with Mashed Potatoes, "Cooked All Day" Green Beans, and Coleslaw. Trust me, you're gonna wanna eat this chicken.
What You Need
Make your cooking easy with a FryDaddy (affiliate link). But you can use a simple, deep frying pan. Whatever you buy, always buy the best you can afford and it will last a lifetime.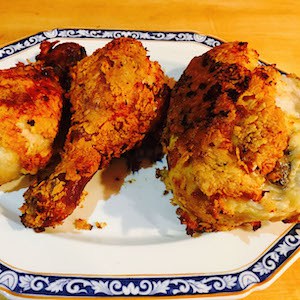 Southern Fried Chicken Recipe
This chicken has crispy skin with deliciously juicy meat.
Ingredients
2

chicken legs

with skin on

1

chicken breast

with skin on

1

quart

buttermilk

1

cup

all-purpose flour

⅛

teaspoon

freshly ground pepper

⅛

teaspoon

salt

use sea salt for corn-free

⅛

teaspoon

garlic powder

¼

teaspoon

Penseys Cajun seasoning

or a little cayenne pepper

Enough canola oil to fill the skillet 1-inch deep

maybe a cup of oil
Instructions
Rinse the chicken pieces in cold water and pat dry. (Jacques Pepin says you can skip this step, but I do it.)

Place the chicken in a bowl large enough to hold the pieces, and cover them with buttermilk.

Cover the bowl and allow the chicken to soak in the buttermilk in the refrigerator for at least one hour or overnight.

In a brown paper bag large enough to hold one piece of chicken at a time, add the flour and spices. Shake to blend them.

Heat the oil over medium-high heat in a cast iron skillet until a drop of water dances on the surface. (Be careful not to put in more than a drop of water or it might splash and burn you.)

Take one piece of chicken at a time from the bowl of buttermilk and place it in the paper bag.

Shake the chicken in the bag to coat it with the flour mixture; then add it to the skillet.

When all the chicken pieces have been frying for about 10 minutes, turn them over to brown the other side.

Cover the skillet and reduce the heat to allow the chicken to fry for 10 to 12 minutes.

Uncover the skillet and let the chicken fry for another 10 to 12 minutes.

Turn the chicken once again to brown the other side.

The chicken is done when a thermometer inserted into the thickest part reads 185°F.

If the chicken is getting too brown but is not yet done, which can happen with large pieces, place the pieces on a rack in a baking pan in the oven to continue cooking.

Serve with your favorite side dishes.
Nutrition
Calories:
309
kcal
Carbohydrates:
24
g
Protein:
22
g
Fat:
13
g
Saturated Fat:
5
g
Polyunsaturated Fat:
2
g
Monounsaturated Fat:
4
g
Trans Fat:
0.03
g
Cholesterol:
81
mg
Sodium:
294
mg
Potassium:
465
mg
Fiber:
1
g
Sugar:
8
g
Vitamin A:
352
IU
Vitamin C:
1
mg
Calcium:
191
mg
Iron:
1
mg
Recipe Nutrition Information
This recipe is NF, SF, EF, CF (use sea salt)*
The information shown is an estimate provided by an online nutrition calculator. It should not be considered a substitute for a professional nutritionist's advice.
More Recipes To Try
RATE, PIN & SHARE!
Please Rate our recipes and posts, and Pin and Share them on social media. Comments are welcome, too!
*Allergen Key
GF = Gluten free | DF = Dairy free | NF = Nut free | SF = Soy free | EF = Egg free | CF = Corn free | V = Vegetarian | VG = Vegan
Note: If you have serious allergies or sensitivities, to be considered free of these allergens, you need to use products specifically marked "gluten free," etc. There can be cross-contamination in facilities.