These Thanksgiving fruit salad recipes are a great way to bring some natural sweetness to your holiday meal. Thanksgiving is a great time to gather with family and friends and enjoy all the bounties of the harvest season.
One of the best ways to celebrate Thanksgiving meal is with a beautiful Thanksgiving fruit salad. In fact, this is a great way to celebrate any special occasion. So go grab a large bowl and your favorite fruits, choose a great recipe from this list, and start making it. At this time of year, people love to enjoy time together with their favorite meals. It's one thing the holiday seasons are most known for.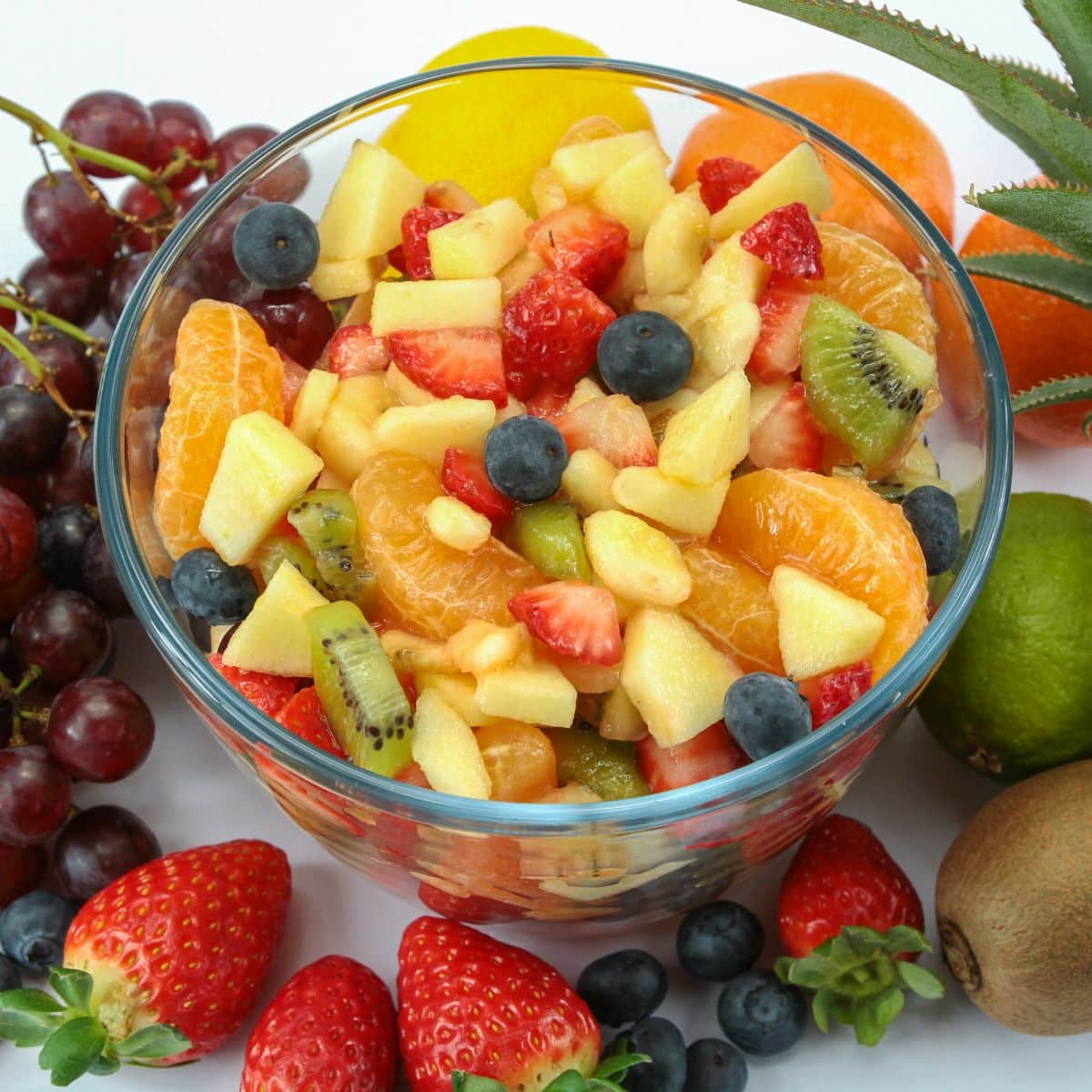 Jump to:
Tips For Making The Perfect Fruit Salad
Fruit salads are light and fresh, a perfect ending to a rich Thanksgiving meal. They are also easy to make and can be made ahead of time.
An easy Thanksgiving fruit salad can be made with a variety of seasonal fruits that takes your family dinner to the next level.
Start with a base of crisp apples and tart cranberries for a traditional Thanksgiving fruit salad.
Then, add some sweet pears and grapes for sweetness. Finally, top it off with a light dressing of your choice.
For a more unique Thanksgiving fruit salad, try using colorful fruits like oranges, kiwis, and pomegranates.
Or, you can add some unexpected ingredients like pears, pecans, or even chocolate chips.
No matter what you put in your Thanksgiving fruit salad, it's sure to be a hit!
Why Add Fruit Salad To Your Thanksgiving Meal
As you'll see from this list of recipes, there are so many great ways to enjoy your Thanksgiving fruit bowl!
It can be a great snack, a precursor to the holiday meal, or make a great Thanksgiving side dish. You can enjoy it any time during the winter months. This time of year is all about great good, friends, and family.
Fruit salad is a great way to lighten up your plate since many holiday dishes can feel heavy. You can add some green grapes, orange juice, lime juice, maraschino cherries, red apples, or any other seasonal fresh fruit. Some people like to top it with some mini marshmallows, too. I prefer adding almonds and nuts for a heartier salad.
Thanksgiving fruit salad recipes are usually a mix of seasonal fruits, like cranberries, apples, and pears, mixed with a variety of nuts and spices. The key to a good fresh fruit salad is to mix the right proportions of sweet and savory flavors. Too much of either can ruin the dish.
Fruit Salad FAQs
Can I make fruit salad ahead of time?
Thanksgiving day is busy with lots of cooking and setting up, so anything that can be prepared ahead of time, helps. And yes, fruit salad can be made the day (or night) before Thanksgiving.
How can I keep the fruit from turning brown?
Add a splash of lemon or orange juice to your fruit to keep them from browning. Pineapple juice also helps, and it adds a delicious flavor to your salad.
What's the best dressing for fruit salad?
If you add orange, apple, or pineapple juice to your fruit salad, you can skip the dressing. But if you really want to add a dressing, mix yogurt or cream with a bit of honey, lime juice, and some coconut flakes, and you're all set.
How long does fruit salad keep?
Fruit salad can last up to 5 days in the fridge if stored in a tightly closed glass container. But unless you made a huge amount, it won't last, because it's delicious!
Thanksgiving Fruit Salad Recipes
There's nothing quite like a delicious fruit salad, and these Thanksgiving fruit salad recipes are perfect for the holidays, or any time of year. Check out these ideas!
Final Thoughts
Thanksgiving fruit salad is a dish that can easily be made ahead of time, which frees up valuable time on Thanksgiving day. With so many different flavors, textures, and colors, this easy Thanksgiving salad is sure to be a hit with everyone at the table.