Baked Vegetable Stuffed Eggplant is just the vegetarian meal-in-one you are looking for. It only takes a few minutes to prepare it. Then bake it while you sit back and relax. It's such a wonderful alternative to meat that you will want to add this to your regular recipe repertoire.
Baked Vegetable Stuffed Eggplant is beautiful and delicious.
How about trying a healthy Baked Vegetable Stuffed Eggplant? Well, relatively healthy. It is low in calories and scrumptious. We served it with Crispy Sausage Rice Balls, which are not so healthy for you.
When I looked at the nutrition for the rice balls, I knew I messed up because the rice balls are very high fat, high carb. The Vegetable Stuffed Eggplant, however, is much better for you. I should have filled up on it and just had a bite or two of rice balls. But they were good. So I ate them.
The Baked Vegetable Stuffed Eggplant with a small side salad would be perfect for any meal. Pure vegan bliss. You won't even miss the meat. Next time I would add a few sautéd mushrooms to the mix, mostly because I love mushrooms and I like to increase my selenium.
This Baked Vegetable Stuffed Eggplant recipe is inspired by a recipe on Eating Well, a recipe website that focuses on healthy eating. Don and I both liked it. And, although it has a lot of steps, it was simple to make. I also learned a new technique—the way Eating Well's recipe said to slice the eggplant to fill it. Most of the time to make it was spent waiting, and having a nice glass of wine. Who can beat that?
What You Need
Let's see. I used a chef's knife, small sharp paring knife, garlic mincer, cutting board, measuring cups and spoons, non-stick skillet, small roasting/baking sheet, and my olive oil cruet. But what you really want are some great pots and pans and some lovely stemware, am I right?
Baked Vegetable Stuffed Eggplant Recipe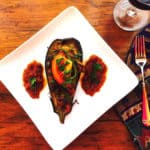 Baked Vegetable Stuffed Eggplant
Cook Time
1
hour
15
minutes
Total Time
1
hour
45
minutes
Ingredients
Olive oil spray

1

medium eggplant

2

tablespoon

plus 1 teaspoon olive oil

divided

1/4

teaspoon

salt

1

medium onion

1

clove

garlic

minced

1

small green bell pepper

2

plum tomatoes

1/4

cup

plus 1 tablespoon chopped flat-leaf parsley

divided

1/2

teaspoon

sugar

1

bay leaf

Salt and pepper to taste
Instructions
Roasted Eggplant
Heat oven to 400°F.

Spray a small baking sheet with olive oil spray.

Cut the eggplants in half lengthwise.

From Eating Well: "Using a small sharp knife, make a deep slit lengthwise down the flesh side of each eggplant half: start about 1 inch below the stem and stop about 1 inch from the bottom. Do not cut completely through the skin."

Brush about 1 tablespoon of oil over the eggplant flesh.

Sprinkle it with salt.

Place the eggplant inside down on the oiled pan and bake 15 minutes.
Filling
While the eggplant is roasting, thinly slice onion.

Thinly slice 1/2 the bell pepper and set aside; dice the remaining half.

Cut 1 tomato into 4 wedges and set aside; dice the remaining tomato.

Using a medium-szed, non-stick sillet, heat 1 tablespoon oil over medium-high heat.

Add onion and cook for about a minute, stirring occasionally.

Add minced garlic. Stir.

Add the diced bell pepper, diced tomatoes, parsley (reserving 1 tablespoon), sugar, bay leaf and a dash of salt and pepper.

Cook, stirring occasionally for 3 minutes.

Remove the vegetables from the heat and discard the bay leaf.
To Assemble
When the eggplant has baked for 15 minutes, remove it from the oven.

Turn each eggplant over and widen the slits using two spoons.

Stuff the slits with the vegetable mixture, pressing it down gently.

Top with a wedge of tomato in the middle of each half and place the reserved sliced pepper over top.

Add a small amount of hot water (aobut 1/4 inch) to the roasting pan.

Drizzle the stuffed eggplant with the remaining teaspoon oil. Bake 30 minutes more.

Let cool for at least 15 minutes.

Serve warm, room temperature, or cold.

Garnish with the remaining tablespoon of parsley.
https://recipeideashop.com/baked-vegetable-stuffed-eggplant/
Affiliate Disclosure: Many of the links included throughout Recipe Idea Shop are affiliate links, which means if you follow them and you buy something, we will get a small commission. It doesn't cost you a penny more, and you can still use your Amazon Prime account to buy. Don and I love our Amazon Prime account. This posting includes affiliate links.
Nutrition Information
The information shown is an estimate provided by an online nutrition calculator. It should not be considered a substitute for a professional nutritionist's advice.
WHAT'S NOT TO LOVE?
Trust me, you're gonna love this recipe. Up your recipe repertoire. Add this recipe to your collection. But don't stop there…subscribe to our email newsletter and get a free cookbook and printable grocery shopping list.
RATE, PIN & SHARE!
Please Rate our recipes, and Pin and Share them on social media. Comments are welcome, too!
You May Also Like These Recipes From Recipe Idea Shop
BEFORE YOU GO, DID YOU GRAB YOUR FREE COOKBOOK?
SaveSave
SaveSave
SaveSave
SaveSave
SaveSave
SaveSave
SaveSave
SaveSave
SaveSave