Bread Pudding with Bourbon Sauce. Amazing. My favorite way to use leftover bread.
Bread Pudding with Bourbon Sauce Recipe
Hi. It's Lois in the kitchen at Recipe Idea Shop, telling you about the best Bread Pudding I have ever eaten. I'm reposting this recipe because tomorrow is Kentucky Derby Day. And we all know that calls for a little bourbon.
The first time I made it, Don and I had entertained several neighbors and friends. Most people brought food or drink to share. Two guests brought French Bread (and they didn't take it home with them) so there was more than a bit left over.
Since leftover bread means Bread Pudding to Don, I decided to try my hand at making some for us. I looked for the perfect Bread Pudding recipe and found one on Simply Recipes. (Because...Bourbon Sauce!) I always find Elise Bauer's recipes inspiring, and this is no exception. Check out her original recipe on Simply Recipes.
Show your family some love and make this for Derby Day or Sunday supper.
Bread Pudding with Bourbon Sauce Recipe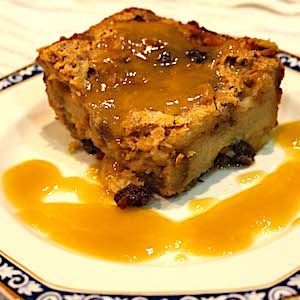 Bread Pudding with Bourbon Sauce Recipe
Ingredients
Drunken Raisins
½

cup

raisins

⅛

cup

Kentucky bourbon whiskey
Bread Mixture
½

loaf French Bread

(day-old works best, cut into 1-inch cubes, about 3 cups)

2

cups

milk

½

stick

butter

(melted in the pan)
Egg Mixture
2

eggs

1

cup

turbinado or granulated sugar

1

tablespoon

vanilla extract

⅛

teaspoon

ground allspice

⅛

teaspoon

ground nutmeg

¼

teaspoon

ground cinnamon
Bourbon Sauce
2

tablespoons

unsalted butter

(melted)

½

cup

sugar

1

egg

¼

cup

Kentucky bourbon whiskey

(whisked in at the end)
Instructions
Drunken Raisins
Soak the raisins in ⅛ cup Kentucky bourbon whiskey for 1-2 hours before preparing the bread pudding.
Prepare Bread
Preheat the oven to 350F degrees.

Put the bread cubes in a large mixing bowl and pour the milk over them.

Squeeze to combine the milk and bread until most of the milk is absorbed.

Add the bourbon-soaked raisins to the bread mixture and gently stir.

In a 5" x 7" glass baking dish, melt 4 tablespoons butter in the microwave and make sure the bottom and sides are coated with the butter.

Dump the bread and raisin mixture into the baking dish.
Prepare Egg Mixture
In a separate bowl, whisk the eggs, add and whisk in the sugar, vanilla, allspice, nutmeg and cinnamon.

When thoroughly blended, pour this mixture over the bread and raisin mixture.

Stir gently, but leave some of the egg mixture on top.
Bake
Bake at 350F degrees for 50-65 minutes, until the liquid has set and the top and sides begin to brown.

The outside should be a little crisp and the inside will be soft and delicious.
Bourbon Sauce
Over low heat, melt the 2 tablespoons butter in a small saucepan.

Whisk in ½ cup of sugar and 1 egg until blended well, and continue stirring while you heat the mixture over low heat.

Whisk in ¼ cup Bourbon and continue cooking over low heat for about 5 minutes. The sauce should be thickened, but thin enough to pour over the bread pudding when serving.
Serve
Serve warm, drizzled with Bourbon Sauce.
https://recipeideashop.com/bread-pudding/
Bread Pudding with Bourbon Sauce Nutrition
Pin & Share!
Please Pin and share our recipes. And tell us what you think in the comments.
You May Also Like These Recipes From Recipe Idea Shop