Chicken and Collards, an excellent Southern dish. Such deliciousness.
Chicken and Collards is a "down home meal" you will love.
This Chicken and Collards recipe is my favorite greens recipe. I never had collards until I moved to the South. To make sure we get the right nutrients, Don and I are eating more greens lately. Many African Americans consider it soul food. I just consider it amazingly good food. I love collards, especially with chicken. Don't you?
Collards are a terrific source of calcium, dietary fiber, folate, iron, manganese, magnesium, niacin, phosphorus, potassium, protein, riboflavin, thiamin, vitamin A, vitamin B6, vitamin C, vitamin E and vitamin K. Not only that, but they taste great. This is an excellent recipe, originally from the cookbook Superfoods, a super duper cookbook by Dolores Riccio that I've had for years.
What You Need
Get yourself quality knives and excellent pans. A good cook needs tools! But what you really want is an amazing coffee machine, am I right?
Braised Chicken and Collards Recipe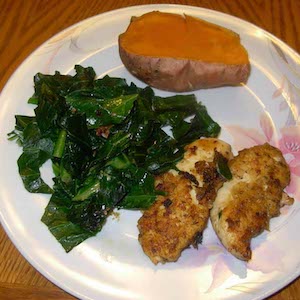 Braised Chicken and Collards
Southern food at its best.
Ingredients
1

pound

collard greens

(washed and stems removed)

½

cup

chicken broth

½

cup

gluten free flour

(or ½ wheat flour if you don't need GF)

2

teaspoons

Italian seasoning

¼

teaspoon

dried rosemary

(or 2 tablespoons fresh rosemary, minced)

4

boneless skinless chicken breasts

2

tablespoons

olive oil

salt and pepper to taste

(use sea salt to avoid corn)
Instructions
Cook the collards and broth in a large pot for about 10 minutes until the greens are wilted and tender. Watch this carefully to make sure the broth doesn't boil away.

Drain the greens and set aside.

Mix the flour, Italian seasoning and rosemary in a plastic bag.

Toss in the chicken pieces in this mixture until thoroughly coated.

Remove the chicken and shake off the excess coating.

Heat the oil in a large skillet.

Brown the chicken on one side.

Salt and pepper it.

When one side is browned, turn it and brown the other side.

Continue cooking the chicken until it is cooked through.

Add the drained collards to the pan, turning the leaves in the pan juices.

Heat the collards until they are heated through.

Serve with a baked sweet potato or a baked white potato. It's amazing! Enjoy.
Recipe Nutrition Information
This recipe is GF, DF, NF, SF, EF, CF (use sea salt)*
The information shown is an estimate provided by an online nutrition calculator. It should not be considered a substitute for a professional nutritionist's advice.
You May Also Like These Recipes From Recipe Idea Shop
RATE, PIN & SHARE!
Please Rate our recipes, and Pin and Share them on social media. Comments are welcome, too!
*Allergen Key
GF = Gluten free | DF = Dairy free | NF = Nut free | SF = Soy free | EF = Egg free | CF = Corn free | V = Vegetarian | VG = Vegan
Note: If you have serious allergies or sensitivities, to be considered free of these allergens, you need to use products specifically marked "gluten free," etc. There can be cross-contamination in facilities.