Cinnamon Sugar Roasted Pumpkin Slices are terrific alone as a dessert or used for a Roasted Pumpkin Pie!
Cinnamon Sugar Roasted Pumpkin Slices
Don here. Over the years, we have really enjoyed the CSA (community sponsored agriculture) subscription from Seasons Bounty Farm. Every fall the crates include pumpkins. Not the huge things we see alongside the road, ready to be carved into Jack-O-Lanterns. Smallish, very round pumpkins, about 2 pounds each.
Pumpkin is a Squash, Afterall
Having never done much with fresh pumpkin, we wondered what creative thing could be had from such a small one. Well, small is relative. Seems those 2 pound pumpkins yield about a pound of cooked pumpkin, just right for a pie. The common way to cook pumpkin is to simmer it slowly in its own juice in a heavy bottom, covered pot.
Since I'm a radical when it comes to cooking, I threw caution to the wind and decided to roast it. After all, pumpkin is just a squash, and we have been enjoying roasted squash all season. The result is a tender, tasty morsel of pumpkin just right to nibble on or use in a pumpkin pie. To make it a little different, I sprinkled it with cinnamon and sugar. And it was delightful enough to eat for dessert.
We also froze some and then used it in an amazing Roasted Pumpkin Pie.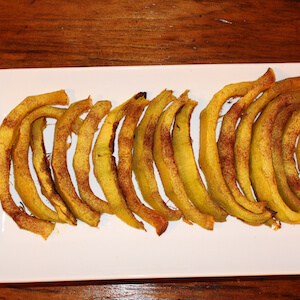 Cinnamon Sugar Roasted Pumpkin Slices Recipe
Roasting pumpkin brings out the robust flavor. This Cinnamon Sugar Roasted Pumpkin is terrific on its own or in a pie.
Ingredients
1

2-pound

pumpkin

⅛

cup

cinnamon

⅛

cup

sugar

Spritz of vegetable oil spray
Instructions
Peel the pumpkin and remove the stem.

Slice the pumpkin in half and remove the seeds and membrane.

Slice the pumpkin into ½-inch-thick wedges.

Arrange the slices in a single layer on baking sheet which has been lightly sprayed with vegetable oil or covered in parchment paper.

Mix the cinnamon and sugar together and put it in a shaker.

Sprinkle the wedges with the cinnamon/sugar mixture. (If you plan to simply eat the roasted pumpkin slices, then use a generous amount of cinnamon/sugar. If the plan is to make a pie with them, then just use a light sprinkle. The sugar will caramelize adding a sweetness to the pumpkin.

Bake at 425F for about 20 minutes or when the thick part of the slice is easily pierced with a fork.
Notes
NOTE: Store the slices in the refrigerator if they will be used in a few days otherwise you can freeze them for use later.
Nutrition
Calories:
28
kcal
Carbohydrates:
8
g
Protein:
0.2
g
Fat:
0.1
g
Saturated Fat:
0.02
g
Polyunsaturated Fat:
0.003
g
Monounsaturated Fat:
0.01
g
Sodium:
1
mg
Potassium:
22
mg
Fiber:
3
g
Sugar:
4
g
Vitamin A:
29
IU
Vitamin C:
0.2
mg
Calcium:
49
mg
Iron:
0.4
mg
More Pumpkin Recipes You'll Love