RECIPE IDEA: Roasted Pumpkin Pie—Roasting the Pumpkin Deepens Flavor
Note: Many of the links included throughout Recipe Idea Shop are affiliate links, which means if you follow them and you buy something, we will get a small commission. It doesn't cost you a penny more, and you can still use your Amazon Prime (Shop Amazon – Give the Gift of Amazon Prime) account to buy. This posting includes affiliate links. 
Don here, making a pie. Lois and I have really enjoyed the CSA (community sponsored agriculture) subscription from Seasons Bounty Farm this summer. We will definitely do the CSA again next year.
Over the past few weeks, we received several pumpkins in our CSA crate. Not having fresh pumpkin to deal with in the past, we decided to roast it and use the Roasted Cinnamon Sugar Pumpkin to make a pie. For years, I've bought canned pumpkin from the grocery and a 15-oz net weight can made quite a nice pie. Oddly enough, I found that the 2-pound pumpkins we got from Seasons Bounty yielded about a pound of tasty flesh when roasted. Serendipity? Anyway using the old standby of traditional pumpkin pie spices, I crafted a delicious pumpkin pie.
You can either use the Gluten Free Pie Crust for Sweet Pies recipe, Don's Gluten Free Shortbread Pie Crust or a Traditional Pie Crust recipe, depending on the dietary needs of your family and friends. Of course if pressed for time, one from the dairy case (Pet-Ritz brand is best) at the local supermarket works, too.
When baking a pie, the top edge of the crust usually browns too fast and gets too well done way before the pie is ready. So we have some aluminum rings that are supposed to fit over the edge of the crust to keep it from baking too fast. We have 2 rings of different sizes: one too small and one too large for the deep dish pie plate I really like. So I just fashion a cover from a piece of aluminum foil.
To make the shield: Pull a square of aluminum foil off the roll, fold it in quarters cut a ¼ circle of a radius about an inch shorter than the size of the pie plate around the point where all the folds converge. Unfold the foil and place it centered over the pie. This shields the edges of pie while allowing the vapor to escape.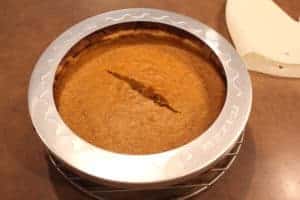 Read on for recipe and nutrition…
[b]Roasted Pumpkin Pie[/b]
Author:
Prep time:
Cook time:
Total time:
Ingredients
1 pound [url href="https://recipeideashop.com/cinnamon-sugar-roasted-pumpkin/" target="_blank"]Roasted Cinnamon Sugar Pumpki[/url]n slices
½ C sugar
1 t cinnamon
½ t ginger
¼ t ground cloves
2 large eggs
1 C milk
Instructions
Place the [url href="https://recipeideashop.com/roasted-cinnamon-sugar-pumpkin/"]Roasted Cinnamon Sugar Pumpkin[/url] slices in the bowl of a food processor with the sharp blade and run until the slices are reduced to smooth pumpkin pulp.
Add the other ingredients and process until well blended
Pour into a prepared (unbaked) pie shell.
Bake at 425F degrees for 15 minutes.
Reduce the oven temperature to 350F degrees and continue baking for another 40 to 50 minutes. The pie is done when a knife inserted in the center comes out clean. A deep dish pie will take longer than the regular depth pie.
Let the pie cool to room temperature before cutting.
The pie can be stored covered in the refrigerator for several days.