French Mixed Vegetables with Ham: Who said lima beans aren't tasty? I used to say it until I ate this amazing French supper. So satisfying!
French Mixed Vegetables with Ham
Hi. It's Lois in the kitchen at Recipe Idea Shop, just watching Don work. Don made this delicious French Mixed Vegetables with Ham dinner for us  awhile ago. He needs to do it again!
It is an old favorite of ours. It comes from Renoir's Table, a beautiful cookbook by Jean-Bernard Naudin, Jean-Michel Charbonnir & Jacqueline Saulnier. Not only was it amazing, but we get leftovers. Yum!
Get one of "Oprah's Suggested Favorite Things"
Check out the recipe …
French Mixed Vegetables with Ham Recipe
French Mixed Vegetables with Ham
Peasant food all in one pot.
Ingredients
1

10-ounce

ham steak

3 1/2

pounds

young java beans

(shelled & cooked)

or 2 medium bags of frozen baby lima beans

(cooked)

1

bunch scallions

(white parts and about 3 inches of green parts, sliced)

2

bundles of asparagus

18

small purple artichokes or 2 cans of artichoke hearts

(drained)

1

lemon

1

large onion

(peeled & diced)

1

medium-sized carrots

(peeled and diced)

3

tablespoons

olive oil

1

cup

white wine

3

cloves

garlic

(minced)

1/2

teaspoon

salt

1/4

teaspoon

pepper

1

teaspoon

fennel seeds
Instructions
Prepare Ingredients
Cut the ham into long strips, leaving the fat on. (If you use a leaner piece of ham, you might need a little more olive oil.) The fat in the ham will dissolve while cooking and it will enhance the flavor of not only the ham, but the entire dish. SET ASIDE TO COOK LATER.

Trim off the ends of the asparagus and cut the stalks diagonally into 1/4″ pieces.

Leave the tips in one piece and keep them separate from the rest of the asparagus. It takes the tips less time to cook than the rest of the stem.

We used canned artichokes, and they were already quartered. If you use the fresh artichokes, trim the leaves by cutting off about 1″ from the tip, depending on the size of each leaf.

Remove the little leaves attached to the artichoke stem, as well as the outer leaves at it base.

With a vegetable peeler, peel the stem until you reach the thick, white, tender heart.

Split the artichokes into 4 pieces and rub the insides with half a lemon. This prevents them turning brown.

Do not squeeze all the juice out of the lemon as it will be used again later.

Peel the onion and the carrot and chop them finely. I prefer additional carrots and I put in 3 carrots instead of one, but Don is not fond of cooked carrots and he was the chef tonight.
Cook
In a large frying pan, heat the oil over a medium heat.

Add the strips of ham and fry them for 3-5 minutes, until golden on each side.

Remove the ham to a platter and it warm in the oven while you cook the vegetables.

Sauté the onion and carrot for 5 minutes.

Stir frequently so that the onion turns golden but not brown.

Add the artichokes and the white wine.

Squeeze the lemon and add the juice to the pan.

Cook for 10 minutes. Add the scallions and garlic.

After 5 minutes, add the asparagus pieces, but not the tips.

Stir continuously for 6-7 minutes.

Add the asparagus tips and salt and pepper.

Add the fava (or Lima) beans, stirring gently.

Sprinkle with fennel seeds and allow to cook for 5 more minutes, uncovered, over low heat.

Stir in the strips of ham and continue cooking for another minute until everything is heated through. Serve on a heated platter with Crusty French Rolls or Crusty French Bread
https://recipeideashop.com/french-mixed-vegetables-with-ham/
Note: Many of the links included throughout Recipe Idea Shop are affiliate links, which means if you follow them and you buy something, we will get a small commission. It doesn't cost you a penny more, and you can still use your Amazon Prime (Shop Amazon — Give the Gift of Amazon Prime) account to buy. This posting includes affiliate links. Don and I love our Amazon Prime account.
French Mixed Vegetables with Ham Nutrition
Want More Recipes Like This?
If you want more delicious recipes, please sign up for our free cookbook.
Pin & Share!
Please Pin and share our recipes. And tell us what you think in the comments.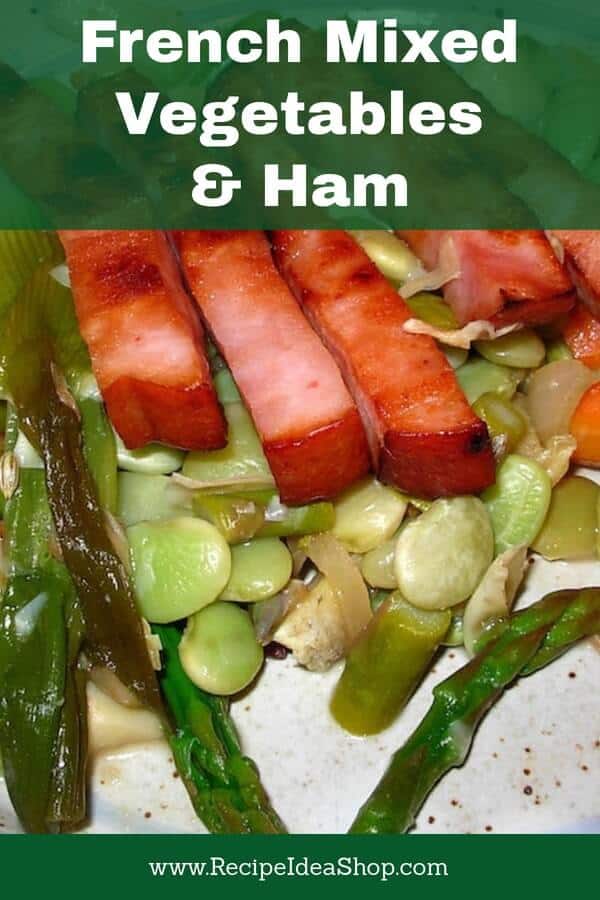 You May Also Like These Recipes From Recipe Idea Shop
BEFORE YOU GO, DID YOU GRAB YOUR FREE COOKBOOK?
[mc4wp_form id="5109″]