Grandma's No Cook Refrigerator Pickles. Sweet and tangy with a delightful celery accent.
Grandma's No Cook Refrigerator Pickles
Hi. It's Lois in the kitchen at Recipe Idea Shop, telling you about Grandma's No Cook Refrigerator Pickles. One day when I stopped by my neighbor Diane's house, she was in the middle of making No Cook Refrigerator Pickles. A few days later (after they aged) I tried them. Wow! De-LISH-ous!
She gave me her recipe and I went home and made some. The recipe is SO EASY and they keep indefinitely in the fridge.
Simple, simple, simple. Just 6 ingredients and 4 easy steps in these No Cook Refrigerator Pickles.
Slice the cucumbers and onions.
Put them in a large glass container with a lid.
Mix the vinegar dressing and pour it over the veggies.
Refrigerate for three or more days, turning the jar over every once in awhile.
Don is delighted. His mom used to make Refrigerator Pickles, and he loves them. You will need some covered half-gallon jars or something to store them in.
Check out the recipe…
Grandma's No Cook Refrigerator Pickles Recipe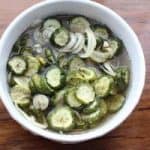 Grandma's No Cook Refrigerator Pickles
No Cook Refrigerator Pickles, just like Grandma used to make. They keep indefinitely in the refrigerator. Tangy and sweet.
Ingredients
Ingredients
8

cups

medium-sliced cucumbers

1

medium yellow onion

sliced

1

cup

white vinegar

2

cups

sugar

2

tablespoons

salt

1

tablespoon

celery seed
Instructions
Combine the cucumber slices and the onion slices in a 12- to 16-cup jar or container with a cover.

In a bowl, mix the vinegar, salt, sugar and celery seed until the sugar dissolves.

Let the vinegar mixture stand about a half hour.

Pour over the pickles and onion slices.

Put the pickles in a tightly covered jar or container in the refrigerator, turn the jar over periodically to mix the ingredients, and let age for 3 days or a week to enhance flavor.
https://recipeideashop.com/grandmas-no-cook-refrigerator-pickles/
Recipe Notes
FYI: The longer you keep these pickles, the better they get! Nutrition is based on 1/3 cup per serving.
Note: Many of the links included throughout Recipe Idea Shop are affiliate links, which means if you follow them and you buy something, we will get a small commission. It doesn't cost you a penny more, and you can still use your Amazon Prime (Shop Amazon – Give the Gift of Amazon Prime) account to buy. This posting includes affiliate links. 
Grandma's No Cook Refrigerator Pickles Nutrition Information
Want More Recipes Like This?
If you want more delicious recipes, please sign up for our free cookbook.
Pin & Share!
Please Pin and share our recipes. And tell us what you think in the comments.
You May Also Like These Recipes From Recipe Idea Shop
BEFORE YOU GO, DID YOU GRAB YOUR FREE COOKBOOK?
SaveSave
SaveSave
SaveSave