Grandma's No Cook Refrigerator Pickles. Sweet and tangy with a delightful celery accent. Not like any pickle you have eaten.
Grandma's no cook refrigerator pickles are easy, but you have to wait a few days to eat them.
One day when I stopped by my neighbor Diane Bayer's house, she was in the middle of making No Cook Refrigerator Pickles, a recipe she got from an older woman in her church. A few days later (after they aged) I tried them. Wow! De-LISH-ous! They are sweeter than a bread and butter pickle and tangier than sweet pickles, with a flavor all their own.
Diane gave me the recipe and I went home and made some. And I've been making them ever since.
Take a Look at the Recipe Video
Watch the WHSV TV3 video of me telling Bob Corso on the  1 on 1 Program how to make these pickles.
Reuse & Recycle
The recipe is SO EASY and the pickles keep indefinitely in the fridge. Not only that, but when you finish all the pickles, you can use the juice again to make another batch. Wowie!
Use Other Veggies Too
The last time I made these pickles, I made some with green beans, too. You make them exactly the same, except you have to blanch the beans before you put them in the jar. Try it!
Simple, simple, simple. Just 6 ingredients.
Slice the cucumbers and onions.
Put them in a large glass container with a lid.
Mix the vinegar dressing and pour it over the veggies.
Refrigerate for three or more days, turning the jar over every once in awhile.
Don is delighted. His mom used to make pickles like these, and he loves them. You will need some covered half-gallon jars or something to make and store them in.
What You Need
You will need a knife, cutting board, measuring cups and spoons and a large jar to store your pickles. A funnel would also be helpful. But what you really want is a good dish to serve them. Am I right?
Grandma's No Cook Refrigerator Pickles Recipe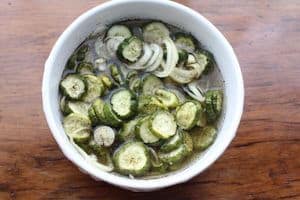 Grandma's No Cook Refrigerator Pickles
No Cook Refrigerator Pickles, just like Grandma used to make. They keep indefinitely in the refrigerator. Tangy and sweet.
Ingredients
Ingredients
8

cups

medium-sliced cucumbers

about 4 large

1

medium yellow onion

sliced in half rings

2

cups

white vinegar

4

cups

sugar

¼

cup

salt

2

tablespoons

celery seed
Instructions
Combine the cucumber slices and the onion slices in a half-gallon jar or container with a leak-proof cover.

In a bowl, mix the vinegar, salt, sugar and celery seed until the sugar dissolves.

Let the vinegar mixture stand about a half hour.

Pour this mixture over the pickles and onion slices.

Tightly cover the jar or container and refrigerate. Turn the jar over periodically (once or twice a day) to mix the ingredients, and let age for 3 days or a week to enhance flavor.
Notes
Note 1: The longer you keep these pickles, the better they get! Nutrition is based on one-third cup per serving. Note 2: You can re-use the juice to make another batch (or sometimes 2) of pickles so don't throw the brine out. Note 3: If you heat the vinegar (stirring constantly), sugar and salt mixture on top of the stove for about 5 minutes, the sugar will dissolve quicker and more thoroughly. Be sure to let it cool before pouring it over the cucumbers. Note 4: Your cucumbers will reduce in size after about a day. Add another sliced cucumber to the jar to fill it up.
Nutrition
Serving:
1
/3 cup
Calories:
149
kcal
Carbohydrates:
35.4
g
Protein:
0.4
g
Fat:
1
g
Saturated Fat:
0.1
g
Polyunsaturated Fat:
0.6
g
Sodium:
1182
mg
Fiber:
0.4
g
Sugar:
33.9
g
Recipe Nutrition Information
This recipe is GF, DF, NF, SF, EF, CF (use sea salt), V, VG*
The information shown is an estimate provided by an online nutrition calculator. It should not be considered a substitute for a professional nutritionist's advice.
You May Like These Recipes & Posts From Recipe Idea Shop
RATE, PIN & SHARE!
Please Rate our recipes, and Pin and Share them on social media. Comments are welcome, too!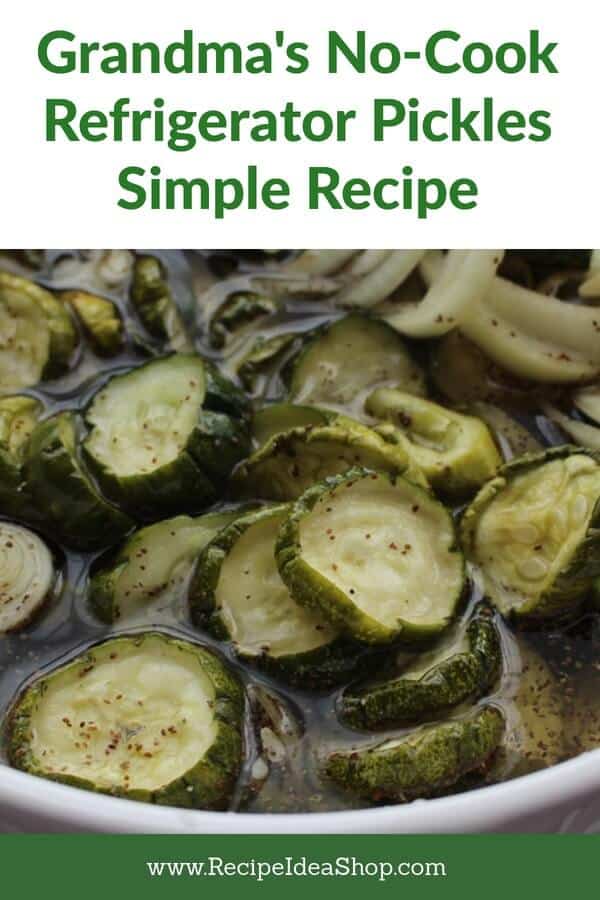 *Allergen Key
GF = Gluten free | DF = Dairy free | NF = Nut free | SF = Soy free | EF = Egg free | CF = Corn free | V = Vegetarian | VG = Vegan
Note: If you have serious allergies or sensitivities, to be considered free of these allergens, you need to use products specifically marked "gluten free," etc. There can be cross-contamination in facilities.
This recipe was originally posted on Recipe Idea Shop July 27, 2015 and updated August 11, 2021.