These No Cook Refrigerator Dill Pickles could become your favorite way to use up all the cucumbers you grow in the summertime. Making these tangy, crunchy delights is quick and easy.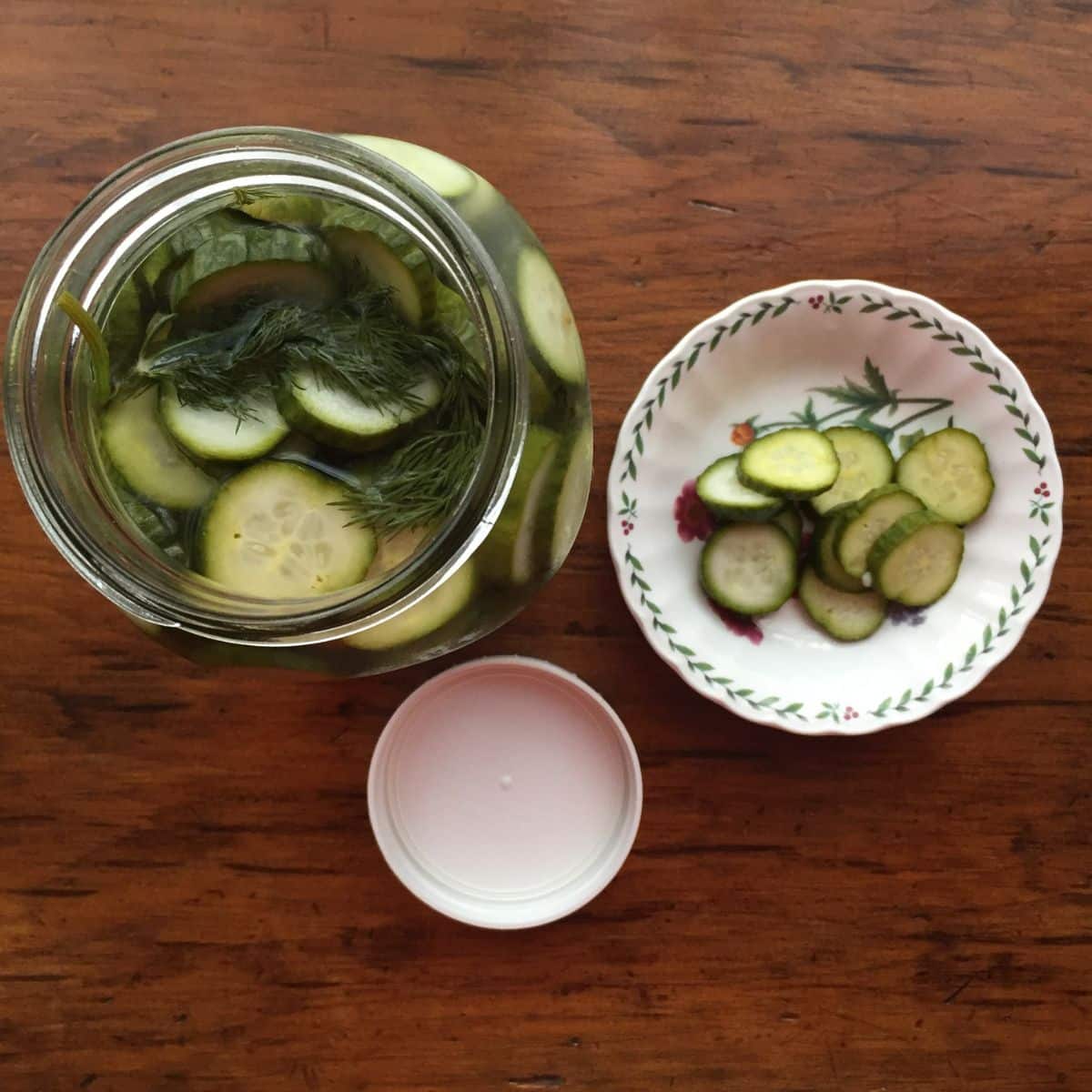 No Cook Refrigerator Dill Pickles Are Simple To Make
I made them in about 30 minutes: no special canning equipment needed. It's the waiting that will make you whine. You can eat them in 24 hours, but it's best to wait about 4 days or more. The longer they mature, the better the flavor. When I make them, I make a half-gallon of them because, like any pickle, they will last for months. And they only have 7 ingredients. Well, 8 if you like garlic dills. And I do.
I decided to make three kinds of pickles this week, Refrigerator Dill Pickles, Grandma's No-Cook Refrigerator Pickles (kind of a bread and butter pickle), and Elizabeth's Recycled Pickles.
If you grow cucumbers in your garden, this is one of the best ways to use those cukes! It's not cucumber season yet, so they can be expensive. Here's our harvest from a couple of days ago, and we'll keep picking throughout the summer. YUM!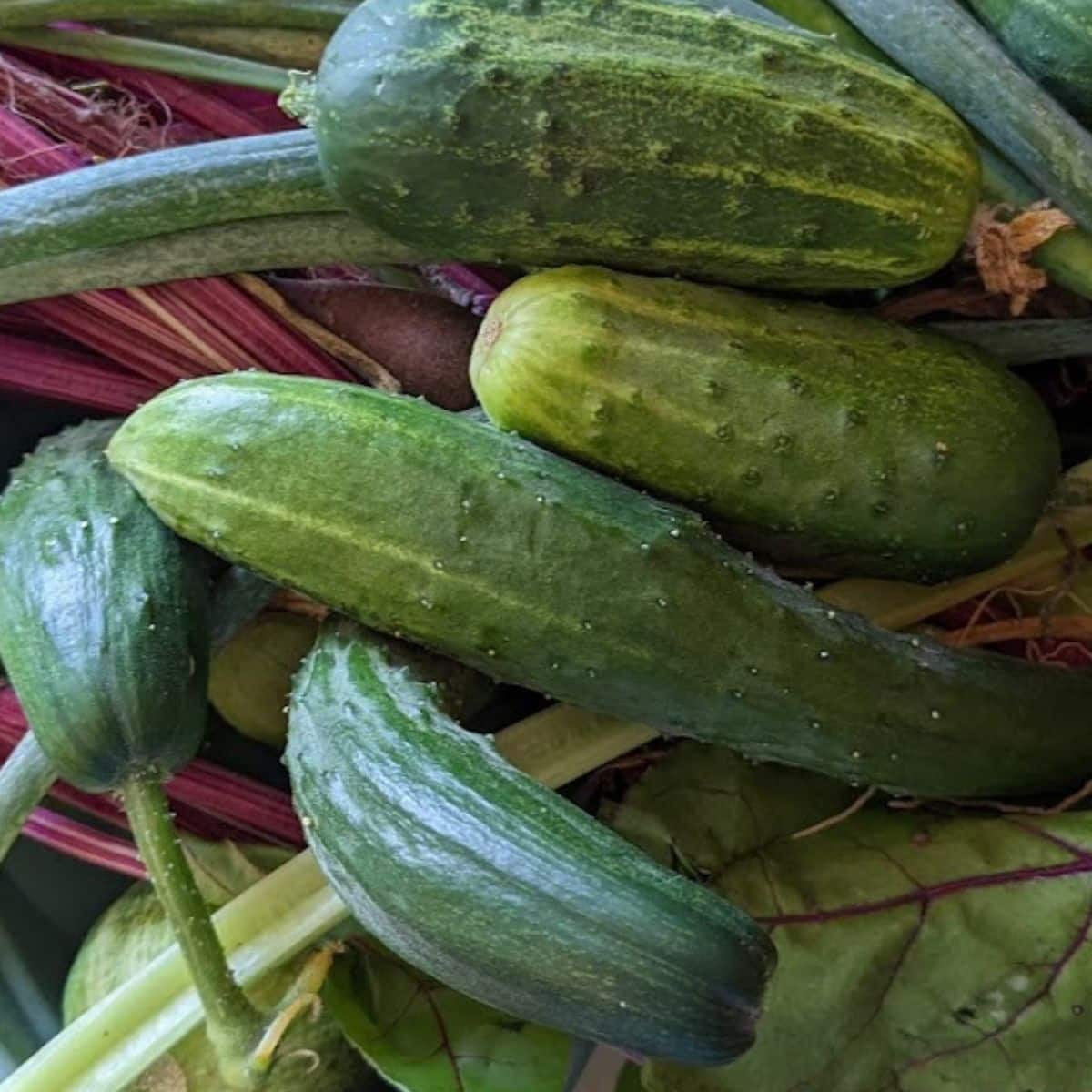 Icebox Dill Pickles Ingredients
small cucumbers
coriander seeds
yellow mustard seeds
a few cloves of garlic
sprigs of fresh dill
white vinegar
sugar
Kosher salt
Optional ingredients:
dill seeds (if you love dill)
pepper flakes to make spicy pickles
bay leaf
Tools You Need To Make These Dilly Pickles
a half-gallon jar with a tight cover (or smaller jars to fit the number of pickles). Make sure you get a plastic lid, as the metal ones will rust from the vinegar. These jars are perfect!
knife
cutting board
measuring spoons
measuring cups
4-cup glass measuring cup (I find the small and large Pampered Chef batter bowls indispensable in my kitchen)
What To Serve These Homemade Dill Pickles With
Not sure how to eat these pickles? Here are just a few ideas:
eat them alone, as a delicious, low-calorie, refreshing snack
add to egg salad
with your burgers
make deep-fried pickles
try it with a sandwich: you'll love it with my portabella Reuben sandwich
if you are adventurous, try a peanut butter and pickle sandwich 😉
FAQs About Refrigerator Dill Pickles
How long until refrigerator pickles are ready?
You can eat them after a day, but if you have a bit of patience, they are much tastier after 4 or 5 days. The yumminess is worth the wait!
How long do refrigerator pickles last?
These zingy dills should last in the fridge for up to 8 weeks if you keep them tightly closed, but they are so good, I doubt you'll have any left after about a week 😉
What is the difference between refrigerator pickles and canned pickles?
Refrigerator pickles need to stay in the fridge and are usually made without any cooking. The Canned pickles take longer to make and need to be properly canned, but they don't need to stay in the fridge until you open the can. Canned pickles can last up to 12 months in a dark cool place in your cupboards.
Can I reuse refrigerator pickle brine?
Yes, you can reuse the refrigerator pickle brine once or twice. Just add more pickles in the brine and enjoy after a few days. You can also use this brine for other veggies, such as beans, carrots, chili peppers, bell peppers, onion slices, asparagus, and more.
Can I use whole cucumbers to make refrigerator dill pickles?
Yes, you can: just be aware that it will take longer to pickle, so you'll need to wait at least 3 or 4 days, and even better, about a week. The best way to make these is to cut them into spears, crinkle cut slices or chips for sandwiches.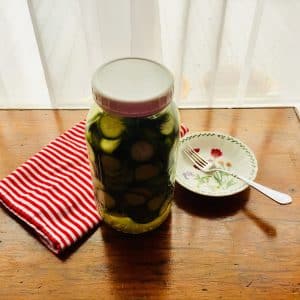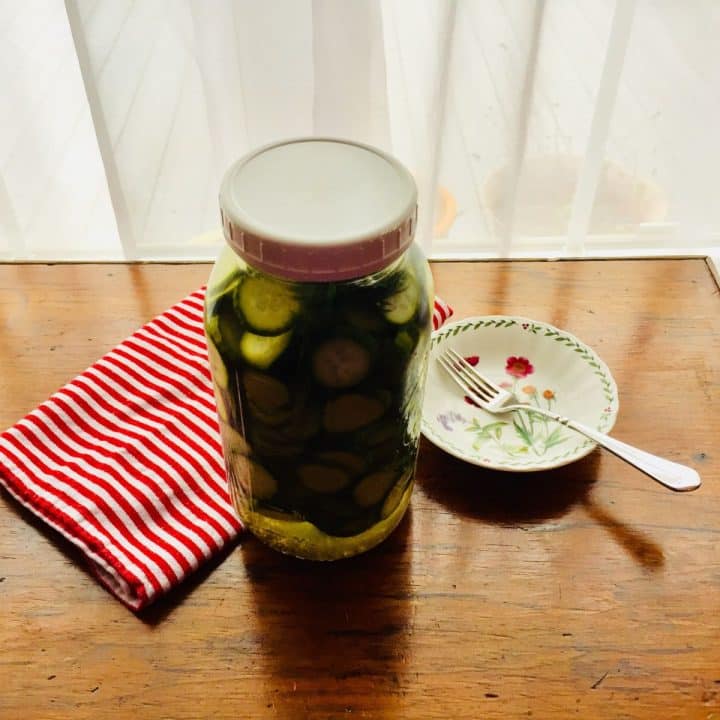 Refrigerator Dill Pickles Recipe
Tangy, crunchy garlic dill pickles made in the refrigerator. No need to "can."
Ingredients
10

small

cucumbers

(the "baby" size works best)

3

teaspoons

coriander seed

(whole seed, or use ½ teaspoon ground coriander)

3

teaspoons

mustard seed

½

teaspoon

minced garlic

5

sprigs

fresh dill

1

teaspoon

dill seeds

(optional: only add if you like it to taste strongly of dill)

3

cups

white distilled vinegar

1

tablespoon

granulated sugar

4

teaspoons

Kosher or sea salt
Instructions
Prepare the cukes
Slice the cucumbers into ⅛ inch round slices and put them in the clean Mason jar.

Sprinkle the coriander seed, mustard seed, and garlic over the cucumbers in the jar.

Stick the dill sprigs into the jar.
Prepare the Brine
In a microwaveable measuring cup or bowl, mix the vinegar, sugar and salt. Stir to dissolve a bit.

Microwave the brine for about 1-2 minutes, until warmed. Whisk gently to be sure the sugar and salt are dissolved.

Pour the brine over the sliced cucumbers, cover, and shake the jar a bit to thoroughly combine all the ingredients.
Refrigerate & Wait
Refrigerate for a minimum of 24 hours. They will taste best if you wait to eat them for about 5-14 days.

While waiting, periodically turn the jar over to mix the brine.
Notes
Some people also add celery seed (1 teaspoon).
Nutrition
Calories:
19
kcal
Carbohydrates:
2
g
Protein:
1
g
Fat:
0.3
g
Saturated Fat:
0.02
g
Polyunsaturated Fat:
0.05
g
Monounsaturated Fat:
0.1
g
Sodium:
390
mg
Potassium:
98
mg
Fiber:
1
g
Sugar:
1
g
Vitamin A:
51
IU
Vitamin C:
2
mg
Calcium:
16
mg
Iron:
0.3
mg
Recipe Nutrition Information
The information shown is an estimate provided by an online nutrition calculator. It should not be considered a substitute for a professional nutritionist's advice.
RATE, PIN & SHARE!
Please Rate our recipes, and Pin and Share them on social media. Comments are welcome, too!
More Cucumber Recipes