RECIPE IDEA: Grilled Vegetables. Grilled Red Potatoes. Grilled Zucchini Squash. Grilled Zucchini and Red Peppers. All tasty. All good.
Hi. It's Lois in the kitchen at Recipe Idea Shop, talking about Grilled Vegetables. But today Don is doing the cooking. As the summer winds down, he continues to use his grill to fill our bellies. Don has this grilling vegetables thing down pat. He is so good at this, he can make us a whole meal and get everything done at the same time. 🙂
Some vegetables, such as carrots, take a little longer to cook than others. The nature of the vegetable has something to do with that, but it also depends on how you cut the vegetables. Spears (which are usually fatter) take longer than round disks. In general, the wider the surface, the shorter the time needed to cook. The process, however, is the same.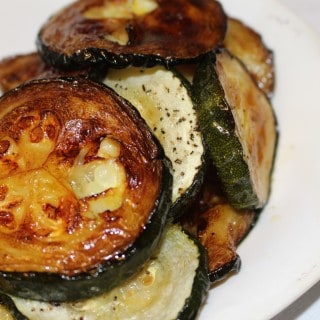 Grilled Vegetables
Ingredients
1

small zucchini OR 6 small red potatoes

sliced in ⅛" rounds

1

red pepper

sliced into 8 even pieces (optional)

2

tablespoons

olive oil

Sea salt

optional

1

teaspoon

Herbes de Provence
Instructions
Mix the vegetables in a bowl.

Drizzle the olive oil over the vegetables evenly.

Sprinkle with salt and herbs.

If you have a vegetable grill basket, simply place the vegetables in the basket and grill them for about 30 minutes over medium heat, stirring every few minutes to prevent burning.

If you don't have a grill basket, take a large piece of aluminum foil and make a basket for the veggies.

Grease the aluminum foil with a little olive oil.

Put the veggies in the aluminum foil basket and fold the foil around the veggies, sealing the seams tightly to make a sealed package. (see picture above)

Heat the grill to about 350F degrees (medium heat).