How to Make a Pastry Crust, step by step recipe.
How to Make Pastry Crust
Hi. Don here. Making good pastry crusts can be a challenge. It was for me until I discovered a few tricks. I also suggest you watch this video: https://www.youtube.com/watch?v=6UjUM9tW-Bg. Do you have a tip on making pie crusts? Please post a comment.
The two options (Flaky Pie Crust and Sweet Pie Crust) below list my ingredients for a single 9 to 10 in crust  (double it for two crusts). The difference between the two crusts is a slight difference in ingredients. The method is the same.
I guess I will have to make another pie to show the mixing and ball steps!
What You Need
I find that it's easiest to use a full size food processor to mix the dough. You will also need measuring cups and spoons, a pie plate, rolling pin and some parchment paper. I suggest you invest in pie weights and a pie shield, too. Get yourself a pretty pie plate if you plan to make pie often!
How to Make a Pastry Crust (Flaky Pie Crust) Recipe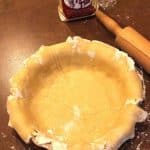 How to Make Pastry Crust (Flaky Pie Crust)
A traditional flaky pie crust or a sweet short crust
Total Time
1
hour
35
minutes
Ingredients
1-1/4

cup

all purpose flour

1

teaspoon

salt

1

teaspoon

sugar

(for Sweet Short Crust, use 1 TABLESPOON sugar)

1/2

cup

cold vegetable shortening (Crisco)

(For Sweet Short Crust, use butter.)

1/8 to 1/4

cup

ice water
Instructions
Mix all of the ingredients in the order listed.

For traditional pie crusts use just flour, salt, a little sugar, shortening and ice water.

For short crusts for tarts and dessert quiches use unsalted butter instead of shortening and add more sugar. (See notes adjacent to ingredients.)

Whether using shortening or butter make sure it is cold and very hard.

Cut the shortening into small pieces.

When adding the shortening or butter to the flour mixture by hand, use a pastry blender or cut it in with two kninves.

I have grown real fond of the food processor for making pie dough.

It's fast and gives a better product.

Just blend the shortening or butter in until the mixture looks like corn meal.

Add the ice water slowly by tablespoon fulls just until the dough forms a ball and holds together.

Then wrap the dough ball in plastic and refridgerate it for at least an hour.

If you store it in an airtight container you can freeze it. Use the frozen dough within 6 months.

Chill the dough for at least a full hour between mixing and rolling it out.

It is important to chill the butter (or shortening for a traditional pie crust) and to let the gluten relax by chillling the dough between mixing and rolling. I guess a food scientist can explain why this is important but all I know is when I don't let the dough chill for an hour, the crust doesn't roll out as easily.

To roll out the dough use a lightly floured surface or pastry board. I've had good luck also using parchment paper or freezer paper lightly floured to roll out the crust.

And don't forget to take one of your hands that just spread the flour over the work surface and dust flour onto the rolling pin.

Before I make the first move with the rolling pin I push down on the ball of dough to flatten it somewhat.

Then I push the edge cracks back together.

Roll the dough from the center out turning the dough after each roll.

This makes for a more uniform crust thickness and keeps the crust from sticking to the work surface. Turning also helps to form a circle rather than an elipse, rectangle or in my worst experience a triangle shape.

When cracks appear at the edges of the dough, I overlap the edges and continue to roll out the dough.

Invert the pie tin, quiche dish or tart pan over the rolled out dough to measure the size of the dough.

It should be about an inch or two larger than the pan depending on the depth of the dish you are using.

Once you have the dough the correct size, roll the dough around the rolling pin; lift and center it over the pan or tin and unroll it from the rolling pin by rolling the pin in the opposite direction that you rolled the dough up.

Gently lift and slide the dough around until it is positioned how you want it.

For unfilled crusts (such as for a custard or lemon pie), cover the bottom with a round of aluminum foil and use pie weights to hold the crust from rising and bubbling. The aluminum foil keeps the "weight dents" to a minimum.

For two crust pies, lay the top crust over the filled pie tin. Trim the top crust to about 1/2 in larger than the bottom crust, fold the edges under and crimp them in a decorative pattern.

When baking the pie and filling together in a two-crust pie, brush the top crust with butter or egg white and a little water.

If the crust browns too fast, then cover it with a metal ring you can purchase or make one from aluminum foil and bake the pie until done. This prevents the burned crust syndrome.
https://recipeideashop.com/how-to-make-pastry-crust/
Affiliate Disclosure: Many of the links included throughout Recipe Idea Shop are affiliate links, which means if you follow them and you buy something, we will get a small commission. It doesn't cost you a penny more, and you can still use your Amazon Prime account to buy. Don and I love our Amazon Prime account. This posting includes affiliate links.
Recipe Nutrition Information
The information shown is an estimate provided by an online nutrition calculator. It should not be considered a substitute for a professional nutritionist's advice.
WHAT'S NOT TO LOVE?
Trust me, you're gonna love this recipe. Up your recipe repertoire. Add this recipe to your collection. But don't stop there…subscribe to our email newsletter and get a free cookbook and a printable grocery shopping list.
RATE, PIN & SHARE!
Please Rate our recipes, and Pin and Share them on social media. Comments are welcome, too!
You May Also Like These Recipes From Recipe Idea Shop
BEFORE YOU GO, DID YOU GRAB YOUR FREE COOKBOOK?
[mc4wp_form id="5109″]