Coffee. Rich, dark Coffee. I tell you How to Make Perfect Coffee. I do love coffee, don't you?

How to Make Perfect Coffee
Hi. It's Lois in the kitchen at Recipe Idea Shop. Today, I'm going to tell you how to make perfect coffee.
I am a coffee lover. I make a pot every morning. I love the smell and taste of the perfect cup of coffee. To me, the perfect cup of coffee is bold and robust, without being bitter.
My favorite flavor and brand is the one pictured here, Cafe Cubano by Mayorga. The beans come from Latin America and are dark roasted in Maryland. It's rich, bold and flavorful without being bitter.
Smell the Coffee
Recipe Idea Shop's email newsletter is called "Smell the Coffee." We give a recipe or two, some menu suggestions, and tell you a little bit about our lives.
Years ago, I wrote a weekly marketing newsletter and always included a section called "Smell the Coffee," which was about things happening in my life—personal details about what my children were doing, stories of my brilliant grandchildren, loving husband, and occasionally our dog (Lulu) and cat (Abelgirk)—both pets have been gone a long time. I named the column "Smell the Coffee" (and our subsequent email newsletter for this site) because I love coffee. It is important in my life. And drinking coffee to me symbolizes having a bit of time to myself, a happy existence and a rich and delicious life.
Recipe for the Perfect Cup of Coffee
Let me tell you how to make a good pot of coffee, the Perfect Cup of Coffee in my humble opinion. Personally, I like strong, fragrant coffee and try to buy robust coffee from Central America if I can. I buy the beans whole and grind them myself so they are fresh. I am not fond of French Roast or any coffee that tastes bitter, including Starbucks. The only way I can drink that kind of coffee is as a latte (which I believe is about half milk, isn't it?).
Making Coffee in a Public Setting
When I make a pot of coffee in an office or church environment, I am kind to my colleagues. It appears that most of them like to drink brown water, so I offer them additional hot water to reduce the robustness.
When using a 12-cup coffeemaker, I use 4 heaping coffee scoops (so 8 heaping tablespoons) of coffee. Of course, if this is too strong for someone, they can always add more water. But you can't increase the robustness after the coffee is made!
Making Coffee at Home
When I make coffee at home, I have a 10-cup drip coffeemaker. I use about 1/2 cup of whole beans, ground fine for expresso, per pot (I fill the grinder to the maximum capacity and grind it fine). For a 5-cup coffee maker, I use about 1/4 cup of beans. I put in one coffee filter, dump in the ground coffee, and tamp it down so it takes longer for the water to get through the grounds. It makes delicious coffee!
And that's how to make perfect coffee.
How to Make Perfect Coffee Recipe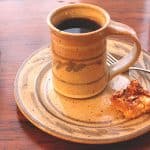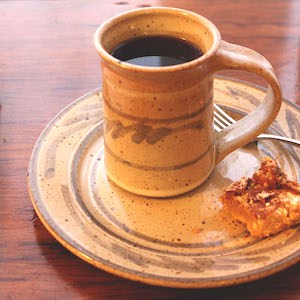 How to Make Perfect Coffee
Ingredients
1/2

cup

whole Cafe Cubano Coffee Beans from Mayorga Organics

10

cups

of cold water
Instructions
Grind the coffee beans on the fine setting.

Put one coffee filter in the coffee pot basket.

Dump the ground coffee into the filter.

Tamp the beans down so they have less air between the grounds.

Pour the water into the water tank.

Press the "on" button and enjoy the amazing smell and taste of your perfect cup of coffee
https://recipeideashop.com/make-perfect-coffee/
Affiliate Disclosure: As an Amazon Associate I earn from qualifying purchases. It doesn't cost you a penny more, and you can still use your Amazon Prime account to buy. This posting includes affiliate links.
Recipe Nutrition Information
This recipe is GF, DF, NF, SF, EF, CF, V, VG*
The information shown is an estimate provided by an online nutrition calculator. It should not be considered a substitute for a professional nutritionist's advice.
You May Also Like These Recipes From Recipe Idea Shop
SUBSCRIBE FOR MORE RECIPES YOU LOVE & FREE GIFTS
Trust me, you're gonna love our recipes. Up your recipe repertoire. Add this recipe to your collection. But don't stop there…subscribe to our email newsletter and get a free cookbook and a printable grocery shopping list.
RATE, PIN & SHARE!
Please Rate our recipes, and Pin and Share them on social media. Comments are welcome, too!
*Allergen Key
GF = Gluten free | DF = Dairy free | NF = Nut free | SF = Soy free | EF = Egg free | CF = Corn free | V = Vegetarian | VG = Vegan
Note: If you have serious allergies or sensitivities, to be considered free of these allergens, you need to use products specifically marked "gluten free," etc. There can be cross-contamination in facilities.
This recipe was originally posted on Recipe Idea Shop Jan. 5, 2016 and updated October 13, 2020.