Saffron Scented Risotto has a heavenly smell, creamy taste and is the perfect accompaniment for just about any meal.
Saffron Scented Risotto is a good side dish or entree.
Risotto is one of my favorite ways to eat rice. It a naturally creamy, delicious rice. Saffron Scented Risotto is not only scrumptious, it is beautiful.
Saffron provides the yellow color and a depth of flavor that can't be matched, but it is a bit expensive. That's because it is gathered from the red stigmas in the center of the Saffron Crocus flower, which blooms in the fall. Just think of how many flowers you would need to get enough spice! No wonder it is expensive. But it's so worth it.
Where to Get Saffron
The smell is heavenly and the taste is divine. Just about any grocery store will sell saffron, but it's cheaper if you buy it from a bulk store or online. I generally get my saffron from Costco and the price is great. If you don't have a Costco near you, you can get a nice bottle of Spanish Saffron online at Amazon.
This recipe came from the package of Sun of Italy Arborio Rice, and I modified it to make it dairy-free.
Tools You Need
You will need measuring cups and spoons, a knife, cutting board and a good quality skillet. Do yourself a favor, and buy the best tools you can afford. And buy some pretty dinnerware, too!
Saffron Scented Risotto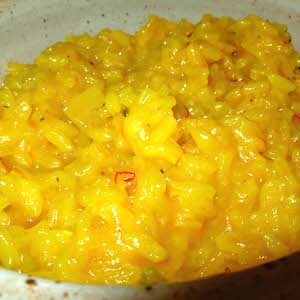 Saffron Scented Risotto
Rich, full of depth, beautiful, creamy rice.
Ingredients
2

tablespoons

olive oil

½

cup

onion

(chopped)

1

cup

Arborio rice

4-5

cups

chicken broth

(or vegetable broth)

2

tablespoons

water

Several strands of saffron

(I used about ½ teaspoon)

½

cup

dry white wine

Salt and pepper to taste

(about ½ teaspoon salt; ⅛ teaspoon pepper)
Instructions
Mix the saffron in the 2 tablespoons of water and set aside.

Heat the olive oil in a large skillet.

Add the onion and cook until transparent.

Add the rice to the skillet, stir to coat and cook for about 2 minutes.

Reduce the heat and add ¼ cup white wine, stirring constantly.

Add the chicken (or vegetable) broth, one cup at a time until it is nearly absorbed.

As the liquid is absorbed, add more water, continuing to stir constantly.

When the rice is tender but still a bit chewy, add the saffron water, the remaining wine and salt and pepper.

Continue to cook and stir until the liquid is fully absorbed. The rice should be nice and creamy.

Serve hot, topped with grated Parmesan cheese or Pecorino Romano (sheep's) cheese, if desired.
https://recipeideashop.com/saffron-scented-risotto/
Recipe Nutrition Information
If you use sea salt and vegetable broth, this recipe is GF, DF, NF, SF, EF, CF, V, VG*
The information shown is an estimate provided by an online nutrition calculator. It should not be considered a substitute for a professional nutritionist's advice.
RATE, PIN & SHARE!
Please Rate our recipes, and Pin and Share them on social media. Comments are welcome, too!
*Allergen Key
GF = Gluten free | DF = Dairy free | NF = Nut free | SF = Soy free | EF = Egg free | CF = Corn free | V = Vegetarian | VG = Vegan
Note: If you have serious allergies or sensitivities, to be considered free of these allergens, you need to use products specifically marked "gluten free," etc. There can be cross-contamination in facilities.
You May Also Like These Recipes From Recipe Idea Shop