Smell the Coffee. Join our newsletter and Smell the Coffee with me.
You Like FREE Gifts, Right?
Hi. It's Lois in the kitchen, hoping you'll join me for some coffee and communication. Get a FREE Printable Shopping List, Cookbook and Handy List of What to Keep in Your Pantry, just by subscribing to Smell the Coffee.
Don't you love to smell the coffee brewing as it wafts through the house? I do. It perks me right up. That's why I call my newsletter "Smell the Coffee." In it, I send you easy, healthful recipes to help you jazz up your meals while keeping your inflammation under control.
Get Your FREE Gifts Now
Dark. Robust. Black. Never Bitter. Heavenly. Coffee.
Even if I'm dead asleep. When I smell coffee brewing, my eyes pop wide open. It's just not possible for me to sleep through the smell of coffee. That's another reason why I named our newsletter "Smell the Coffee." It's not possible to sleep through it. The delectable pictures will have you imagining the smell and taste of the fabulous, tested-and-true recipes in it.
FREE Grocery List, Cookbook & Pantry List 
When you subscribe, you will get THREE free subscriber gifts. You'll receive our handy checklist, What Basic Foods Should I Have On Hand For Easy Peasy Meals?, to help you create a basic pantry, along with 10 Easy Peasy Meals in 30 Minutes or Less by Recipe Idea Shop e-cookbook. And now we give you a FREE printable Grocery Shopping List.

My Favorite Coffee Products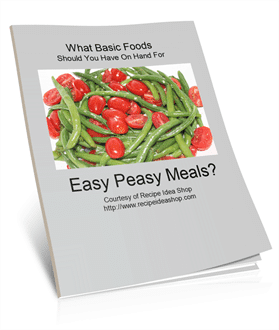 My Favorite Coffee Products
FYI, my favorite coffee is Mayorga's Cafe Cubano. The beans come from Latin America and are roasted to perfection in Maryland. First-rate fair trade coffee. But there is one problem. Mayorga makes it nearly impossible to drink coffee in a restaurant. Know what I mean? Brown water. Bleeeck!
Affiliate Disclosure: As an Amazon Associate I earn from qualifying purchases. It doesn't cost you a penny more, and you can still use your Amazon Prime account to buy. This posting includes affiliate links.
Don't Miss Out—
Get Your FREE Grocery Shopping List, Cookbook and Pantry List Now