Gluten Free Three Layer Peanut Butter Bars, an excellent brownie! Tasty. Easy. Pretty.
Gluten Free Three Layer Peanut Butter Bars, Excellent Innovation
Hi. It's Lois at Recipe Idea Shop, telling you about my new invention, Gluten Free Three Layer Peanut Butter Bars. They are fabulous. Like a Reeses Peanut Butter Bar on top of a Brownie!
I'm not a big fan of Peanut Butter Cookies (except for the Gluten Free Peanut Butter Cookies recipe that I make!), but I love these bars.
I was busy making all my traditional Christmas cookies so I could give them to my kids for Christmas when I simply got tired of making Chocolate Peanut Butter Balls. Although the kids are all grown up with their own families, they still expect me to make cookies. And I'm happy to do it.
I keep some cookies for Don and me to enjoy, give some to the kids, take a batch to my neighbors, and have them available to take along to any gathering. Cookies are my Achilles heal. I absolutely love cookies. So I make a lot of them. All. Year. Long.
When I make cookies (or candies that require whipping), I use our KitchenAid Stand Mixer. I love this mixer and I leave it on the counter all the time. It's a little heavy to lift in and out of a cabinet. If you don't have one, ask your family to get you one!
Peanut Butter Bars, Rich and Creamy
These cookies are a cross between my Gluten Free 3 Layer Mint Brownies and my Chocolate Peanut Butter Balls. What an invention!
They are rich, creamy, and full of chocolate. What's not to like?
I made two pans of the first layer for Gluten Free 3 Layer Mint Brownies, thinking I would make a double batch because everyone loves them so much. Meanwhile, I was also making Chocolate Peanut Butter Balls, and that was going slowly. I had foolishly made a double batch of the PB Balls, too. The recipe makes a TON! (I ended up with 84 Peanut Butter "Balls" (the bigger ones, in candy liners). I was super tired of making the candies.
And I was almost out of the candy papers (small cupcake papers). So I thought, "Hmmm. I wonder what the brownies would taste like with peanut butter in the second layer instead of mint?" I cut one piece from the pan, spread the peanut butter mixture on it, and topped it with chocolate. OMG! A revelation!
So now we have Gluten Free Three Layer Peanut Butter Bars. See what you think, and be sure to comment below when you make the cookies!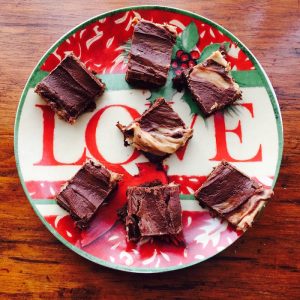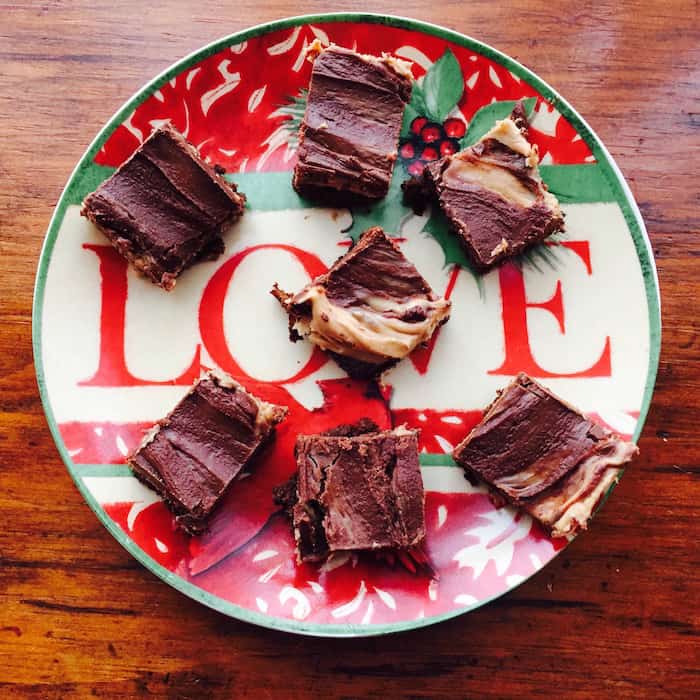 Gluten Free Three Layer Peanut Butter Bars Recipe
Like a Peanut Butter Cup on top of a brownie!
Ingredients
First Layer Ingredients
1

cup

sugar

4

eggs

1

stick of butter

½

cup

Bob's Red Mill Gluten-free Baking Mix

¼

cup

ground Flaxseed

¼

cup

Arrowhead Mills Organic Gluten Free Buckwheat Flour

½

teaspoon

baking powder

1

can

chocolate syrup

large size Hershey's Syrup

2

squares of Baker's Chocolate

melted and cooled
Second Layer Ingredients
2

cups

creamy Jif Peanut Butter

½

pound

butter

2 sticks, room temperature

1 ¼

cups

Domino Powdered Confectioner's Sugar

1

teaspoons

vanilla
Third Layer Ingredients
1

stick butter

1

small package

12 ounces Nestle's Chocolate Chips
Instructions
First Layer
Mix the first three ingredients.

Beat until smooth.

Add flours, ground flaxseed and baking powder.

Mix well.

Add Hershey's Syrup and melted Baker's Chocolate.

Mix well.

Pour onto a greased cookie sheet and bake at 350F degrees for 25-30 minutes until a toothpick inserted comes out clean.

Let cool.
Second Layer
Cream the butter and peanut butter.

Add the vanilla.

Add the powdered sugar a little at a time, incorporating it until it is thoroughly mixed and the mixture is fluffy.
Third Layer
Melt butter and chocolate chips in a double boiler. This step can be done in the microwave, but be careful. Chocolate burns easily so microwave it on half power about 5 minutes; then stir to even the temperature throughout the chips. If not completely melted, microwave them on half power for 30 seconds to one minute at a time until melted.

Mix well.

Cool slightly and pour over peanut butter layer.

Refrigerate to set.
To Serve
Cut into two-inch squares (very rich!).
Note: brownies must be refrigerated or they tend to melt.
Notes
If you like a thicker brownie, bake the first layer in a 9" x 13" pan instead of a cookie sheet.
Nutrition
Calories:
98
kcal
Carbohydrates:
8
g
Protein:
2
g
Fat:
7
g
Saturated Fat:
3
g
Polyunsaturated Fat:
1
g
Monounsaturated Fat:
3
g
Trans Fat:
0.1
g
Cholesterol:
16
mg
Sodium:
65
mg
Potassium:
54
mg
Fiber:
1
g
Sugar:
6
g
Vitamin A:
93
IU
Vitamin C:
0.003
mg
Calcium:
10
mg
Iron:
0.3
mg
More Delicious Cookie Recipes