When you are dairy-free, you miss Afredo Sauce, right? This Vegan Alfredo Sauce is inspired!
Vegan Alfredo Sauce over Roasted Spaghetti Squash
Hi. It's Lois in the kitchen with Recipe Idea Shop. It's National Meat Out Month, so I am reposting this recipe for Vegan Alfredo Sauce over Roasted Spaghetti Squash.
It's one of my most brilliant ideas. I used my Gingery Buttercup Squash Soup as the sauce over Roasted Spaghetti Squash, added some tiny peas, and called it a meal. I also garnished the sauce with a little candied ginger and fresh, chopped mint. And it was SO good.
I started with the roasted spaghetti squash.
Then I added the Gingery Buttercup Squash Soup, which is a thick, creamy, delicious soup. It makes a wonderful vegan (and gluten free) substitute for cheesy alfredo sauce. (Of course, the two dishes taste nothing alike, but I can't eat cheese so I was happy to find this substitute.) I loved it!
See How to Make Spaghetti Squash and Gingery Buttercup Squash Soup for the individual recipes. Add about 1 cup of steamed peas, a little candied ginger and chopped mint to each serving.
Crystallized Candied Ginger Chunks-Unsulfured, 1 pound. Buy it on Amazon.
Vegan Alfredo Sauce Recipe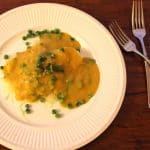 Vegan Alfredo Sauce
Creamy, dairy-free, gluten free "alfredo" sauce made with squash.
Ingredients
1/6

Whole Roasted Spaghetti Squash

(See https://recipeideashop.com/how-to-make-spaghetti-squash/)

1

cup

Gingery Buttercup Soup

(See https://recipeideashop.com/gingery-buttercup-squash-soup/)

1/4

cup

Tiny Frozen Peas

1

teaspoon

fresh mint leaves, chopped

1/4

teaspoon

candied ginger, cut into tiny pieces
Instructions
Roast the Spaghetti Squash and, when done, use a fork to shred the squash to look like noodles.

Add the peas to the Gingery Buttercup Soup and warm over medium heat or in the microwave for 3-5 minutes until hot.

Ladle the soup over the squash and garnish with a few pieces of fresh mint and a bit of candied ginger, cut in small pieces.
https://recipeideashop.com/vegan-alfredo-sauce/
Note: Many of the links included throughout Recipe Idea Shop are affiliate links, which means if you follow them and you buy something, we will get a small commission. It doesn't cost you a penny more, and you can still use your Amazon Prime (Shop Amazon — Give the Gift of Amazon Prime) account to buy. Don and I love our Amazon Prime account. This posting includes affiliate links. 
Vegan Alfredo Sauce Over Roasted Spaghetti Squash Nutrition
WHAT'S NOT TO LOVE?
Trust me, you're gonna love this recipe. But don't stop there…subscribe to our email newsletter and get a free cookbook.
Pin & Share!
Please Pin and share our recipes. And tell us what you think in the comments.
You May Also Like These Recipes From Recipe Idea Shop
BEFORE YOU GO, DID YOU GRAB YOUR FREE COOKBOOK?