Wild Mushroom Gruyere Quiche. Earthy, scrumptious breakfast.
Wild mushroom and gruyère quiche perfect for weekend morning.
Don here. Lois and I keep a few cartons of liquid eggs on hand for making quick scrambled egg breakfasts. On one of the cartons was the recipe for Wild Mushroom and Gruyère Quiche. We had some dried porcini and fresh portobello mushrooms on hand so I thought we should try it. The dried mushrooms were soaked in white wine over night to reconstitute them. It only takes an hour or so to reconstitute dried mushrooms, and you can use water or broth in your recipes.
We also had a ready-to-bake pie crust in the freezer which made it easy to prepare this meal in about an hour and a quarter. (I'd much prefer the homemade pie crust, however.) We enjoyed the robust "earthy" flavor of the wild mushrooms.
What You Need
For this recipe, you need a pie plate and pie weights. As always, we recommend that you buy the best products you can afford. And make them beautiful, if possible!
Wild Mushroom and Gruyère Quiche Recipe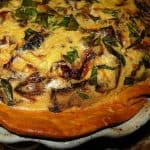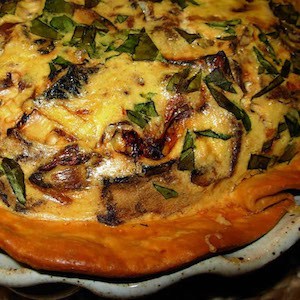 Wild Mushroom and Gruyère Quiche
An earthy, robust quiche.
Ingredients
1

cup

grated Gruyère cheese

(or any good Swiss cheese)

2

tablespoons

olive oil

1/2

cup

chopped onion

1

pound

assorted fresh wild mushrooms, such as shitake, oyster, crimini, chanterelle - I used dried reconstituted porcini and Portobello mushrooms

(chopped)

1

cup

liquid egg product

(or 4 whole eggs)

1

cup

cream

3

tablespoons

sun-dried tomatoes

(chopped )

1

tablespoon

coarsely chopped basil

1

pie crust, ready to bake
Instructions
Heat oven to 450F degrees.

Press either homemade or prepared pie crust into a 9-inch pie plate. I prefer glass or the ceramic one pictured.

Cover the bottom with foil and pie weights.

Bake for 6-8 minutes or until the edge just begins to brown. (With the foil and weights the bottom of the crust might not bake. So I take the foil off and put it back into the oven for another 2 - 3 minutes.)

Sprinkle the bottom of the crust with the grated cheese.

Reduce the oven temperature to 375F degrees.

In a sauté pan, sauté the onion in the olive oil just until it softens.

Add the mushrooms and sun-dried tomatoes, stirring occasionally until the mushrooms are soft and the onions start to brown.

Take it off the heat.

In a large bowl combine the egg product and cream.

Mix in the mushroom mixture and pour it into the pie crust.

Sprinkle the chopped basil over the top.

Bake 30 - 35 minutes until a knife inserted in the center comes out clean.
Note: My experience is when using liquid eggs, the recipe tends to puff more than with fresh eggs. So I use a deeper pie dish which takes a few minutes longer to bake.
https://recipeideashop.com/wild-mushroom-and-gruyere-quiche/
Note: Many of the links included throughout Recipe Idea Shop are affiliate links, which means if you follow them and you buy something, we will get a small commission. It doesn't cost you a penny more, and you can still use your Amazon Prime (Shop Amazon — Give the Gift of Amazon Prime) account to buy. Don and I love our Amazon Prime account. This posting includes affiliate links. 
Recipe Nutrition
The information shown is an estimate provided by an online nutrition calculator. It should not be considered a substitute for a professional nutritionist's advice.
WHAT'S NOT TO LOVE?
Trust me, you're gonna love this recipe. Up your recipe repertoire. Add this recipe to your collection. But don't stop there…subscribe to our email newsletter and get a free cookbook.
Pin & Share!
Please Pin and share our recipes. And tell us what you think in the comments.
You May Also Like These Recipes From Recipe Idea Shop
BEFORE YOU GO, DID YOU GRAB YOUR FREE COOKBOOK?