Moist, delicious, gluten free Baked Breaded Pork Chops—my new favorite way to make pork chops! Crispy on the outside, juicy on the inside, these Baked Breaded Pork Chops are easy and tasty.
Baked Breaded Pork Chops (Gluten Free) in 30—40 Minutes
Hi. It's Lois at Recipe Idea Shop, telling you about my favorite Baked Breaded Pork Chops. Super easy, moist, delicious pork chops. I never had Breaded Pork Chops until I was an adult. My mom either fried our pork chops (and most everything else) or smothered them in mushroom soup (see Baked Mushroom Pork Chops for that recipe, which I love because it's comfort food for me, but Don hates them). Of course, that recipe is not super healthy for you. Check out the recipe…
Full disclosure here, for these Baked Breaded Pork Chops to taste the best, you do have to fry the chops a bit before putting them in the oven. Otherwise the breading doesn't get crispy, and tastes "okay" but is not super delicious. I make this meal in my handy dandy 10-inch cast iron skillet. (Remember NEVER use soap on cast iron.)
We usually buy 6-ounce thick-cut pork chops instead of thin chops because they stay moist and tender when you cook them. Thinner cuts of meat tend to be a bit tough, in my opinion. So what we do is, make two 6-ounce pork chops. Now, you could eat a whole 6-ounce chop, but we are "older" and try to cut back on the amount of meat we eat so we don't "fluff up" in our old age. We split one pork chop and save the other one for another meal. I always think it's good to have leftovers. And what's better than pork? As I've said before, I could be a pork-etarian.
My friend Maggie has a gas stove & oven similar to the one pictured here. I would SO love to have one, wouldn't you?

 Baked Breaded Pork Chops Recipe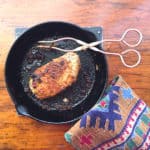 Baked Breaded Pork Chops
Crispy on the outside, juicy on the inside, these Baked Breaded Pork Chops are easy and tasty.
Ingredients
1

egg

1/2

cup

panko bread crumbs

(gluten free)

1

teaspoon

salt

1

teaspoon

Italian seasoning

1/4

teaspoon

pepper

2

6-ounce

thick-cut pork chops

2

tablespoons

oil
Instructions
Lightly mix the egg and put it in a small flat dish.

Mix the bread crumbs, salt, Italian seasoning, and pepper, and spread them in a small flat dish.

Dip each side of the pork chop in the egg, then in the bread crumb mixture until each pork chop is thoroughly coated.

Heat the oil over medium-high heat in an oven-proof skillet. I like my cast iron skillet for this.

Fry the pork chops in the skillet, browning lightly on all sides.

Bake the breaded chops in a 375F degrees oven for 20-25 minutes until no red juice runs out when poked.
Note: Many of the links included throughout Recipe Idea Shop are affiliate links, which means if you follow them and you buy something, we will get a small commission. It doesn't cost you a penny more, and you can still use your Amazon Prime (Shop Amazon – Give the Gift of Amazon Prime) account to buy. This posting includes affiliate links. 
Baked Breaded Pork Chops Nutrition Information
What's Not to Love?
Trust me, you're gonna love this recipe. But don't stop there…subscribe to our email newsletter and get a free cookbook.
Pin & Share!
Please Pin and share our recipes. And tell us what you think in the comments.
You May Also Like These Recipes From Recipe Idea Shop
DID YOU GRAB YOUR FREE COOKBOOK?
[mc4wp_form id="5109″]
SaveSave
SaveSave
SaveSave
SaveSave
SaveSave
SaveSave
SaveSave